CANNIBAL CORPSE, OBITUARY, CRYPTOPSY And ABYSMAL DAWN In Dallas, TX


By Wendy Jasper, Black Metal Aficionado
Tuesday, April 26, 2016 @ 4:01 PM


| | | |
| --- | --- | --- |
| | | US Tour Recap |
Photos By Wendy Jasper-MArtinez
Before CANNIBAL CORPSE started to bludgeon their way across Europe this month, they completed one of the most vitriolic tours of the start of the 2016 touring season. They spewed forth their gory message with the help of veteran grinders OBITUARY and CRYPTOPSY and up and comers ABYSMAL DAWN. Dallas was one of the last stops on the tour so let's wrap up what we witnessed on March 15th and discuss what the entirety of the tour was like for the original purveyors of gruesome metal.
Kicking off in Atlanta in February was a good start for the tour that was likely the heaviest of the year so far. It has been mentioned, not surprisingly, that the shows were sold out in most markets and it was no different in Dallas. Gas Monkey Live is an outstanding venue and while it holds a lot of people, the room is designed for viewing comfort regardless of musical genre. There is room to mosh, stand or sit and this first time visitor can attest to the niceties of the venue and the staff.
ABYSMAL DAWN has been on the metal radar for some time, but their latest offering, Obsolescence, has received rave reviews and firmly cements the band as one of the best of the genre. Lead by guitarist and vocalist Charles Elliot and consisting of bassist Eliseo Garcia, drummer James Coppolino and guitarist Allan Marcus, the band is pure gold live. Death metal is often best served warm and can, quite frankly, be the most fun a music fan will have at a concert. The band's set list was short but incredibly powerful and standout tunes were "Human Obsolescence", "In Service Of Time" and "The Inevitable Return To Darkness". Elliot handles his dual role as guitarist and vocalist with the ease of one who has been on the stage for a number of years and it is likely that he and his cohorts will endure for years to come. They were thoroughly enjoyable and are definitely a band that deserves a prime spot on future tours and festival circuits. They may have been first on the show rotation, but they were a hard act to follow.
CRYPTOPSY is a band that must be witnessed live to fully understand the appeal. They have been supporting their latest EP The Book Of Suffering Tome I and it is some of the best work they have done in their long career. My last musical foray with the band was so long ago that Lord Worm was still vocalizing their special brand of filth. However, current vocalist Matt McGachy is the pure embodiment of the band and all they represent. Drummer Flo Mounier, guitarist Chris Donaldson, and bassist Olivier Pinard round out the Canadian imports. It should be noted that even though McGachy has only been fronting the band for a little less than a decade, CRYPTOPSY has been an integral part of the extreme death metal scene since the late 1980's. They are almost as lyrically disgusting as CANNIBAL CORPSE and live they are just as fun and that makes them perfect to accompany this package on a full U.S. tour.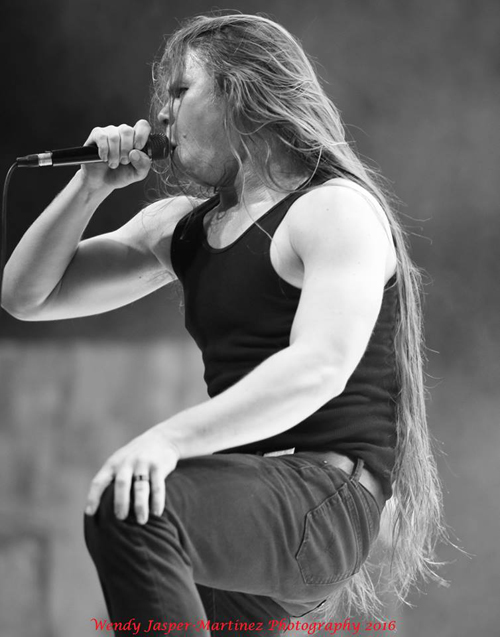 Their live set was nothing short of brutal and featured a well-rounded set that included new and old tunes. Particular standouts were "Crown Of Thorns", "Detritus (The One They Kept)", "Phobophile" and "Slit Your Guts". The mosh pit was swirling, fans were screaming and McGachy's guttural emissions were incredible.
It is often amazing that bands from your young adult years are still plugging away with the same power they emitted more than 25-years earlier. OBITUARY is one of those bands. There really is not anything quite like seeing John and Donald Tardy still performing on vocals and drums with the same ease that they did in the early 80's. Rounding out the band is guitarist Trevor Peres, guitarist Ken Andrews, and bassist Terry Butler.
The band released Inked In Blood in 2014 and it is a return to their roots. It is a strong record that has the same brute force as 1989's Slowly We Rot. The band capitalized on their fourteen album discography to put together an hour of pure ruthlessness that had everyone in the room on their feet or in the pit. OBITUARY is a band that any death metal fan must experience live. They are tightly knit, practiced and experienced and it shows in every move they make on stage. They are truly death metal at its finest. Standouts from the show were "Centuries Of Lies", "Visions In My Head", "Intoxicated", "Dying" and of course, "Slowly We Rot".
If one has never been to a CANNIBAL CORPSE show there is truly no way to describe what will be seen and heard. They have always been known as the innovators of grinding, bloody death metal. From the album covers that would make most fans of gore puke to lyrics that could cause hyperventilation, they have pushed the boundaries of propriety for nearly thirty years. Of course, that is part of their appeal and the teenage boys that used to make up their audience are now middle aged men who are not only still attending their shows, but are bringing their own kids to witness the carnage. They're gross but fun and deserve to be seen by everyone at least once!
Vocalist George "Corpsegrinder" Fisher, bassist Alex Webster, guitarist Pat O'Brien, guitarist Rob Barrett and drummer Paul Mazurkiewicz have reached legendary status and their ability to draw the crowd in is exceptional. Loud, abrasive, and entertaining are the adjectives that come to mind after winding down from seeing this band live. Song highlights were "Evisceration Plague", "The Time To Kill Is Now", "Scourge Of Iron", "The Wretched Spawn", "Born In A Casket" and "Make Them Suffer".
The band is currently touring Europe in support of their latest Metal Blade Records release, A Skeletal Domain, and if you missed them this time around, well, the year is young and the band tours quite a bit so it is likely there will be other chances to see them. Until then, check out their new album and make future plans for sadistic merriment.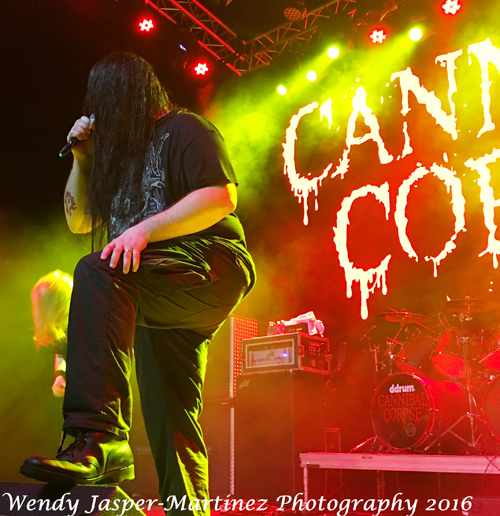 Please log in to view RANTS

If you don't have a username, click here to create an account!