GRIM REAPER, HELSTAR In Houston, TX With Photos!


By Larry Petro, News Monkey
Wednesday, April 27, 2016 @ 4:04 PM


| | | |
| --- | --- | --- |
| | | Steve Grimmett And Company Rocks The Concert Pub North To Hell |
All Photos By Larry Petro/Petrofyed Photography
It's not very often that you get the opportunity to see an iconic 80s band like GRIM REAPER, so when the chances arises you must take it! I cannot recall the last time GRIM REAPER played in Texas, though the band did play the States 2 years ago for a show or two, but if I had to venture a guess I'd say it's been the better part of 30 years. Thanks to Simon Ortega of San Antonio-based Kronic Productions, a near 3 year labor of love to get this band to the Lone Star State was realized this month with a couple of Texas-sized shows as part of the band's month-long run across the US, the first of which was held at the Concert Pub North, a place that needs no more introduction if you've read any of the previous reviews from this establishment.
Of course the GRIM REAPER of 2016 bears little resemblance to the classic 80s-era lineup, with frontman Steve Grimmett the sole remaining member. The band goes by the STEVE GRIMMETT'S GRIM REAPER moniker, but so what? It's still GRIM REAPER dammit and the chance to see this band for the very first time was not going to pass me by! Add to that the fact that James Rivera, vocalist for direct support act and Houston-based HELSTAR, was celebrating his birthday on this night and you have the makings of one hell of a metal party.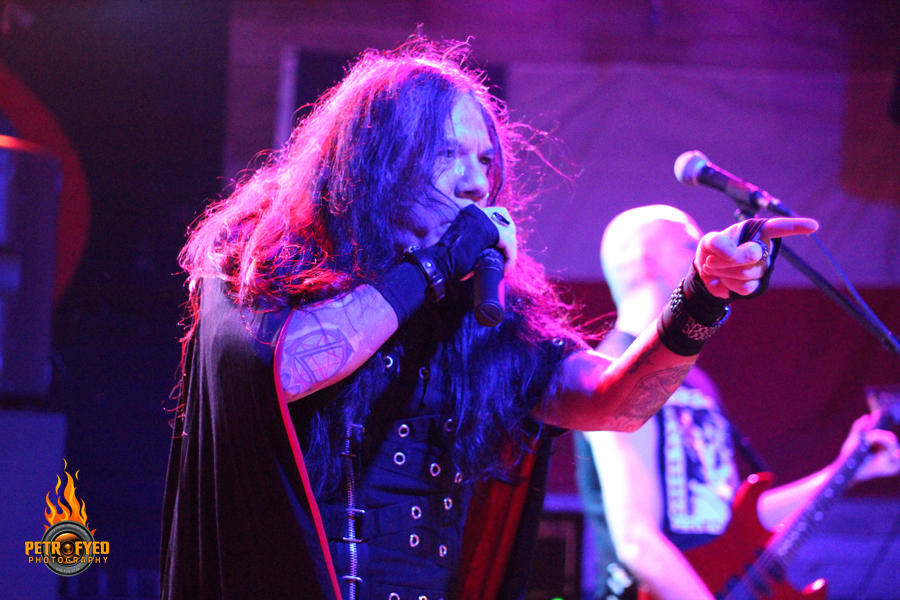 There were three other openers for this 'festival' of sorts, locals CHAOTIC JUSTICE, HEL-RAZOR and SERPENT ATTACK, all of whom did a fine job of getting the fashionably late crowd into the metal spirit. By the time HELSTAR took the stage however, the place had become packed and ready to rock!
James Rivera sauntered to the front of the stage as HELSTAR made their presence known with show-opener "Baptized In Blood", wearing a Dracula cape and vampires fangs, no doubt a nod the the band's forthcoming new album, Vampiro, which should be out sometime in July. The band, now comprised of Rivera, guitarists Larry Barragan and Andrew Atwood, Mikey Lewis (drums) and bassist Garrick Smith, completely lit the place up with their set of heavy HELSTAR classics like "Tormentor", "Good Day To Die", "King Of Hell" and "Run With The Pack". The band also played "Black Cathedral", the brand new single from Vampiro that was released just a few days prior to the show. The band was very tight musically and having seen HELSTAR on several occasions, I have to say that Rivera sounded as phenomenal as I've ever heard him and was in the greatest of spirits, but then again, a new album, new label deal, new management deal and celebrating your birthday tends to have that affect.
https://www.facebook.com/Helstar.Metal/
Setlist:
"Baptized In Blood"
"Pandemonium"
"Tormentor"
"God Day To Die"
"This Wicked Nest"
"Evil Reign"
"Black Cathedral"
"To Sleep Per Chance To Scream"
"The King Is Dead"
"The King Of Hell"
"Run With The Pack"
A relatively quick stage changeover and we were ready for GRIM REAPER to rock us to hell, which is precisely what they did, launching their 15-song set with "Rock You To Hell", the title track to the seminal 1987 album, to date the band's last offical studio release (but fear not, the band is working on a new album, titled From Hell, which should be out this year!). By this time the crowd had grown considerably, which was nice to see when other bands like AMON AMARTH were also playing in town on that same night.

The REAPER, now featuring Grimmett, guitarist Richie Yeates, drummer Paul White and bassist Charles Grimaldi, brought the scythe down on the Houston crowd with tracks like "Lust For Freedom", "Now Or Never", "All Hell Let Loose", "Wrath Of The Ripper" and of course the classics like "Fear No Evil" and set closer "See You In Hell". Steve sounded fantastic as he belted out the hits as his supporting cast carried the GRIM REAPER banner proudly. Another nice addition to the setlist was an awesome cover of DIO's "Don't Talk To Strangers".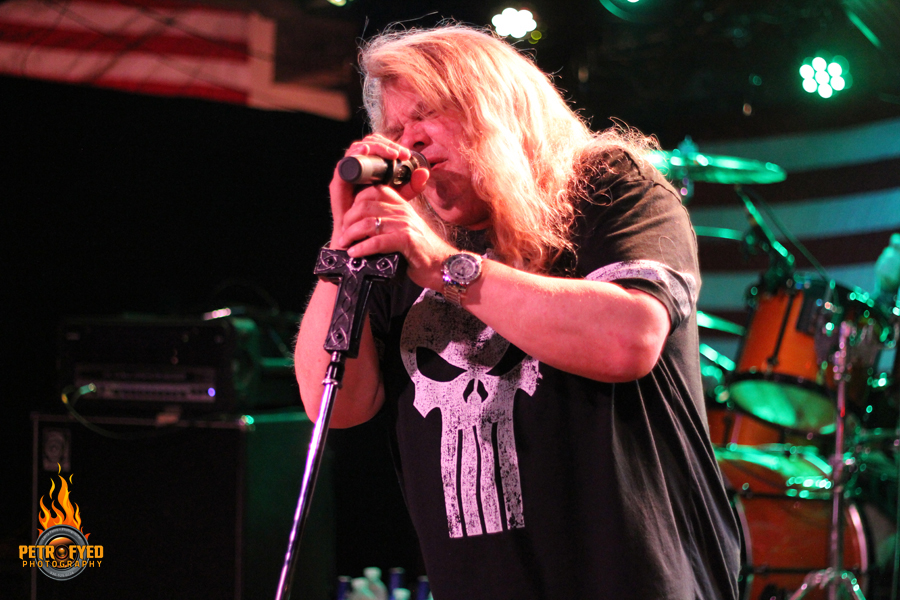 The band is already making plans for another US run later this year so if you missed 'em this time or want them to play near you, contact your local clubs and tell them you want GRIM REAPER to 'Rock You To Hell'!
Funniest sight of the night: Seeing Steve Grimmett after the show wearing a shirt that said 'I Pooped Today'
http://grimreaperofficial.co.uk/
https://www.facebook.com/grimreaperofficial/
Setlist
"Rock You To Hell"
"Night Of The Vampire"
"Lust For Freedom"
"Wrath Of The Ripper"
"Now Or Never"
"Fear No Evil"
"Liar"
"Let The Thunder Roar"
"All Hell Let Loose"
"Rock Me 'Till I Die"
"Matter Of Time"
"Don't Talk To Strangers" (DIO cover)
"Waysted Love"
"Final Scream"
"See You In Hell"
Check out some more photos from the show!
All Photos By Larry Petro/Petrofyed Photography




Please log in to view RANTS

If you don't have a username, click here to create an account!