The G3 ULTIMATE GUITAR EXPERIENCE In Ottawa, Canada


By Andrew Depedro, Ottawa Corespondent
Monday, May 2, 2016 @ 2:36 PM


| | | |
| --- | --- | --- |
| | | No Foolin'! German Guitar God Uli Jon Roth Sets The Sails To Bypass Charon And Lets Ottawa Experience His Stinging Guitar Wizardry With Jennifer Batten And Andy Timmons, The Brass Monkey, Ottawa, Canada, April 1, 2016 |
The date really is correct and the marquee at Ottawa's fine live music venue/pool hall The Brass Monkey was not wrong: It really was welcoming three legendary performers who among them included the guitarist from a fairly-known 80's glam band who's since made a name for himself in session work, a former backing axe shredder who's worked with Michael Jackson and -Jeff Beck, and the guitarist whose sound and tone personified the music of the SCORPIONS' classic early 70's albums such as In Trance, Virgin Killers, Taken By Force and Fly To The Rainbow.

First up would be a guitarist who normally wouldn't need any introduction but it would be naughty naughty otherwise so I'll give him one anyway. He would be none other than Andy Timmons, best known for his sharp ambitious solos in DANGER DANGER throughout the late 80's and beyond and now forging forward as a session guitarist in high demand, his nickname of the Electric Gypsy having stuck from his versatile nomadic playing/touring aesthetic and thankfully not because people confuse his band with L.A. GUNS. But for those of us who have followed Andy since his Double D days, we'd be treated to his setlist comprised entirely of his instrumental solo work. His fourth solo album Ear X-Tacy would spawn the most songs he'd be playing during his set, such as blues-fusion inspired numbers like "Carpe Diem" and the aforementioned "Electric Gypsy" (need I stress that it's not the L.A. GUNS song which Phil Lewis wrote about his Harley?). He briefly slowed things down a bit with "Cry No More" which was about being away from his then-girlfriend at the time while writing for the first DANGER DANGER album it was originally supposed to appear on before getting back into the groove with an extended version of "Hiroshima" which had some fast country-influenced riffing in between as his set closed to a raucous applause. Who'd have thought the guy behind "Boys Will Be Boys" could replicate the SUPERSUCKERS' sound? But Andy Timmons showcased how far he's come since that era, his reputation as the Electric Gypsy continuing to take hold.

That, and I dare you to come up with another guitarist from the past 25 years who has worked alongside Paula Abdul, Olivia Newton-John and Ted Nugent and earned accolades from all three.

http://www.andytimmons.com/
https://www.facebook.com/Andy-Timmons-Official-Page-125436344165669/?fref=ts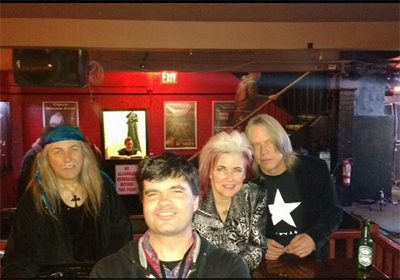 She's accompanied Michael Jackson on three world tours during the 80's and 90's and with Jeff Beck on two further world tours. And to commemorate the occasion, Jennifer Batten would now like to show you video shots of her cats and her vacation in India. Luckily it's all part of her Sonic Cinema multimedia film project which incorporates video and sound (specifically her music from her three solo albums) into a musical joyride transcending her influences, her moods, her life. Granted, after catching Andy Timmons' lively performance it seems odd as well as awkward at first to observe Jennifer Batten handle both her cherished Washburn Parallaxe and her laptop onstage, making sure that the video clips appear at their desired cues and that her instruments and amps are in proper sync. But the blonde mohawked plucky virtuoso with her dry sense of humor makes it all work - a delicate task given that it's a one-person concert with the added bonus of a PowerPoint presentation in front of a large crowd. Luckily, the crowd is able to appreciate Batten's eclectic mix of rock, metal, jazz, jazz fusion and even electronica as well as her relateable song topics. "Teen Town" was accompanied by images of young adults from generations past at school dances and going out on a Saturday night. "Cat Fight" was introduced with a story about Jennifer's cat playground she built herself for her feline family - approximately close to 70 and counting by her estimates. And closing her set was a medley of her musical influences as she encompassed several genres ranging from the early blues of BB King and Lightnin' Hopkins to the early 50's rock of Chuck Berry and Little Richard all the way to the classic rock influences of the 60's and beyond with Jimmy Page, Dusty Hill, Rick Derringer, David Bowie, Joe Perry, EVH, Mick Mars, Steve Vai and even the late King Of Pop getting a proper nod for their role in shaping Jennifer's playing over the years.
http://www.jenniferbatten.com/
Donning his 30-fret Sky Guitar, his familiar poncho and his headband as he approached the stage to kick off "Steamrock Fever" from 1977's Taken By Force, the legendary Uli Jon Roth proceeded to kick off a 90-minute set with his backing band which spanned his four-decade long recording career with the SCORPIONS and ELECTRIC SUN. With his sweeping riffs and classically-inspired raw form of playing, Uli's always reminded me of a German Frank Marino - a laid-back yet busy and talented musician heavily influenced by Hendrix who also has his own version of "All Along The Watchtower" in his setlist. Whenever he made small stage banter with the audience, it was to make sure that they were enjoying themselves and also to introduce the next song; otherwise, he let his music do all of the talking. Outside of his other accompanying guitarist David Klosinski, I didn't know much else about Roth's current touring band although he got the perfect singer to capture Klaus Meine's energy in the SCORPIONS' numbers such as "Dark Lady" and "Backstage Queen" among other numbers, his soulful voice fighting its way above the sheer guitar volume and his stage presence larger than life but not discouraging. For the first time SCORPIONS/Uli Jon Roth fan, crowd participation as instructed by Roth's singer was highly encouraged and a surefire way they would gravitate towards their music as "Dark Lady" and "The Sails Of Charon" alone easily demonstrated as he hit those high notes and got the crowd to accompany him in doing so.
And the best part of the show that was saved for last would naturally be Jennifer Batten and Andy Timmons joining Roth as they performed extended yet mesmerizing renditions of "House Of The Rising Sun" and "Little Wing", allowing for each guitarist to add their own unique contributing solo to the songs.
And with that, they burned the stage. I even got to hang with all three of the legendary musicians to thank them for being and continuing to be a part of my life soundtrack over the years and they are all as humble and approachable as they can be. Catch these G3 OG's at a city near you when you get the chance.
No foolin'.
Setlist:
"Steamrock Fever"
"Sails Of Charon"
"We'll Burn The Sky"
"All Along The Watchtower"
"In Trance"
"Electric Sun"
"I'm A River"
"Backstage Queen"
"Dark Lady"
"House Of The Rising Sun" (w/Andy Timmons and Jennifer Batten)
"Little Wing" (w/Andy Timmons and Jennifer Batten)
http://www.ulijonroth.com/
https://www.facebook.com/Uli-Jon-Roth-26843841074/





Please log in to view RANTS

If you don't have a username, click here to create an account!