CORROSION OF CONFORMITY In Dublin, Ireland


By Justin Ryan - Dublin, Ireland, Contributor
Tuesday, May 10, 2016 @ 1:28 PM


| | | |
| --- | --- | --- |
| | | At The Button Factory |
All Photos By Justin Ryan
Saturday night, April 30th, 2016 saw a relatively quick return visit to Dublin by metal stalwarts, CORROSION OF CONFORMITY(COC). Last June's show at The Academy had been the Deliverance era line up's first appearance in Dublin in nineteen years, so the announcement of a second gig within a twelve month period was great news for their Irish fan base.
Tonight's concert was hosted by The Button Factory venue on Curved Street in the city's Temple Bar District. A week before the show the promoter had notified fans via social networks that there were less than one hundred tickets left and he believed the event would be an advance sell out. Entering the venue at 8:15pm on Saturday night, it appeared that his prediction was correct. A half an hour before show time, it proved physically difficult to enter the concert hall, let alone find a decent viewing point, given how crammed packed the venue was with about eight hundred to one thousand metal fans of all ages.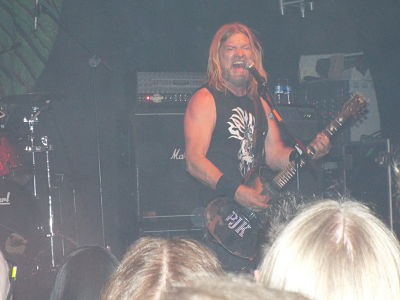 Advance stage time for the headliners had been advertised as 8:45pm. Following twenty-five minutes of exquisite ZZ TOP back catalog material played over the house PA system, the lights were shut off at 8:40pm. Bassist Mike Dean appeared out first and stood at his usual position on the right hand side of the stage. Reed Mullin quickly took his seat at his drum kit, followed by the emergence of guitarist Woody Weatherman. After a brief pause, New Orleans native, guitarist and vocalist Pepper Keenan, smiling and nodding appreciatively at the crowd's rapturous applause, lead the band into "Bottom Feeder(El que come abajo)". As with last year's show which was also opened with another monstrously heavy instrumental tune, namely "These Shrouded Temples" from 1991's excellent Blind record, tonight's show opener created an eerie vibe to early proceedings. "King Of The Rotten"'s frantic pace resulted in the formation of the night's first pit, one of many that raged throughout the show. Thankfully, the heavy handed antics of the venue's security that had been used to inexplicably eject fans without any apparent reason at ANNIHILATOR's recent show was not repeated here tonight; despite a pit that would have made SLAYER gulp, it seemed that no fans were subject to questionable security treatment during the course of the show. A song whose chillingly dark riff would make Lucifer look up at Hell's ceiling, "Broken Man" was the third tune of the night and was executed flawlessly. The track is a stunning example of the abundance of mixed tempo, multiple musical styled, high quality material on their exceptional Deliverance record.
Eight of the show's first ten songs were taken from both Deliverance(1994) and Wiseblood(1996). Apart from encouraging the crowd to contribute vocals on both "Heaven's Not Overflowing" and "Albatross", stage talk tonight was kept to a minimum from Keenan. Given the turbo charged adrenalized atmosphere that the band's music had created in the venue, a lack of stage chat wasn't missed as it would have just interrupted the gig's format and vibe of continuous intensity with each song being started as soon as the previous one was finished. The incredible "Seven Days", which is always worthy of a specific mention, started a four song section of the show which showcased the dynamic range of different musical styles and sounds that COC can call upon when delivering live gigs. Wall shaking, heavy riffs laced with bluesy guitar and tempo changes as heard in "Seven Days" and "Paranoid Opioid" contrast sharply with the trippy melody found in "13 Angels" and the irresistible groove of "Albatross".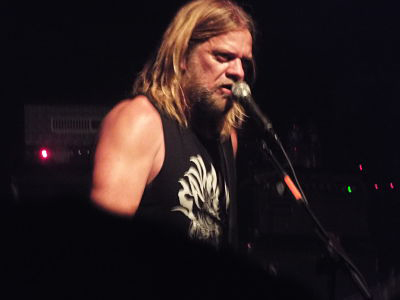 Before the night's three song encore, Pepper Keenan took a moment to announce that the band have secured a new record deal with Nuclear Blast records. "We decided to get our shit together a while back just to see if we could do this again. Well, we're still getting our shit together and hopefully we'll have a new record and tour in 2017. In the meantime, you all know where to find us after tonight's show! (points in the direction of the Gypsy Rose Rock Bar which is a short walk from the venue). The outstanding fifteen-song gig was concluded by a three song encore consisting of the metal classic "Vote With A Bullet", which Keenan dedicated to "CNN's coverage of the Presidential race", "The Door" from Wiseblood and the brilliant staccato riffing of "Clean My Wounds", which combined with the impeccable delivery of the rest of their impressive material on the night comprehensively confirmed that COC have not only "got their shit together" but, undoubtedly, still "got the fire!".
Setlist:
"Bottom Feeder(El que come abajo)"
"King Of The Rotten"
"Broken Man"
"Heaven's Not Overflowing"
"Long Whip/Big America"
"Wiseblood"
"Seven Days"
"Paranoid Opioid"
"13 Angels"
"Albatross"
"Stonebreaker"
"Who's Got The Fire"
Encore:
"Vote With A Bullet"
"The Door"
"Clean My Wounds"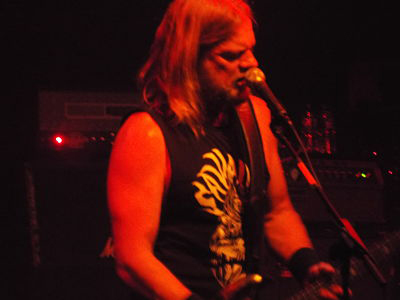 Please log in to view RANTS

If you don't have a username, click here to create an account!