ABNORMALITY Mechanisms Of Omniscience


By Peter Atkinson, Contributor
Tuesday, May 10, 2016 @ 1:31 PM


| | | |
| --- | --- | --- |
| | | |
ABNORMALITY
Mechanisms Of Omniscience
Metal Blade Records




April was a good month for showcasing uber-brutal frontwomen. On April 1, the prog/death all-star group ENTHEOS dropped its full-length debut >The Infinite Nothing that boasted the fire-breathing vocals of Chaney Crabb, whose imposing presence and emphatic roar helped keep whatever indulgent inclinations her bandmates might have had in check. The end of the month saw the release of the second album from Massachusetts tech-deathsters ABNORMALITY, whose commanding frontwoman Mallika Sundaramurthy achieves much the same effect, though in a rather different, and certainly gnarlier, context.

As tech-death goes, though, ABNORMALITY doesn't go too overboard when it comes to compositional complexity or instrumental dexterity on Mechanisms Of Omniscience. Indeed, the band show a penchant for groove – especially on tracks like "Synthetic Pathogenesis", "Irreversible" and the SUFFOCATION-like "Vigilant Ignorance" – that gives its sound an unusual and welcome swing, as well as helping counter its often utter relentlessness.

While the band ain't especially flashy, it does like to play awfully damn fast, which makes things demanding enough as it is. Even when ABNORMALITY seems to just be chugging along, as on the title track, it's soon off the races in a hail of surging riffs and sudden blast-beat bursts led by Jay Blaisdell, whose break-neck pace and frequent fusillades here makes for an exhausting 38 minutes.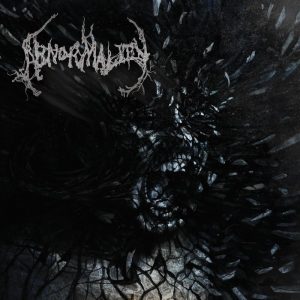 ABNORMALITY gets right down to business on Mechanisms, opening in full-bore with the fittingly titled "Swarm" without so much as a "how do you do?" It's an abrupt introduction, and it certainly grabs your attention. It doesn't take Sundaramurthy long to get in on the action and show she's not to be trifled with either, jumping into "Swarm" with a full-throated grizzly-esque growl after a few bars before settling into the guttural bark that powers things the rest of the way through – the instrumentals "Catalyst Of Metamorphosis" and "Assimilation" accepting, of course.
Through sheer brute force, Sundaramurthy steers the band's headlong charges and sudden bobs and weaves with a machine-gun cadence and teeth-clenched tenacity that keep things moving mercilessly forward. There's nothing delicate or vulnerable here, her vocals are all menace and might, which make them a perfect match for the full-on fury of her bandmates.
The near ceaseless brutality of Mechanisms does come at the cost of memorability. Even with the aforementioned grooves, only a few songs really stand out amid the blur – notably the title track with its industrialized riffing, "Synthetic Pathogenesis" with its vicious hooks and the titanic closer "Consuming Infinity" with its epic grandeur. But if what you're after is a righteous pummeling, ABNORMALITY delivers in spades and proves that though death metal is still very much a dude's game, women can not only play along but be brutal as fuck too.
3.5 Out Of 5.0
Grab your copy of Mechanisms Of Omniscience in the KNAC.COM More Store right HERE.

Please log in to view RANTS