DIAMOND HEAD
Diamond Head
Dissonance Productions




I've come to find out in the many years I've been a music junkie that there is usually 1 guy in every band that steers the direction of the ship as it were, and in the case of NWOBHM stalwarts DIAMOND HEAD, that person would be Brian Tatler, guitarist extraordinaire. Brian has been flying the DH flag since their formation. The most famous version had Duncan Scott, Colin Kimberly and Sean Harris. I'm sure by now you've heard the tale of a certain California band who worshipped them enough to do a few covers of DH songs, cementing their already great legacy. So let's jump to 2016 then and a new singer (Rasmus Anderson) invigorating Mr. Tatler into writing some new material.

It's always a bit of a crap-shoot when older bands write new material. More than a few end up being major disappointments. But without hesitation I'm happy to report that this isn't one of those cases!! The new album, simply called Diamond Head is a cracking release indeed. It actually threw me for a loop, as I wasn't expecting something this strong. Album opener "Bones" has that trademark DH riff & rhythm, alternating between uptempo & slow, it's everything you always loved about early DH. And I love Rasmus's voice as well! I'll make no bones about original vocalist Sean Harris' sometimes over-singing, much like his hero Robert Plant, with both of them grating on my nerves in certain songs. Ras hits just the right mix for these ears.

"Shout At the Devil" continues the uptempo charge at first with a mean tempo change that should have the head banging involuntarily. Some tasty soloing by Mr. Tatler and a great hook in the chorus as well.

"Set My Soul On Fire" has a very menacing riff along with a great chorus. The rhythm section, who've been in the band for several years now, Eddie Chaos on bass & Karl Wilcox on drums are a solid unit as well.

"See You Rise" begins with a touch of acoustic guitar before going electric with a driving riff that just doesn't stop. I recommend watching your speed if you're driving while playing this number especially.

"All The Reasons You Live" starts out with strings like a ballad but turns into a more epic event, almost sounding like something the modern ALICE IN CHAINS would write, strings included. It probably would have made a good single if there existed a radio station to play it.

"Wizard Sleeve" kicks it back up a notch with an uptempo groove but still retaining that classic DH sound. It even has some killer feedback in it, something that is lost on the newer generations methinks.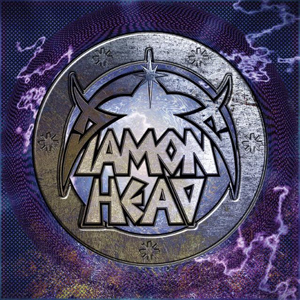 "Our Time Is Now" slows things down a bit with a groovy riff with that classic DH touch before getting heavy as hell! The music is definitely helped by the addition of rhythm guitarist Andy Abberley, giving it the thickness it needs. Such a dark riff, almost doom metal heavy. Outstanding!
"Speed" begins with that classic drumbeat that harkens back to the legendary track "Helpless" but doesn't ape it at all. This may be some of the most rifftastic music that DH has written since the early days, it really is that monumental, with Ras just screaming his lungs out at the end of the track.
"Blood On My Hands" reminds a bit of "Rusty Cage"-era SOUNDGARDEN musically but more Metal and complex. Crisp, clean production allowing all the instruments to breathe is another plus.
"Diamonds" is uptempo with another great hook and killer riffing. I cannot wait to hear these songs tracked live alongside the legendary catalog as I feel they will fit like the proverbial glove.
Album closer "Silence" has a very Middle Eastern vibe, reminding one of classic LED ZEPPELIN musically. Very epic in scope, with a full orchestra behind the band. Monumental moment as it's quite possibly DIAMOND HEAD's "Kashmir". Time will tell.
As I stated above, I was in no way expecting an album of such magnitude. I think all fans of DH will embrace this album as I have, a true return to form. Make a point to witness it live if you get the chance. For my Vinyl loving Brothers & Sisters there is a Vinyl version coming of this brilliant album! So keep your eyes peeled!!
4.8 Out Of 5.0 Skulls
Pre-order your copy of Diamond Head in the KNAC.COM More Store right HERE.