VOLBEAT, BLACK STONE CHERRY In Downtown Phoenix With Photos!


By CrpnDeth, Staff Photographer/Writer
Thursday, May 19, 2016 @ 6:45 PM


| | | |
| --- | --- | --- |
| | | Danish Metal Meets A Southern Groove |
This was an interesting venue to say the least, definitely not one you want to hit in the middle of an Arizona summer (thought I heard security tell a concert goer that this was the last show they will have but not sure if that meant for the "season" i.e., too f'n hot). Downtown Phoenix, as the venue was being called, is a large parking lot with a stage set up at one end (almost like a lopsided baseball diamond), located in - yup, downtown Phoenix. Odd setup but the "venue" wasn't actually all that bad to be honest, the sound was phenomenal. A lot of vendors (one exceptional note was Evapeology), a lot of space to walk around and check things out, etc. That aspect was much better than a lot of the "parking lot" concerts being set up around the valley lately. The one thing about downtown Phoenix (not the venue) that works when it works, or is insane when it doesn't, is the fact that the surrounding streets are closed off in certain directions leaving only open directions going directly to whichever venue is having the event. Sounds foolproof almost, doesn't it? Yeah ...no. It quickly becomes a frustrating aneurysm at every chance, especially when downtown Phoenix seems to have construction going on year round.

Regardless, VOLBEAT and BLACK STONE CHERRY were in town tonight, and drew an enormous crowd. The frying pan (as the venue was referred to by many) was an ecstatic sea of faces waiting for each band. The bands let loose and delivered with intensity tonight.
Never thought I would see a mosh pit erupt at a BLACK STONE CHERRY show (at least a non-festival show), but indeed a small one did swirl when the band launched in to the set closer "Ace Of Spades" (MOTORHEAD cover) instead of their usual "30 Seconds Of Death Metal". The Phoenix crowd went apeshit, showing no signs of lost energy. The band's entire set was high energy and non-stop. They played most of the hits off of Between The Devil And The Deep Blue Sea, always giving them new life live, as well as "Me And Mary Jane", and "The Rambler", among others. Having seen them several times, you know the pace doesn't end until the band says "Goodnight".
You're in for an intense set when a band starts off with a taped intro of MOTORHEAD's "Born To Raise Hell", and a tide of voices from the crowd singing along to every word come roaring back to the stage.
VOLBEAT picked up the gauntlet right where BLACK STONE CHERRY left it and took the momentum a step further. The heavy metal Danes, led by Michael Poulsen, propelled their way through a penetrating 18 song gig which ended the night for easily one of the best tours so far this year.
This was the first time I have caught the band live, and quite frankly, should have caught them sooner. The twin guitar attack of Poulsen and Rob Caggiano were seamless and commanding. Between metal and melodic (and even a little quick verse of JOHNNY CASH's "Ring Of Fire" thrown in) the flow of the songs and energy would turn anyone in to a fan.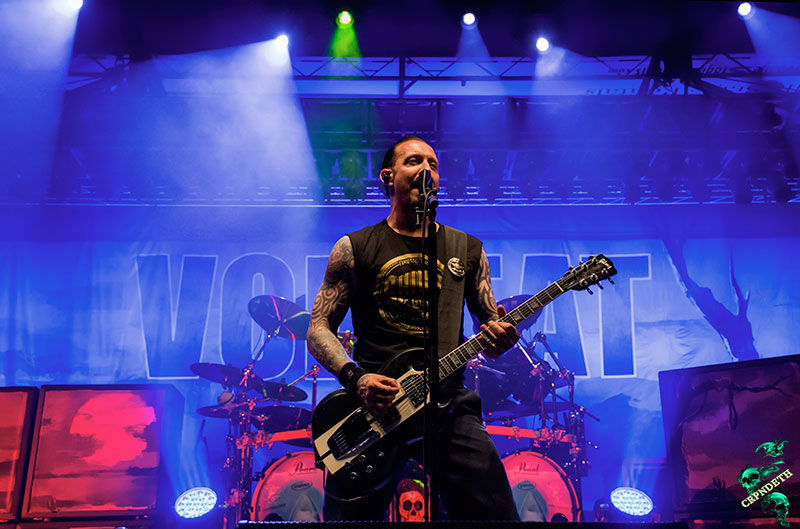 Between the two sets, the crowd did not tire one bit, and the energy from both bands was just infectious for every second they were on stage. I have to admit, the very best part of the night was bringing the two teenage offspring. They were both BLACK STONE CHERRY fans to begin with, but now they are also VOLBEAT fans.
Set List
"Born To Raise Hell" (tape intro)
"Doc Holiday"
"Hallelujah Ghost"
"Radio Girl"
"Lola Montez"
"Sad Man's Tongue"
"Heaven Nor Hell / A Warrior's Call / I Only Want To Be With You"
"The Devil's Bleeding Crown"
"Fallen"
"Dead But Rising"
"The Lonesome Rider"
"The Hangman's Body Count"
"16 Dollars"
"Maybellene I Hofteholder"
"Guitar Gangsters & Cadillac Blood"
"Pool Of Booze, Booze, Booza"
"Who They Are
"The Mirror And The Ripper
"Still Counting
Check out a few photos from the show!
All Photos By CrpnDeth Photography LLC

Please log in to view RANTS




YNGWIE J. MALMSTEEN, GLENN HUGHES In Worcester, MA With Photos!

ALICE COOPER Road

RAT ROD Four On The Floor

GIRLSCHOOL WTFortyFive?

DANKO JONES Electric Sounds

AVATAR, ORBIT CULTURE, THE NATIVE HOWL In Houston, TX With Photos!

THE DEAD DAISIES In Hollywood, CA With Photos!

KILL DEVIL HILL Seas Of Oblivion

THE DEAD DAISIES In Ottawa, Canada

MAMMOTH WVH In Santa Ana, CA

UADA Crepuscule Natura

BARONESS Stone

KAMELOT, BATTLE BEAST, XANDRIA In Houston, TX With Photos!

CRYPTOPSY As Gomorrah Burns

RAY ALDER II

GHOST, AMON AMARTH In Houston, TX With Photos!

U.D.O. Touchdown

DETHKLOK Dethalbum IV