APOCALYPTICA In Houston, TX With Photos!


By Halo, Heavenly Contributor
Friday, May 20, 2016 @ 10:50 AM


| | | |
| --- | --- | --- |
| | | At The House Of Blues 5/9/16 |
All Photos By Halo/Halos And Horns Photography
If you weren't at The House of Blues in Houston, Texas on May 9th, 2016 you missed one hell of a badass show! APOCALYPTICA's Shadowmaker tour was in town with direct support from 10 YEARS supporting their 2015 Birth To Burial album. Shadowmaker is the 8th studio album release by APOCALYPTICA. The band was in town last April as support to SIXX:A.M., but this time around this Finnish Band was the headliner and kicked ass! It was pretty much a sellout show and they did not disappoint!
I arrived towards the end of 10 YEARS' set just about the time the guitarist tripped over a cord falling over a stool. After dealing with a short quagmire the music continued. Lead vocalist Jesse Hasek laughed it off and belted out a few more songs, of which most notably was "Beautiful". Having never seen 10 YEARS live, I was pleasantly surprised at this alternative post-grunge band's sound. The vocals were great, reminiscent of TOOL's vocalist. Standing room only downstairs with general admission, the crowd was a sea of people singing along to the hit. The band was gracious to the crowd and very mild-mannered. With a seventeen year history in the music business, I can see why this Tennessee based band has kept their following.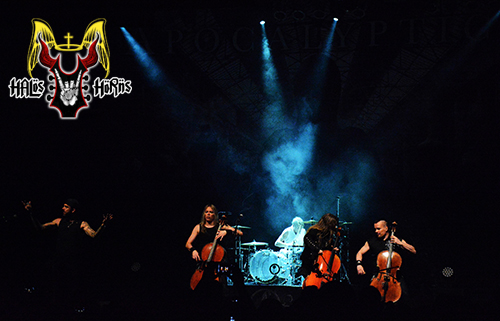 When 10 YEARS exited the stage I didn't think it could get more crowded downstairs but more fans seemed to pile in, shoulder to shoulder. I'm very thankful there is a pit for photographers because there was no way I was going to push my way to the front. There was about a 30 minute break and then the curtains opened. "Reign Of Fear" was the first to be played. Eicca, Pavo, Perttu and Mikko all made their appearances. All of the first three songs were instrumentals. "Refuse/Resist" and "Grace" were the last two songs I was able to photograph. I was observing the fans of up front leaning on the barricade, not even one took their eyes off these musicians. The fourth song on the set list, "I'm Not Jesus" was the first for newest featured vocalist Franky Perez to take the stage with. I was disappointed to have to stop shooting as he came on. The hit and one of the crowd favorites for sure was next, "House Of Chains", the 6th track off the Shadowmaker album. Franky's vocals were spot on and he sounds just as good live as he does on the album.
APOCALYPTICA's set for the show consisted of 18 songs. The band is widely known for their METALLICA covers and one of the big spotlight moments of the show was the acoustic version of "Unforgiven". Eicca Toppinen, Pavo Lotjonen and Perttu Kivilaakso have mastered the art of cello playing and these three men have proven heavy metal can be beautifully played in different genres. "Unforgiven" was played after Eicca PAID tribute to their 20 yearr anniversary of Metallica By Four Cellos. There is such a seductive feel to them playing these instruments to all the incorporated genres of music they masterfully blend together. The 14th song to be performed was one of the most haunting but gorgeously played, "Hall Of The Mountain King". All three cellists and drummer Mikko Siren were all spotlighted at different moments and the crowd participated as well; a stunning performance. Franky made his way back to stage for the next song and the audience made it clear it's a favorite, that being METALLICA's "One", which was the start of the encore. The encores finished up with "Dead Man's Eyes" and "I Don't Care", probably my favorite of all the songs done.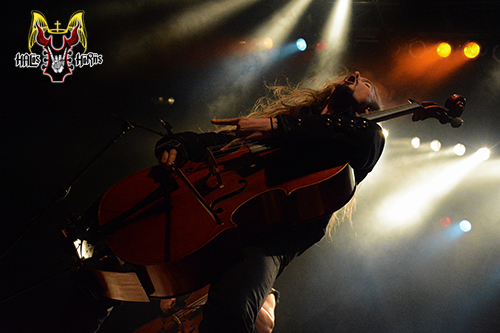 This show was nothing short of amazing! Adding Franky Perez (ex-SCARS ON BROADWAY) to the band for this album was fantastic addition. "This is the first album with one singer, not several guest singers making the whole album more solid!" commented Eicca Toppien. Fans love Franky, as I spotted 3 signs saying "Hi" to Mr. Perez. Each member of this band has their own followers which it was clear to see at this show. All the members engaged the audience at different times and worked the stage for all to see. I couldn't help myself and went over to one fan that seemed to know every word to each song, cover or not. She knew more than Wikipedia about APOCALYPTICA. "It's such an original concept, string instruments mixed with Heavy Metal and classical music."…Elyse (Houston Fan)
I have to agree, symphonic music mixed with Metal is amazing if done right and APOCALYPTICA has masterfully achieved this. Easily of the best shows I've seen!
Check out some more photos from the show!
All Photos By Halo/Halos And Horns Photography




Please log in to view RANTS

If you don't have a username, click here to create an account!