STRIKER, SPELLCASTER And WERESQUATCH In Houston, TX With Photos!


By Rob McNees, Vinyl Aficionado
Tuesday, May 24, 2016 @ 3:52 PM


| | | |
| --- | --- | --- |
| | | 'Stand In The Fire' Tour Hits The Satellite Bar On May 21 |
All Photos By Larry Petro/Petrofyed Photography
Torrential rains, hail, thunderstorms & gale force winds reared their ugly head Saturday afternoon into the evening, but it couldn't dampen the spirits of headbangers who braved the elements to see some asskicking Metal at The Satellite Bar on Harrisburg. My first time here, a cool little dive with lots of choices of beer, and a stage & sound perfect for Metal. Way cute bartender too.
Once I finally arrived thru the hellacious weather I was greeted with WERESQUATCH sound checking. Totally unfamiliar with these guys, I was in for a treat as this 3 piece from Portland, Oregon play classic Speed/Thrash Metal. In fact, their CD Frozen Void was produced, mixed & mastered by TOXIC HOLOCAUST mastermind Joel Grind, who is a up and coming producer and also produced fellow Portland Metalheads SPELLCASTER's 2014 self titled album as well. Good, tight & energetic set. Look for their cd on Stormspell Records.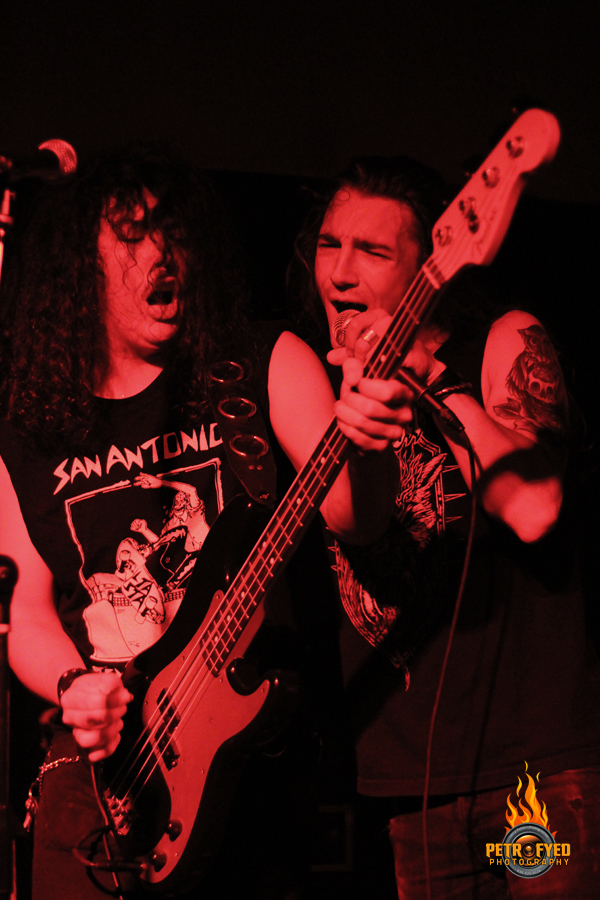 Next up were the aforementioned SPELLCASTER. Always good to see Gabe, Tyler and the guys and they are really stoked to be playing cuts off of their newest offering Night Hides The World. Opening with the brand new "I Live Again", the band fired on all cylinders, also debuting 2 more brand new tracks in "Betrayal" and the title track "Night Hides The World" as well. But not only featuring the as-yet-to-be-released album (which should drop in July I believe) but my faves "Chainsaw Champion" & the namesake track "Spellcaster" off their debut EP Spells Of Speed. If you've never heard them then go check them out, as they play a killer Speed/Power Metal hybrid that won't disappoint. The band even soldiered on thru a track as a 4 piece as guitarist Cory Boyd jumped off stage to go hurl before continuing. That's Rock & Roll as they say!!
Touring together as well as sharing their backline meant Canada's STRIKER was next. They also have a brand new release, Stand In The Fire. Opening with "Crossroads" off the great album City Of Gold the guys were having fun and it showed in their performance. They too featured songs off their latest such as "Locked In", "Too Late" and "Phoenix Lights". I heard someone remark that they sound like they could have been from the 80's, which does have some merit. Energetic, punchy songs with a band clearly having a blast, tight musicianship and stellar performances. Nothing wrong with that combo methinks. But they can also belt out supreme Power Metal as they did with my personal fave track "Full Speed"! Something of note is the range of vocalist Dan Cleary, who can throw down some serious Halford-esque screams. Top notch indeed!!! Check this tour out if it comes to your town as I can say most assuredly that you won't be disappointed!!
But if you think that was all, then you'd be WRONG!! Jumping up on stage as quickly as they could, Houston Metal Machine THE SCOURGE wasted no time in obliterating those left who still had any neck muscles! Opening with "Mayhem Tonite", it was indeed pure mayhem as this lethal 3 piece meant business. "One By One" was next, and it's obvious with their Speed Metal stylings why both guitarist Andrew Atwood and bassist Garrick Smith were drafted to be the newest members of Houston Metal Legends HELSTAR. And if you think these guys don't know their Metal, short set closer "The Usurper", yes THAT song by icons CELTIC FROST and sung by Garrick put the final nail in the coffin!! A punishing version that I think Tom G. Warrior would be proud of.
So there you have it, a night of crushing Metal by some up & coming bands that I believe deserve your attention! So if they hit your town, get off your ass and GO!!!
And for my Vinyl loving Bros & Sis's out there, STRIKER had both City Of Gold and Stand In The Fire for sale, as did SPELLCASTER with their self-titled release. Support the Underground and buy Vinyl!!!
Check out some more photos from the show!
All Photos By Larry Petro/Petrofyed Photography

Please log in to view RANTS