VARDIS
Red Eye
Steamhammer




The NWOBHM was just like all other forms of music in that everyone had their influences. While WITCHFINDER GENERAL were BLACK SABBATH disciples, WHITE SPIRIT were DEEP PURPLE fans, etc, etc, West Yorkshire's VARDIS' inspirations were STATUS QUO, SLADE & ZZ TOP. Maybe one reason why the NWOBHM was/is such a legendary genre is that everyone took their influences but added their own flavor, making their sound fresh & original! And the songwriting was unmatched. Unforgettable hooks, melodies and choruses that made the genre maybe bigger today than when it originally came out.

VARDIS itself formed in 1973, and performed till 1977 as QUO VARDIS, before dropping the QUO. Their first release, the 100 M.P.H. EP, came out in 1979. Limited to 2,000 copies, I myself don't even own one. The first big release was right after on Logo Records, the now legendary live album named, of course, 100 MPH. Even today, releasing a live album as your initial offering to most people takes a bit of balls say I, but that's how confident and tight the band already were.

The band have always been a 3-piece, led by guitarist Steve Zodiac, and they were known for playing an uptempo style of Boogie Rock. They even got their props by being on the now infamous NWOBHM '79 Revisited compilation put out by Metal Blade Records and Lars Ulrich, he of METALLICA fame and a NWOBHM junkie, much like myself on the 10th Anniversary of the genre's existence.

I could spend all day on the history of VARDIS, but let's fast forward to today, and the release of the newest member of the discography, Red Eye. This all came about as Steve was remastering 1986's Vigilante for re-release and to coincide with that, got back together for the amazing Brofest II Festival in Newcastle, England of which I was extremely fortunate to be able to attend. What turned out to be an original 1-off performance led to several other offers for Europe festival appearances and ultimately a new record deal to boot.

So here we are, 2016, and what does the cannonball VARDIS have to offer? Album opener and title track "Red Eye" find VARDIS with a much beefier sound, greatly benefiting from today's better technology. A mid-tempo banger, Steve's voice has obviously matured but still retains the Zodiac edge. Steve's soloing has improved immensely as if I closed my eyes I would swear it was ZZ TOP's Rev. Willie G.

"Paranoia Strikes" still has that VARDIS boogie, with some nice double kick bass from drummer Joe Clancy, as drummer for most of VARDIS' career Gary Pearson decided not to continue with the band. Very memorable chorus on this one as well.

"I Need You Now" has that classic VARDIS sound, and I'm just impressed with the Zodiac guitar sound.

"The Knowledge" sounds it could have been from the 80's, save for the fact that VARDIS isn't playing that uptempo style that they were known for, which is to be expected since none of us are 18 anymore. The bottom end being ably anchored by Terry Horbury, having joined VARDIS in the mid-80's.

"Lightning Man" sees Steve singing in a higher register ala early VARDIS and pulling it off with ease. The one thing that VARDIS always had and continues to shine with is the sharp, concise song writing. No long, drawn out, overblown excess, just straight to the point Rock. I like that indeed.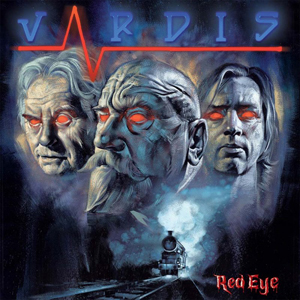 "Back To School" talks lyrically about the band basically starting again anew, even tho they are far from wet behind the ears. One of the heavier tracks with a classic Zodiac Chuck Berry influenced solo. I can see where this middle part of the tune will illicit some singing from Euro & Japanese crowds for sure.
"Jolly Roger" sees Steve singing the refrain "Life's a bitch, and then you cry, life's a bitch and then you die" with that evil little chuckle. He later adds "And so am I" with almost triumph in his voice. Extended guitar solo on this one as well.
"Head Of The Nail" sees a countdown before the band kicks into a slower VARDIS boogie.
"Hold Me" is just amazing as Steve pulls out some brilliant slide guitar for this one. Think George Thorogood. A new wrinkle of VARDIS which I thought really worked well.
"200 M.P.H." is the VARDIS that I know, uptempo with that boogie style that only they can do. This sounds like it could have been straight out of 1980. It's also the longest track at over 7 minutes. The band slows things down in the middle showcasing Zodiac's beefier guitar tone before kicking into high gear again. My fave track on the album, it even finishes with the band goofing off and recording it for posterity.
"Living Out Of Touch" is a legendary VARDIS track that made its debut on the 100 MPH live album from 1980. Here it's slowed just a tad and given a studio polish and it suits the track very well indeed.
The album closer is "200 M.P.H. (Reprise)" and has Steve ripping through a solo with a Wah pedal in full effect. A instrumental that finishes the album in fine fashion.
A great return for VARDIS after decades away but not without much sadness. Last year bassist Terry Horbury tragically passed away and left Steve with the unenviable task of deciding to trudge on or call it a day again. After much soul searching he picked up his axe again, and recruited Martin Connolly to pick up the 4 string in Terry's stead. Red Eye is now an everlasting tribute to Terry and as his last album, none better a tribute it could be says I.
And for my Vinyl loving Brothers and Sisters out there, Red Eye is released on Vinyl, and a stunning Red Vinyl it is too!!! So search it out!!!
4.4 Out Of 5.0 Skulls
Grab your copy of Red Eye in the KNAC.COM More Store right HERE.