GRUESOME Dimensions Of Horror


By Peter Atkinson, Contributor
Monday, June 6, 2016 @ 2:40 PM


| | | |
| --- | --- | --- |
| | | |
GRUESOME
Dimensions Of Horror
Relapse Records




GRUESOME is apparently taking this DEATH tribute band thing and running with it. After issuing its debut full-length Savage Land last year – an album inspired by DEATH's second album Leprosy – the quartet returns with a six-track EP that pays homage to DEATH's 1987 debut Scream Bloody Gore.

The timing could not be more perfect – or ironic, take your pick – since a deluxe reissue of Scream Bloody Gore also has just been released, also by Relapse. And while Dimensions Of Horror, like Savage Land, is not a collection of covers, it offers a pretty note-perfect representation of DEATH's iconic and ground-breaking death metal clamor from back in the day – and the exacting detail carries over to the aesthetics, including Ed Repka's artwork and even the type treatment on the cover.

By focusing on Leprosy first, the supergroup, which brings together EXHUMED guitarist/vocalist Matt Harvey and ex-MALEVOLENT CREATION drummer Gus Rios – whose work as part of the DEATH TO ALL tours (which is essentially live covers of DEATH material, even if many of the performers were at one time members of the band) got the GRUESOME ball rolling - POSSESSED guitarist Daniel Gonzalez and DERKETA bassist Robin Mazen, forced itself to work a bit backward here. Thus Dimensions is a bit ruder and and gnarlier than Savage Land, honoring the blunt-object bludgeon of Gore with raw-boned precision and omitting some of the technical flair that would come later.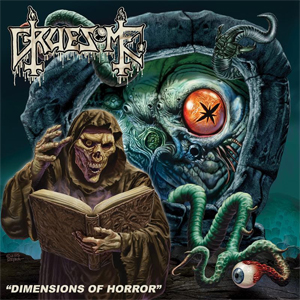 It's a steamrolling, full-frontal 20 minutes of heaving buzz-saw guitars and surging tempos that slingshot between d-beat pummel and double-bass sprint as Harvey eerily replicates late DEATH mainman Chuck Schuldiner's gruff, belching vocal tone and elongated intonations - "dieeeeeeeeeeee" "amputatttiiiooonnn" "raped by darknnneeessssss." The six tracks are compact, efficient and abrasive, effectively capturing the visceral essence of DEATH in its formative years.
Unbridled aggression is the name of the game here, and GRUESOME plays with the reckless, unpolished abandon of relative newbies – which is perhaps the ultimate testament to the veteran guile of the band's members. Dimensions sounds natural and exuberant - not studied and clinical – which makes it, and Savage Land before it, impossible to not like, even if the whole concept of mimicking nascent DEATH is rather curious, if not downright dubious.
But if you're going to do it, might as well do it right. And regardless of any motives Harvey, Rios and company may have – other than just honoring the primal origins of a band that was a obvious, and major, influence – Dimensions takes a brutally satisfying romp down memory lane. And it you want to compare it to the real thing, grab the new Gore reissue too and have your own, umm, death match at home.
4.0 Out Of 5.0
Grab a copy of Dimensions Of Horror in the KNAC.COM More Store right HERE.




Please log in to view RANTS

If you don't have a username, click here to create an account!