WHITESNAKE In Houston, TX With Photos!


By Larry Petro, News Monkey
Thursday, June 9, 2016 @ 9:41 AM


| | | |
| --- | --- | --- |
| | | The "Greatest Hits Tour" Hits Revention Music Center |
All Photos By Larry Petro/Petrofyed Photography
It doesn't get much better than this. After being on vacation all week from my regular job, then celebrating my birthday on Saturday (June 4th), it was both a privilege and honor to be the only media outlet approved to cover the Houston concert featuring iconic vocalist David Coverdale and his band of serpents collectively known as WHITESNAKE at the Revention Music Center downtown.
During my 30+ years residency in Texas the venue currently known as Revention Music Center has changed names multiple times, having been previously called, Aerial Theater, Verizon Wireless Theater and most recently Bayou Music Center before achieving its current moniker. While the prior changes were basically in name only, this last change brought about a small amount of remodeling to the inside of the building, the most notable being the outer lobby area, which was both positive and negative at the same time. The band merchandise area, which used to be just to the right of the main doors into the building, was moved to another area further away, allowing for better crowd movement when entering the venue but at the same time its new location proves to be nearly impossible to get to when packed shows are in town, according to multiple concertgoers who have been to shows there since its remodel. The lighting rig also appears to have been improved, resulting in some stellar pics from the show.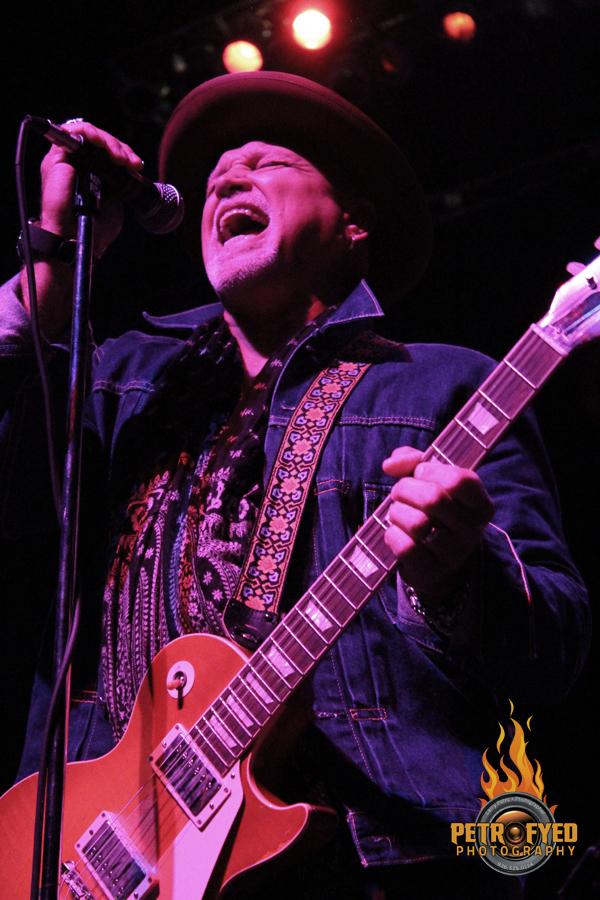 The band tapped to be the direct support slot for this tour was WHITFORD ST. HOLMES, the side project of AEROSMITH guitarist Brad Whitford and former Ted Nugent vocalist Derek St. Holmes, who are out in support of their second album, Reunion, which was released just two days before the Houston show. The duo, along with SLASH band drummer Brent Fitz, played a 9 song blues-infused rock set kicked off by the first single from Reunion, "Shapes". The first half of the band's set was more material from the new disc, while the last half contained a couple of AEROSMITH tracks ("Last Child", "Train Kept A-Rollin'") and the Ted Nugent staple, "Stranglehold" as the set's closing number. A great way to get the crowd into the rocking mood.
www.whitfordstholmes.com/
https://www.facebook.com/whitfordstholmes/
Setlist:
"Shapes"
"Rock All Day"
"Hell Is On Fire"
"Shake It"
"Gotta Keep On Movin"
"Last Child"
"Hey Baby"
"Train Kept A-Rollin"
"Stranglehold"
WHITESNAKE's last show in Houston, on "The Purple Tour", was almost exactly a year ago (June 20th, 2015, KNAC.COM review HERE) and the band's performance on that night was about as close to flawless as you can get so the only question that remained was how this year's show would stack up against such a high bar.

This run of dates was dubbed "The Greatest Hits Tour" which, for those of you keeping track at home, means a setlist comprised entirely of tracks from WHITESNAKE's three greatest albums, 1984's Slide It In, the self-titled effort from 1987 and Slip Of The Tongue (1989). The night was sure to be packed full of hits, but from the moment the band took the stage with show opener "Bad Boys", it was obvious that something wasn't right. David Coverdale was apparently somewhat under the weather and whatever ailed him caused his voice to sound like he had gargled a bucket of sand, in stark contrast to last year's show when he sounded as good as I've ever heard him. This gravelly sound was prevalent throughout the show but much to his credit, especially when greater wusses would have simply cancelled the show altogether, he fought through it and delivered an admirable performance and though he appeared to be singing in a lower octave for most of it, he still managed to belt out a few hellacious screams, throat be damned! All the hits were there, like "Slide It In", "Love Ain't No Stranger", "Fool For Your Loving" and "Give Me All Your Love", along with some that hadn't been played in a number of years such as "The Deeper The Love", "Sailing Ships" (which hadn't been played by this incarnation of the band prior to this tour) and "Cryin' In The Rain".
It was during the latter number (Cryin' In The Rain") that the night's biggest gaffe occurred. Coverdale, who was ailing already, suddenly came down with a case of CRS (Can't Remember Shit) and forgot the words! But instead of trying to fake it and hope no one noticed he motioned for the band to stop playing and playfully admitted his brain fart. As the band started the song over from that point he chuckled and said, "I'm so sorry. I wrote the fuckin' song and don't even know it!" Of course he was clearly embarrassed (has that actually happened to him before??) and for the remainder of the tune he was subjected to quite a bit of playful ribbing from his bandmates.
Speaking of the band, the current members, guitarists Joel Hoekstra and Reb Beach, bassist Michael Devin and drummer Tommy Aldridge, are all stellar musicians individually but on this night they appeared to still be trying to shake off the cobwebs and rust from the layoff as this was just the 3rd show of the tour and they seemed to be out of sync on a couple of numbers like "Judgment Day". The band closed out the show with "Here I Go Again" before returning for an encore in the form of "Still Of The Night".
Overall, on a scale of 1 to 10 this performance gets a 7. Sickness can't be helped sometimes and Coverdale gets props for going on with the show. Anyone can have an off night like the band did, but there's certainly no reason to believe that this is the kind of show that you will see the rest of the tour. In fact, it's probably a sure bet that Coverdale and Co. are making certain of it even now. If you're a fan of the WHITESNAKE glory days then this show is not to be missed!
Setlist:
"Bad Boys"
"Slide It In"
"Love Ain't No Stranger"
"The Deeper The Love"
"Fool For Your Loving"
"Sailing Ships"
"Judgment Day"
Guitar Solo (Reb, then Joel)
"Slow N' Easy"
Bass Solo
"Crying In The Rain"
Drum Solo
"Is This Love?"
"Give Me All Your Love"
"Here I Go Again"
Encore: Check out some more photos from the show!
All Photos By Larry Petro/Petrofyed Photography

Please log in to view RANTS