PERIPHERY Periphery III: Select Difficulty


By Peter Atkinson, Contributor
Thursday, July 21, 2016 @ 2:28 PM


| | | |
| --- | --- | --- |
| | | |
PERIPHERY
Periphery III: Select Difficulty
Sumerian Records




After issuing its massive twin-album set – Juggernaut: Alpha and Juggernaut: Omega – early last year, D.C.-based sextet PERIPHERY didn't spend much time resting on its creative laurels or catching its collective breath. Indeed, instead of following past practice and issuing an EP as a gap-filler, the band got right back down to work on a full-blown follow-up, which arrives just 18 months later, something that is almost unheard of in this day and age.

Periphery III: Select Difficulty actually is the band's fifth full-length, if one considers each of the Juggernauts a stand-alone album. Technical matters notwithstanding, Select Difficulty maintains the sonic breadth and scale of the Alpha and Omega package – indeed at 64-plus minutes, it clocks in at just 16 minutes shorter than those two albums combined.

And though it gets off to a rather turbulent start, Difficulty ends up being the ever-adventurous band's most listener-friendly effort. This comes courtesy of an experimental orchestral flare – albeit programmed/synthesized – the pervasive, occasionally pop-like, melodies the band weave through the album and frontman Spencer Sotelo's confident vocal gymnastics that highlight his resonant cleans while effectively contrasting them with teeth-clenched shouts.

The band, however, charges out of the gate on Difficulty with the in-your-face rager "The Price Is Wrong" and the djenty stomp of "Motormouth", both punctuated by off-kilter rhythms and the shuddering riffs of the three-headed guitar monster of Misha Mansoor, Jake Bowen and Mark Holcomb. The soaring clean verse near the end of "Motormouth", though, hints of melodic things to come. This becomes more pronounced on the the transitional epic "Marigold", which is introduced with a wash of synths mimicking strings before catchy stutter-step riffs kick in. It builds and builds on its chunky verses and anthemic choruses topped by Sotelo's buoyant vocals into something truly monumental.

"Absolom" offers more of the same, epically speaking, as, like "Marigold", it tops 7 minutes, but is more intricately constructed and "bigger." Kicking off with a bottom-heavy throb, it grows progressively heavier and more intense. Betwixt and between are sweeping melodies, breezy guitar lines and solos, ample orchestration and piano, and Sotelo really showing his range, hitting almost Halford-esque highs.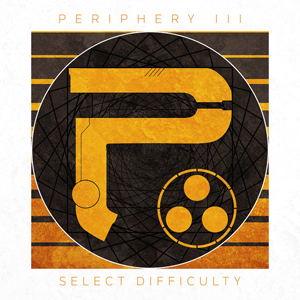 And then there is the album closer "Lune", which follows the thunderous "Prayer Position". A huge, nearly 8-minute power ballad of sorts, "Lune" is even more densely orchestrated and grand than the other opuses. Its "woah, oh, oh, oh, oh" finale sends the album off with Bic-flicking panache that would seem cheesy were it not for the band's well-established cheekiness. The pop-tinged "Catch Fire", though, can't escape its syrupy "Stay with me I'll show you paradise, it feels so right" lyrics or overly earnest delivery, and is the album's weakest – and shortest – track.
But lest ye think PERIPHERY has gone too soft here, Difficulty offers the sort of savvy balance of melody, muscle and dexterity that the Juggernauts couldn't quite seem to find. "The Way The News Goes" blends jazzy licks and piano strains with almost death metal fury and Sotelo's emo-ish vocals with Matt Halpern's blast beats and a few F-bombs for some of the most brutally catchy choruses you'll ever hear. "Remain Indoors" boasts a similar yin and yang, though not quite as extreme, with its metallic chug punctuated by swirling synths, sweeping choruses – and more profanity. Fuck yeah!
Even the album's heaviest tracks are anything but straight-forward. The double-bass powered behemoth "Habitual Linestepper" offers an orchestral break in the middle of its quaking guitar onslaught and the MESHUGGAH-like "Flatline" mellows under Sotelo's languid vocals.
Getting back to work so quickly seems to have paid real dividends for PERIPHERY here. More melodic, but at the same time more complex and nuanced, more expansive yet contained in a somewhat tidier package, Select Difficulty cures much of what ailed the Juggernauts. With less time to overthink or tinker, the band better captures the immediacy and progressive spirit of the moment here. And though some of the songs are a tad overlong, and "Catch Fire" falls flat, the album ultimately is quite a triumph.
4.0 Out Of 5.0
Pre-order your copy of Periphery III: Select Difficulty in the KNAC.COM More Store right HERE.




Please log in to view RANTS

If you don't have a username, click here to create an account!