METAL ALLEGIANCE
Fallen Heroes
Nuclear Blast



METAL ALLEGIANCE, the all-star metal band consisting of a rotating cast of musicians, including members of TESTAMENT and DEATH ANGEL, will release a special EP, titled Fallen Heroes, on August 12. The band united to pay homage to the three legends — Lemmy Kilmister, David Bowie and Glenn Frey — who impacted not just their lives but the world as well.

"I can't begin to explain the influence that Glenn Frey, Lemmy and David Bowie had on me. Each of their music has helped me immensely during some real dark periods of my life and not to mention their influence on me as a musician and songwriter. Lemmy is God, Glenn is King and David is the Architect", comments METAL ALLEGIANCE's Mark Menghi.

Adds METAL ALLEGIANCE guitarist Alex Skolnick: "These brilliant artists have an extensive catalogue that is sometimes on the softer side (with the exception of MOTÖRHEAD, of course). So when it came to THE EAGLES and Bowie, we specifically chose tunes of theirs that are riff-based and translatable to high energy arrangements."

"I'm really excited to be a part of the Fallen Heroes EP," comments ARCH ENEMY's Alissa White-Gluz. "I think we have all felt the weight of losing so many great musicians this year. I think these songs are a cool way to pay tribute to a few people who contributed so much to the world of music and showcase a different side of ourselves."

METAL ALLEGIANCE took the news of Lemmy's passing very hard as the bands' very first gig was on MOTORHEAD's first Motorboat Cruise. It was on that boat where the idea to write a record together and carry the METAL ALLEGIANCE flag as a brand/band rather than a sporadic, special event show.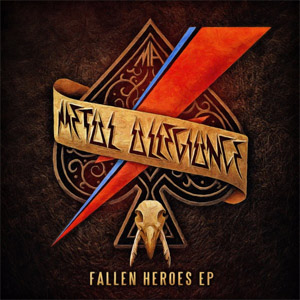 Recorded at Conclave Studios in New York City, Fallen Heroes was produced by Mark Menghi, Mike Portnoy and Alex Skolnick. The album was mixed by Jay Ruston in Los Angeles, California and mastered at Sterling Sound in New York City by Ted Jensen. The initial sketch of the artwork was created by Mark Menghi and Stephen Thompson (ANTHRAX) and was later finalized by Marcelo Vasco (SLAYER).
These covers are guaranteed to get your head banging. Personally the stand out track is Alissa White-Gluz's homage to Glenn Frey with "Life In The Fast Lane". She really comes in to her own and gives you another dimension to her voice and talent. If you only know her from ARCH ENEMY then you seriously need to listen to this track. There's a good chance you wouldn't pick up on that it's her if you didn't already know. Soulful with a touch of metal. Over all the EP itself is a good addition to anyone's collection, and doesn't have the same vibe as just another covers disc. Played with metal, done out of respect.
Fallen Heroes track listing:
"Iron Fist" (featuring Troy Sanders)
"Suffragette City" (featuring Mark Osegueda)
"Life In The Fast Lane" (featuring Alissa White-Gluz)
Guitar: Alex Skolnick
Bass: Mark Menghi
Drums: Mike Portnoy

5.0 Out Of 5.0