THE WINERY DOGS In Houston, TX With Photos!


By Halo, Heavenly Contributor
Saturday, July 30, 2016 @ 4:59 PM


| | | |
| --- | --- | --- |
| | | Power Trio Makes Return Trip To The Bayou City @ Warehouse Live |
All Photos By Halo/Halos & Horns Photography
The "Double Down Tour" was coming to end after a lengthy run in support of Hot Streak, the second album release by this trio of musical geniuses.
Hot Streak was released in October of 2015 and I was privileged to review the album and the show this past October. TWD started the "Double Down Tour" about 9 months ago in the U.S., also traveling to Europe, Japan and South America. When they announced a second Houston concert date, I wasn't missing it. Hot Streak is hitting the Billboard charts with definite strength. Top Rock Albums (No. 5), Top Independent Albums (No.5) and Top Modern Rock/ Alternative Albums (No. 2). The album also reached No. 30 on the Billboard 200.
The past Houston show in October was at a smaller venue, which was packed to capacity. This time around I was honestly pleased it was at a much larger venue. Warehouse Live is a great venue, other than the parking, or the lack thereof. The venue is spacious and open with 3 bars so you're not waiting long for drinks or spending a small fortune like other local venues. Great staff and security as always, with my only complaint being the stage lighting, but I was still able to get some great shots. The crowd was considerably larger than the first Houston show which was expected and as time grew closer to TWD taking the stage people were still steadily arriving. Eddie Trunk (That Metal Show) was there to introduce THE WINERY DOGS and to promote his books. Not sure what else to say about his attendance other than that. Most of us were just more than ready for Richie, Mike and Billy to appear.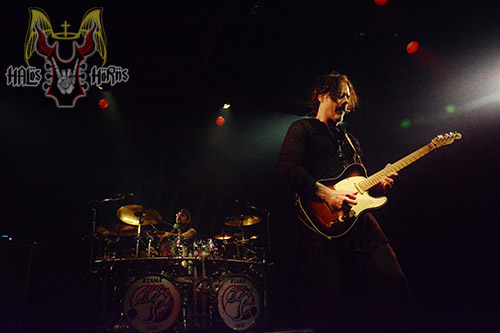 THE WINERY DOGS took the stage about 10pm. Mike Portnoy was the first to walk out on stage in his charismatic fashion. Billy Sheehan and his signature aqua Yamaha were second out followed by the always stoic Richie Kotzen. Once the three are in place they immediately break out into "Oblivion".I am in the photo pit at this time and notice the crowd was packed behind the barricade and and singing every word to this song. TWD popularity obviously had grown from the past show to this, which is what I predicted after following them for the past couple of years. The second song "Captain Love" was clearly was a crowd favorite! This was one of my favorites from when I reviewed the album, a song of choice when THE WINERY DOGS' playlist is put on. Lyrics "I'm 45 but 18 in the clutch" has always made me question the meaning so I came right out and asked Mike Portnoy earlier what they meant. I mentioned my guess and He just smiled and said "You're probably right". He also added "I always wanted a good stripper pole song"; I'm thinking he has one now! During the next song "We Are One", Richie had technical difficulties and no sound from his guitar. He didn't miss a beat and it was fixed quickly. "Hot Streak", the title track to the latest album was fourth and it was at this point I noticed one fan trying to lean over the barricade just about bust her ass. She knew every word to this song. Gotta love die-hard fans (literally laughing out loud). "Time Machine" and "Empire" were the next two. The 7th song was "Fire", always one of the best songs during the show. Richie does this one acoustically and it makes the hair stand up on my arms. It's a beautiful but heartbreaking ballad. Immediately after "Fire" came "Think It Over". This is the track where Richie plays the keyboards. Richie's talent is immense, from amazing vocals, guitar and keyboards, what can't he do?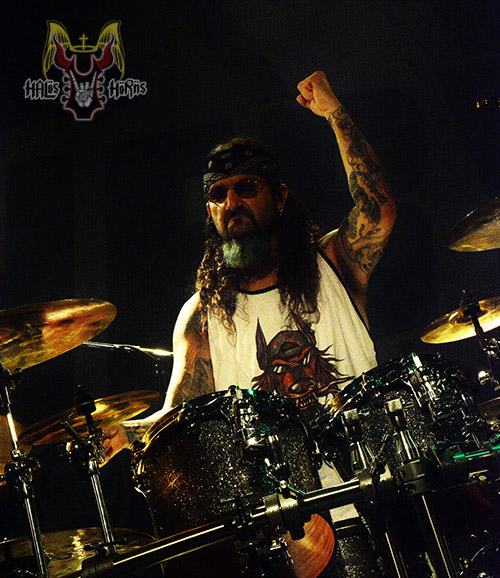 Next was Mr. Portnoy's time to wow the crowd. He comes out from his drum kit to play drums on the mic stand, and as he is walking across the stage he's using his sticks on anything and everything. Mike is and always will be one of my favorite drummers. His personality is infectious. He loves the fans and loves to have fun in front and from behind the kit. The crowd loved his playful, crazy fun. He sat back down behind his drum kit and broke into his drum solo. He swings his mic around and hit the double bass. His solo led into "The Other Side", one of the best songs that the guys perform live in my opinion. Billy Sheehan and his magic four string bass go into his solo and it's one of the highlights of the show. I do believe by observing the crowd at both WINERY DOGS shows, some fans come to see him and him alone. His solo is absolutely amazing. He intro'd perfectly into "Ghost Town". Between "The Other Side" and "Ghost Town" all three of these musicians are spotlighted absolutely perfectly. "I'm No Angel" and "Elevate", both songs from their first album, were the last two on the set list.
It wouldn't be a rock show without an encore. The encore consisted of two more songs, "Desire" and "Regret", both from the first album. "Regret" is another song on which Richie plays the keyboards. This is one of the moments you get a glimpse into a sensitive side of him. It's a bluesy song filled with emotions, takes you down memory lane and stabs your soul.
THE WINERY DOGS are quite easily one of the best trios in the music industry. Mike, Richie and Billy are impeccable in their individual talents. Bringing them all together on stage is a gift to us all. I will never be able to say enough about this band. Not only are they immensely talented, they are just great guys. This show, like the last one I saw, always leaves me wanting more. They have such a mix of rock, blues and funk. Every song they do live sounds just as good as it does on the album. Not many bands' sound just as amazing in both the studio and live. Every penny you spend on a ticket to one of their shows is worth it. Sad to see this tour end but looking forward to the next project. THE WINERY DOGS never disappoint!
Check out some more photos from the show!
All Photos By Halo/Halos & Horns Photography

Please log in to view RANTS