RUNNING WILD Rapid Foray


By Alex Yarborough, Orlando Contributor
Friday, August 12, 2016 @ 7:36 AM


| | | |
| --- | --- | --- |
| | | |
RUNNING WILD
Rapid Foray
2016 Steamhammer/SPV Records




Since RUNNING WILD reformed in 2011, they have been on a roll. Shadowmaker (2012) and Resilient (2013) were solid albums with catchy songs; Rapid Foray, the band's 16th studio album, is no exception. Fans know that RUNNING WILD will provide songs with historical, naval, outlaw and piracy based themes. Rapid Foray runs the gamut and offers quite a few instant classic tracks on these topics.

Rapid Foray would definitely have been completed and released earlier than 2016 if it weren't for Rolf Kasparek's shoulder, which he broke in 2014. His injury kept the band sidelined for nearly a year while he healed. But this gave Rolf more time to figure out the band's next move. Rolf stated his intention on this album was to continue with the sound they had going over the previous two albums, but inject a more complex guitar sound into the music this time. Album openers "Black Skies Red Flag" and "Warmongers" definitely do that. From the start, you can tell the guitars are higher in the mix. There are also more elaborate riffs and solos in the songs. "Stick To Your Guns" has a cool strut to it. This is a classic RUNNING WILD anthem. The galloping title track "Rapid Foray" (a military term meaning raid or attack) is easily my favorite song on the album. The song has a great sing-along chorus and solo and should prove to be huge in a live setting. "By The Blood In Your Heart" has an uplifting stomp to it, with a bagpipe orchestra accompanying the melody in the last half of the track. This seems to be one of Rolf's favorite tracks, as he noted about it: "For me this track has all the qualities of a real stadium anthem. Listening to it gives me goose bumps every time." Instrumental "The Depth Of The Sea – Nautilus" provides a nice intro to "Black Bart", which tells of the legendary pirate in rollicking RUNNING WILD style, featuring a blazing guitar riff and double bass drumming. "Hellectrified" is another up-tempo power metal song driven by a stellar guitar riff and catchy chorus. "Blood Moon Rising" is a solid rocker and the spirit of "Into The West" will have you singing along. This is a very melodic track with plenty of harmony guitar work.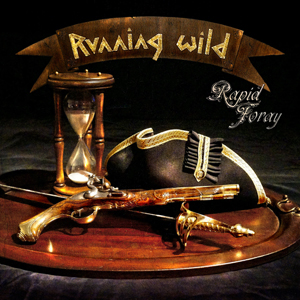 "Last Of The Mohicans" is the final and most epic track on the album. The song is based on the James Fenimore Cooper novel set during the French and Indian War (also made famous by numerous TV series and movie adaptations). The song begins with Rolf's spoken intro and kicks in at about the two minute mark; the track is great from beginning to end. Rolf said of the track: "When you listen carefully you will notice that "Last Of The Mohicans" consists of thousands of small bits and pieces, which is why the work on this track turned out to be rather complex." I agree, it is a complex song, yet is easy to listen to and enjoy. It has one of the best choruses on the album and the guitar work is spectacular. And somehow, the 11th song on the album is 11:11 in length. Cool.
In my opinion, this is RUNNING WILD'S strongest album since they reformed. There is not a bad song to be found here. The production and mix are enjoyable and Rock'n'Rolf Kasparek's iconic voice alone makes this album come alive. There is no drummer or bassist listed again for this album. At this point, the band consists of Peter Jordan and Rolf Kasparek, who I am certain played every instrument on the album. I have no problem with that, as they are supremely talented musicians, and if that's their way of getting things done, it works for me. The cover artwork is based on a photo by Rolf, which Jens Reinhold then gave an oil painting treatment to give it a more classic look.
Rapid Foray will be released worldwide on August 26th and comes in several different formats, including a digipak with poster, 2-LP with CD, and a limited edition box set that includes tons of surprises for fans.
4.3 Out Of 5.0
Per-order your copy of Rapid Foray in the KNAC.COM More Store right HERE.

Please log in to view RANTS