THE CULT At The Ottawa Bluesfest


By Andrew Depedro, Ottawa Corespondent
Tuesday, August 16, 2016 @ 1:11 PM


| | | |
| --- | --- | --- |
| | | Alive In The Hidden City (And The Hidden School Reunion) As THE CULT Reign Over Ottawa Bluesfest |
Calling all proud card-carrying owners of Electric, Sonic Temple and Ceremony and other wild-hearted sons from my alma mater who wanted to bring it back to '87, '89 and '91 respectively by catching this show: Unless you had to miss out because of family commitments, I hereby declare you to be somewhat lame. Okay, so you caught the tours back in either Grade 9 or 11 or maybe even both but were you honestly gonna let a bit of precipitation spoil your Saturday evening? You even missed my karaoke rendition of "She Sells Sanctuary" afterwards which I totally nailed, but only from having heard the Earth Mojo Master's version of it first. And, no, had no interest in seeing the LUMINEERS afterwards as it's my review and not my sister's.

So, Day 2 of Bluesfest without having to start my 7th year of volunteering just yet and the bucket list of long-awaited bands to see live grows smaller by the week. After watching BILLY IDOL own the stage on opening night two days earlier, it was now THE CULT's turn to rock the crowd. So far, some two songs in courtesy of the opener "Wild Flower" and the obviously prophetic "Rain" (it really was raining as Bluesfest attracts thunderstorms in the same way that mobile trailer parks attract tornadoes) and frontman Ian Astbury and his trusted guitar-slinging sidekick Billy Duffy are kickin' it 80's style along with the newest lineup consisting of bassist Grant Fitzpatrick (ex-Cherie Currie's touring band), keyboardist Damon Fox (erstwhile frontman of LA doom rockers BIGELF) and drummer John Tempesta (EXODUS, TESTAMENT, HELMET, ROB ZOMBIE, etc). In between the introduction to their latest track "Hinterland" is where things appear to go a bit pear-shaped at first with regards to Ian Astbury bringing attention to the Black Lives Matter movement, rephrasing it as the infamous All Lives Matter movement while describing the divisions that it had created in its mission statement (ending police brutality against people of color in the US). The message was somewhat lost on the crowd at first but thanks to the power of social media afterwards, Astbury was quickly corrected on the improper use of the term and later apologized.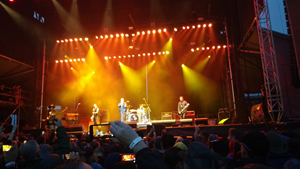 The crowd itself, few of whom were even on social media at the time, were more likely concerned if Billy Duffy's guitar tech would still have a job after the show as he seemed to be having some brief monitor issues affecting his amplifier and letting him know about it. The back-and-forth exchange between him and his tech seemed worrisome during the aptly-titled "Deeply Ordered Chaos".
Otherwise, THE CULT bounced back from that slight misfire and delivered the rest of their set in full form. "Sweet Soul Sister", "Fire Woman", "She Sells Sanctuary" and "Love Removal Machine" rounded out the set and sounded absolutely solid. And being half-Canadian himself on his mother's side despite being born in the UK, Astbury had nothing but praise for our First Nations communities, thanking them for helping to lead the way forward in a tumultuous period in our time (or something to that extent). It was, all in all, an entertaining performance which should have gone on for much longer but the organizers had mistakenly billed their set to be 15 minutes longer than what THE CULT had initially been contracted to play; understandably, a song or two from Ceremony, which is celebrating its 25th anniversary, would've been choice. Hopefully their next visit to Ottawa might include longer stage time and in turn a longer setlist covering THE CULT's catalogue in a deserving manner as the Bluesfest crowd didn't want 'em to run so soon.
http://www.cultcentral.com/
http://www.thecult.us
https://www.facebook.com/officialcult/
Setlist:
"Wild Flower"
"Rain"
"Hinterland"
"L'il Devil"
"Rise"
"Deeply Ordered Chaos"
"Sweet Soul Sister"
"Fire Woman"
"She Sells Sanctuary"
"G.O.A.T."
"Love Removal Machine"




Please log in to view RANTS

If you don't have a username, click here to create an account!





TARJA From Spirits And Ghosts (Score For A Dark Christmas)

BEYOND THE BLACK, KOBRA AND THE LOTUS, BEAST IN BLACK In Cologne, Germany With Photos!

ATROPHY Live In Ottawa, Canada With Photos!

NIGHT LEGION Night Legion

IRON SAVIOR Reforged- Riding On Fire

BUTCHER BABIES Lilith

GREAT WHITE In Houston, TX With Photos!

ARCH ENEMY, TRIVIUM In Portland, OR With Photos!

QUEENSRYCHE In St. Petersburg, FL With Photos!

SORCERER The Crowning Of The Fire King

SWEET & LYNCH Unified

MORBID ANGEL Kingdoms Disdained

BABYLON A.D. Revelation Highway

RIOT Through The Storm Reissue

SAMMY HAGAR AND THE CIRCLE In Clearwater, FL With Photos!

PRIMAL FEAR Best Of Fear

GWAR, U.S. BASTARDS, HE IS LEGEND, GHOUL In Portland, OR With Photos!

ALARM FOR WAR Enemies Of The State

CIRCUS OF POWER Four

IN THIS MOMENT In Portland, OR With Photos!

ANNIHILATOR For The Demented

BEAST IN BLACK Berserker

JAG PANZER The Deviant Chord