MASTODON In Dublin, Ireland With Photos!


By Justin Ryan - Dublin, Ireland, Contributor
Tuesday, August 23, 2016 @ 11:20 AM


| | | |
| --- | --- | --- |
| | | At Academy Venue August 15th |
All Photos By Justin Ryan
"This is the third time we've been booked to play Dublin on the Once More 'Round The Sun tour cycle. From the bottom of our hearts, thank you for making that happen Dublin. We promise you one thing; as long as you want us to come and play for you, we will do so". Bassist Troy Sanders' words of appreciation were applauded and cheered warmly by the one thousand capacity crowd in tonight's (Monday, August 15th, 2016) Academy venue. In typical MASTODON live show format, even though the concert was an hour into its duration, they would have been the first words any of the band had spoken to the crowd on the night, were it not for lead guitarist Brent Hinds having to instruct security to eject a troublemaker from the venue after the night's eighth song, "Aqua Dementia". "All I've been getting from the dude in the white t-shirt is bad vibes since we walked out here tonight. Security, he's got to go" were the last words the agitator heard at the show.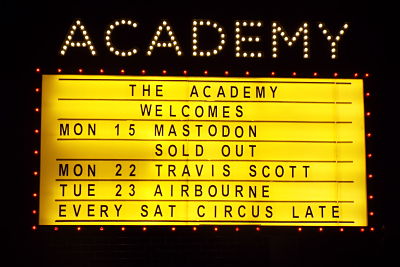 The concert began dramatically with a ten minute sonic explosion of show opener "Tread Lightly" followed by "Feast Your Eyes". Although both of these songs are primarily pulsating, up tempo numbers, they also contain striking tempo and riff changes within their structures which adds dramatic unpredictability to their high quality. "Oblivion" from 2012's unmissable, brilliant Crack The Skye album followed; its opening notes drew the evening's first primordial roar from the crowd; it also featured Hinds engaging in fret board acrobatics by playing its amazing solo lying on his back on the stage floor. Three tracks, "The Motherload", "Chimes At Midnight" and "High Road" taken from their most recent, impressive studio album, Once More 'Round The Sun, were then performed successively. "The Motherload", who's promo video appears to parody both METALLICA's "Until It Sleeps" video and the female "talent" from any number of R&B videos, has to be seen (if only the once) to be believed. The video's content may still induce raised eyebrows but the song and its guitar solo in particular makes a worthwhile addition to the MASTODON repertoire.
"Mother Puncher" from 2002's debut studio record Remission was the deepest back catalog cut on the night. It may not seem all that heavy a tune on record but played in the live environment tonight, it was a monstrously heavy, wall shaker of a song that was a stark reminder of MASTODON's early harsh vocals style. No less intense was "Aqua Dementia" from Leviathan, which is a concept album based on Herman Melville's novel, . The music on this record creates an excellent soundtrack to the 1851 novel, although the harsh vocals employed might not appeal to all listeners. However, in the context of the album's theme they are fitting as they reflect Captain Ahab's frantic, raging, tortured and bewildered state of mind during his obsessive, revenge filled voyage in pursuit of the whale. It came as no surprise that this record topped several,"Album of the Year" polls in 2004.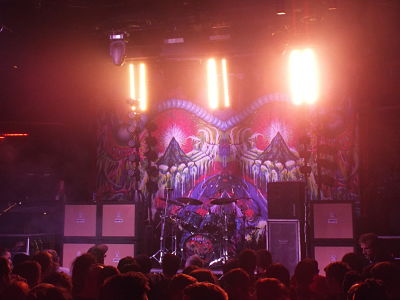 Speaking of voyages, this time astral rather than seafaring, the incomparable "The Czar" brought the show past its half way mark. The almost eleven minute sonic journey that this song takes listeners on is nothing short of breathtaking. An utterly brilliant musical composition from start to finish, its Hendrixian guitar solo is worthy of a specific mention. It's incomprehensible that a MASTODON live show would not include the performance of this song. Unfortunately, the same cant be said about the gig's next tune, "Bladecatcher". In an otherwise stunning concert performance, its utter mediocrity was the night's only weak moment. Fortunately, the six songs that succeeded it were all excellent, including "Black Tongue", which was the sole track played from the superb Mike Elizondo produced The Hunter record. Sanders introduced "Ember City" as his "favorite song on the Once More 'Round The Sun record" which preceded the jaw dropping "Colony Of Birchmen". This track was a strong contender for song of the night; its absence from the band's set lists on each of their previous five visits to Dublin made its reappearance tonight absolutely unforgettable.
As on their last visit to Dublin, "Emerald" was chosen to close the show. "We've prepared this one for you Dublin" was Brent Hinds' introduction to the THIN LIZZY classic, which the band first covered on the aforementioned Remission studio record. The atmosphere and crowd participation throughout the show was amazing; as with last year's show at The Olympia, the crowd's vocals during "Emerald" were spine tingling and would undoubtedly have generated an approving nod from the late Phillip Parris Lynott. It was also great to hear such a timeless tune being faithfully delivered by the band without unnecessary changes, as some bands unfortunately feel the need to do when covering songs. "We'll be back here next year with our new record"
Sanders informed the crowd before he, Bill Kelliher and Hinds waved goodnight to the ecstatic audience. Before throwing generous numbers of drum sticks into the crowd, skins man Brann Dailor brought the memorable ninety minute concert to a close by jokingly saying "Dublin, we've decided as a band to keep playing here, the crowd size will diminish after each performance! Eventually one guy will turn up to see us live! That one guy will probably be that guy there in the front row who thought it okay tonight to buy those two girls beside him a drink between them! [Crowd laughs, then starts to chant]. What? You want one more tune? We just played "Emerald" by THIN LIZZY. How can a band possibly follow that? Dublin, thanks for your support, we'll see you all soon."
Set List:
"Tread Lightly"
"Feast Your Eyes"
"Oblivion"
"The Motherload"
"Chimes at Midnight"
"High Road"
"Mother Puncher"
"Aqua Dementia"
"The Czar"
"Bladecatcher"
"Black Tongue"
"The Wolf Is Loose"
"Divinations"
"Ember City"
"Colony of Birchmen"
"Blood and Thunder"
"Emerald" (THIN LIZZY Cover)
Check out some more photos from the show!
All Photos By Justin Ryan




Please log in to view RANTS

If you don't have a username, click here to create an account!