ROB ZOMBIE, KORN, IN THIS MOMENT In Cleveland, OH With Photos!


By Geoff Ketler, Cleveland Contributor
Tuesday, August 30, 2016 @ 11:35 AM


| | | |
| --- | --- | --- |
| | | Aliens, Dreads And Vampires…Oh My! – The "Return Of The Dreads" Tour Stops At Blossom Music Center |
All Photos By Geoff Ketler/Aces High Photography
The second leg of the second incarnation of the "Night of the Dreads Tour" known as the "Return of the Dreads Tour" made a stop at Blossom Music Center in Cuyahoga Falls, Ohio – just outside of Cleveland. So many major tours had already passed on Cleveland, like many other times, (I'm looking at you SLIPKNOT, KISS, etc.) It was the show all of us local metal heads had been talking about all summer long and it was finally here.
Up first was the ever-artistic IN THIS MOMENT. After departing from their alt-punk roots several years ago, the group from Los Angeles went full-on theatrical with their album Blood which carried well into their latest release, Black Widow. The short but sweet 7-song-set focused almost completely on these two albums. I had been notified ahead of time that we photographers were approved to shoot the entire set. I am guessing this was because the band wanted their over-the-top props and garb to be well documented and I was happy to oblige. The band managed to get the crowd heading for the pavilion in a hurry with "Sick Like Me".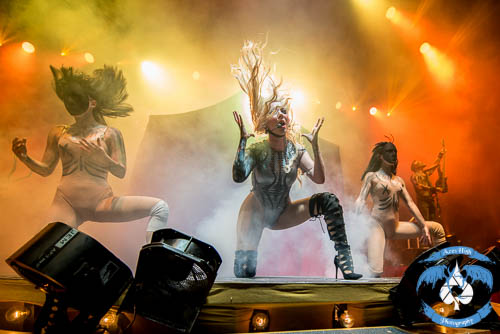 Each song included a complete wardrobe change for vocalist Maria Brink, most of which kept the audience in a 'shock and awe' state, but I felt as though the set dragged a little bit because of it. Maybe next time they could leave out 1 or 2 changes and throw in a couple of extra songs. Another takeaway is that 100% of the focus was on Maria (Maybe this is how it should be – you be the judge). Her enormous stage setup included a circus tent where she would disappear to in order to prep for the next tune along with the 'blood girls'. The rest of the musicians, including the drum kit were pushed off to the sides and often left in the shadows. The entire set was a deluge of lights, fog and props. There appeared to be an issue with Maria's CO2 cannon during "Adrenalize", as it quit firing shortly after the song began, otherwise it was a metal orgy for the eyes.
Setlist:
"Sick Like Me"
"Black Widow"
"Adrenalize"
"Sex Metal Barbie"
"Burn"
"Whore"
"Blood"
The tour alternated headliners throughout the dates. Tonight it was Rob Zombie's night to close, so up next was KORN. As the stage was cleared the date 10/21/2016 was shown across the gigantic screen which served as the backdrop. This is the release date for KORN's 12th album, The Serenity Of Suffering, and from what I can tell listening to the first two singles, it sounds like it will be a dark and twisted return to form.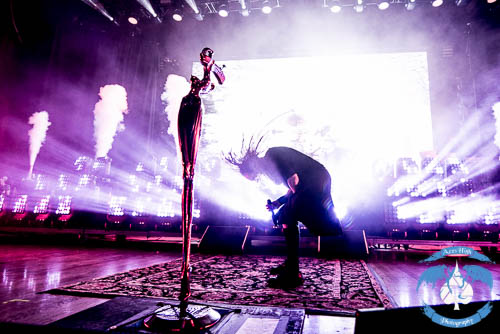 The first single, "Rotting In Vain", made an appearance early in the set, otherwise it was a nostalgic overload of 'greatest hits' that took me back to my high school years. The rather stripped-down stage had a massive bank of lights across the back line with only Ray Luzier and his drum kit perched on top. One after another, KORN blasted through material. Highlights were "Here To Say" and "Got The Life". The crowd went off when vocalist Jonathan Davis approached center-stage with his bag pipes during the intro to "Shoots And Ladders". Where else can metal and bag pipes coexist? The band was cohesive, with tons of energy and I couldn't have put together a better setlist.
Setlist
"Right Now"
"Here To Stay"
"Rotting In Vain"
"Somebody Someone"
"Did My Time"
"Coming Undone"
"Y'All Want A Single"
"Make Me Bad"
"Shoots And Ladders"
"Blind"
"Twist"
"Got The Life"
"Falling Away From Me"
"Freak On A Leash"
The crew scrambled to get Rob Zombie's stage set in place – after you see it, you will understand that it was quite a task. The lights went dark and John 5's lighted guitar was about all that was visible. He was using a ray gun to create effects, much like Steve Stevens does in Billy Idol. The lighting was blown out in reds and greens with no spots on the band members. Like most Zombie sets, the back line was covered with cartoonish-looking horror props and also an enormous boom box, complete with a cassette player.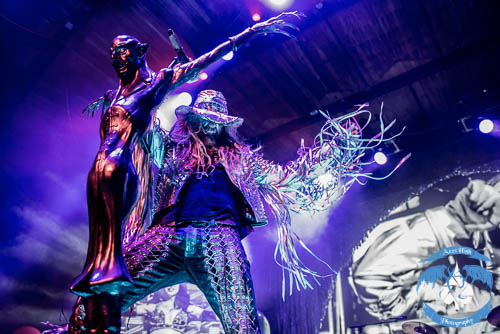 The setlist was almost as eclectic as the set props. As usual, Rob and Co. mixed it up with new and old material alike, with a few covers sprinkled in. Crowd favorites like the old WHITE ZOMBIE staples "More Human Than Human" and "Thunder Kiss '65" blew the top off of the pavilion. John 5, in his signature face paint, was masterful. Rob was always moving; his dreads flying and the fringe of his jacket flailing. Entertaining is an understatement. Rob Zombie and his bandmates proved once again that they are the kings of theatrics, horror and everything excess.
Setlist
"Dead City Radio And The New Gods Of Supertown"
"Superbeast"
"In The Age Of The Consecrated Vampire We All Get High"
"Wild Thing" (TONE-LOC Cover)
"Living Dead Girl"
"Well, Everybody's Fucking In A U.F.O."
"More Human Than Humam" (WHITE ZOMBIE)
"Never Gonna Stop (The Red, Red Kroovy)"
"The Hideous Exhibitions Of A Dedicated Gore Whore"
"House Of 1000 Corpses"
Guitar Solo - John 5
"Thunder Kiss '65" (WHITE ZOMBIE)
"Am I Evil?" (DIAMOND HEAD Cover)
"The Star-Spangled Banner" (John Stafford Smith Cover)
"We're An American Band" (GRAND FUNK RAILROAD Cover)
"Dragula"
Check out some more photos from the show!
All Photos By Geoff Ketler/Aces High Photography

Please log in to view RANTS




YNGWIE J. MALMSTEEN, GLENN HUGHES In Worcester, MA With Photos!

ALICE COOPER Road

RAT ROD Four On The Floor

GIRLSCHOOL WTFortyFive?

DANKO JONES Electric Sounds

AVATAR, ORBIT CULTURE, THE NATIVE HOWL In Houston, TX With Photos!

THE DEAD DAISIES In Hollywood, CA With Photos!

KILL DEVIL HILL Seas Of Oblivion

THE DEAD DAISIES In Ottawa, Canada

MAMMOTH WVH In Santa Ana, CA

UADA Crepuscule Natura

BARONESS Stone

KAMELOT, BATTLE BEAST, XANDRIA In Houston, TX With Photos!

CRYPTOPSY As Gomorrah Burns

RAY ALDER II

GHOST, AMON AMARTH In Houston, TX With Photos!

U.D.O. Touchdown

DETHKLOK Dethalbum IV

STEVE VAI In Ottawa, Canada

PANTERA, LAMB OF GOD In Houston, TX With Photos!