Godsmack
Faceless


By Mick Stingley, Contributor
Thursday, June 12, 2003 @ 12:29 AM


| | | |
| --- | --- | --- |
| | | (Republic/Universal) |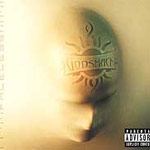 Hot off the radio success of the awesome "I Stand Alone" from the soundtrack to The Scorpion King, (included here), Boston's Finest are back on the scene with a blistering return to the hard charge that made them so wildly popular. Instantly recognizable diamond-in-the-rough harmonies, and throaty vocals melted over heavy guitars, thrust more than a few songs here out of the stereo and into your head with some nice results. "Straight Out Of Line" blazes straight out of the box with the tribal drums that have become a staple of Godsmack. Awash in guitar and made flesh with Sully's vox, this song heralds the cry that this band has returned, as hard and angry as it ever was - but heavier and angrier. "Faceless" brings more of the same, with an ever-so-slightly radio-friendly appeal. "Changes" slides slowly into it's own as a rock song, replete with some killer leads behind the soaring vocals. "Make Me Believe" feels like the last three songs, but still offers the significantly harsh indestructible wall of guitars that Tony Rombola and Robbie Merrill lay down track after track. "I Stand Alone" stands out from this collection as something altogether different sounding, which makes a nice transition into "Re-Align," which brings back some of the first album pop-howl-n'crunch that is missing from the first four tracks on here. Track 7 is "I F(ucking) Hate You." Not surprisingly, this is a heavy, angry song that grabs your attention… should be good for getting over your ex! The rest of the CD continues to rock along in this wonderful fashion -- good loud aggressive heavy (slightly) pop-rock that deserves to be played as loud as all fucking get out. The last song, "Serenity," is slower and cool, kind of like "Voodoo," and was written by Erna after reading Neil Peart's book. Pretty neat way to finish out the disc… I think this disc might get lost in the slew of new releases coming out this summer, (read: Metallica) but when the smoke clears, and the dust settles, "Faceless" will, uh, 'stand alone' as a killer record… * * * *




Please log in to view RANTS

If you don't have a username, click here to create an account!





LOUDER THAN LIFE FESTIVAL Photo Gallery

KORN, BREAKING BENJAMIN, MOTIONLESS IN WHITE In Tampa, FL With Photos!

KILLER BEE Eye In The Sky

AMARANTHE Maximalism

OPHIDIUS The Way Of The Voice

CLUTCH, ZAKK SABBATH, KYNG In Orlando, FL With Photos!

STRYPER In Houston, TX With Photos!

THE DIVES In New York City

MESHUGGAH The Violent Sleep Of Reason

VANILLA FUDGE At The Ottawa CityFest In Ottawa, Canada

BLAZE BAYLEY In Ottawa, Canada

OZZFEST In San Bernardino, CA With Photos!

RAVENEYE Nova

HAIR NATION FESTIVAL Photo Gallery 2

HAIR NATION FESTIVAL Photo Gallery 1

OPETH Sorceress

GOJIRA, TESSERACT In Silver Spring, MD

PAREIDOLIA Denied Truths

NERVOSA Live In Ottawa, Canada

CONQUEST Under The Influence

SABATON The Last Stand