Cold
Year of the Spider


By Jeff Kerby, Contributor
Tuesday, June 17, 2003 @ 5:37 PM


| | | |
| --- | --- | --- |
| | | (Geffen) |
Anything "Cold" is hardly ever a good thing. If you've got one, it sucks. If you are cold, it sucks. If you're girlfriend is cold… then, I guess she doesn't suck—she may not even be alive. Just as this brutally descriptive term conjures up numerous unappealing images, the band who possesses this moniker also has some negative connotations that it has to fight constantly in order to convert new fans.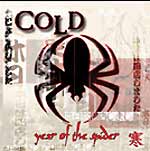 The first concerns the widely-held perception that this is a rap metal band -- which it isn't -- although it is true though that Fred Durst once produced their demo and helped Cold get launched. This fact isn't exactly something that group publicists are necessarily accentuating right now for obvious reasons: namely that most bands don't want to be associated with over the hill, cellulite-challenged chubsters with no discernable musical talents who appear to publicly stalk teen pop stars ala Avril Lavigne with the voracity of a pervert with a cookie at an elementary school recess. Then, if that isn't enough, Cold is also saddled with that whole nu-metal tag, which implies that the group pays no attention to the chorus or melody or voice fluctuation which should be inherent in any quality song -- all of which is proven untrue on Year of the Spider. To make matters worse, their current hit "Stupid Girl" is co-written by Rivers Cuomo of Weezer which, in the world of metal, is something akin to having Rick Springfield sing backup on your thrash album. If that still isn't enough though, this hard rocking unit also has the audacity to openly cite bands like The Cure and even… gasp.. Depeche Mode as influences along with such metal stalwarts as Queensryche. All these factors should have spelled disaster for this project, and dammit, in a way I wanted it to, but… the music gets in the way. Image be damned, this is a completely solid disc. While we're at it, let's also get this out of the way right now as well: "Stupid Girl" is probably the weakest track on this album. It was the record company who decided that this should be the first single because it's catchy, and in the world of MTV, being linked to Rivers Cuomo is a desirable thing. If that's all a listener ever hears from this band, then it's easy to understand why a Motorhead fan or even a Deftones fan would be turned off. The problem though is that as soon as Year of the Spider gets shoved into the disc player and "Remedy" kicks in with its tremulous bass line combined with vocalist Scooter Ward's clear, unobstructed vocals, it's impossible to keep from picturing yourself darting in and out of the miasma of freeway traffic with nothing but this tune as the soundtrack. The chorus and vocal mix here makes this the type of song that simultaneously satisfies one's inner need to rock while also providing a definite sense of invincibility. If you find yourself wanting to sing into the rear view mirror while listening, people who watch are still going to laugh at you, but you might just be so happy that you won't care. "Suffocate" follows up the first track with a song about being in a relationship where every action you engage in is closely scrutinized and questioned by your significant other to the point where the walls of the relationship are closing in and hope for a healthy future with that person becomes extinct. In "Cure My Tragedy," the subject matter doesn't get any more jovial as the lyrics here detail the hopelessness Scooter Ward experienced upon finding that his sister had been diagnosed with cancer. In this selection, he vents his frustration and confusion while questioning exactly how God chooses who gets stricken with such bleak, desperate illnesses. Even with these seriously desperate words intermingled with the music, both the songs resonate with a musicality that is almost impossible to keep from connecting with that part of your mind/ear that decides what it likes and what is good regardless of who is singing it or what perception you may have of that individual. Two of the best songs on this album are "Don't Belong" and "Wasted Years," which both address the partying of one's youth and how it either eventually leads to some new beginning or comes to an empty, stale end. "Don't Belong" takes more of an up tempo approach to this malady while "Wasted Years" is a ballad that isn't so pussified as to make the listener feel a sense of guilt after it been put on repeat for three consecutive days on the home stereo. Besides the presence here of universally understandable lyrics, these two songs also implement keyboards that subtly accentuate the tracks without being intrusive or distracting the listener for even a second. The inclusion of this instrument definitely creates a sense of atmosphere here that is as palpable and dark as early morning fog. "Whatever You Became," "Sad Happy" and "Rain Song" all continue the dark sentiment expressed on this album with the same sense of hooks and power that the previous selections possess. "The Day Seattle Died" is an obvious memorial to Kurt Cobain and Layne Staley that attempts to emphasize the impact these two musicians had on a generation while also expressing the frustrations and anger many of those same people still feel toward these two singers for abandoning them. Ultimately, Cobain and Staley were people who seemingly had everything to live for yet appeared unable in the end to focus on even one thing that could have given them enough hope to save their lives. Year of the Spider may not be perfect -- the thirteenth song "Kill The Music Industry" could have easily been left off this album. It stands, along with "Stupid Girl," as the only tracks that don't appear to have come directly from Scooter's own sense of pain and loss, and consequently they are the only tunes that don't appear to have the same type of conviction that makes the others so special. Yes, the production on this offering is extremely clean and doesn't resemble anything like a "live in the studio" feel. On the other hand though, this was never designed to be a grunge record or a punk record. Instead, Cold has perfected a style of pop metal here that in a perfect world would transcend labels or biases and would just stand alone on its merits as a very good album. On Year of the Spider, Cold represents a group possessing better lyrics, better songs and more cohesion than the other bands who are perceived to be their peers right now like Saliva, Staind or Godsmack. Of the new offerings by any of these bands -- hell, you can even throw in Metallica's St. Anger in as well -- and this is probably the only one I can see myself listening to three months from now. Basically, Year of the Spider represents one Cold you won't mind catching. * * * *




Please log in to view RANTS

If you don't have a username, click here to create an account!






CRADLE OF FILTH Existence Is Futile

BEAST IN BLACK Dark Connection

MASSACRE Resurgence

DREAM THEATER A View From The Top Of The World

JAY JAY FRENCH Twisted Business: Lessons from My Life in Rock 'N' Roll

BLACK LABEL SOCIETY, PRONG And OBITUARY In Portland, OR With Photos!

GEMINI SYNDROME 3rd Degree - The Raising

DORO/WARLOCK Triumph And Agony Live

BETWEEN WORLDS Between Worlds

ALCATRAZZ V

BEHEMOTH Sventevith (Storming Near the Baltic) Reissue

ALICE COOPER, ACE FREHLEY In Nashville, TN With Photos!

CARNIFEX Graveside Confessions

BLOOD RED THRONE Imperial Congregation

GUS G. Quantum Leap

BILLY IDOL The Roadside EP

AVATAR, MAGIC SWORD In Houston, TX With Photos!

APRIL WINE, MONKEYJUNK At The Ottawa Bluesfest

MINISTRY Moral Hygiene

CRYPTA Echoes Of The Soul

SKILLET In Houston, TX With Photos!

Immortal Axes: Guitars That Rock Book

IRON MAIDEN Senjutsu

GRINDER BLUES El Dos

GEORGE LYNCH Seamless Review #2

IN THIS MOMENT, BLACK VEIL BRIDES In Houston, TX With Photos!

WARLANDO Festival 2021 Photo Gallery

KISS In Ridgefield, WA With Photos!

LAURENNE/LOUHIMO The Reckoning

TREMONTI Marching In Time

ROCKLAHOMA 2021 Day 3 Photo Gallery

ROCKLAHOMA 2021 Day 2 Photo Gallery

ROCKLAHOMA 2021 Day 1 Photo Gallery

CARCASS Torn Arteries

SETH La Morsure de Christ