AIRBOURNE, THE WILD! In San Diego, CA With Photos!


By Junkman, On-Air Personality
Friday, September 16, 2016 @ 2:45 PM


| | | |
| --- | --- | --- |
| | | At The House Of Blues |
All Photos By Junkman
Monday nights are usually a night for staying put after a long weekend. Recently, I decided to extend my weekend a little longer by driving down the California coast for a dose of rock n roll. The place? The House of Blues in San Diego, located smack dab in the middle of the "Gaslamp", a district that is stocked with restaurants, bars and lots more. The bands? Two of the "rockinest of the rockin'", Australia's AIRBOURNE and Canada's THE WILD!.
After getting "primed" at a local brewery, I made my way to the HOB, and it's a cozy venue, I must say. Again, it was a Monday, and the crowd was not big, but they were mighty. I think just about everyone in the room knew what to expect, as fans arrived early. Merchandise seemed to be doing well, and I noticed plenty of people sporting each of the bands T-shirts.
Hailing from British Columbia, THE WILD! stormed the stage from the get-go. It's what they do. A 4 piece, straight ahead, balls out rocking machine adorned with their official uniform of denim jackets and t-shirts, guitars and drums. That's all they needed. Opening and slaying the crowd with their first single, 2012's "Road House", they got the evening off to an adrenaline charged start, and kept it that way throughout their 10 song set.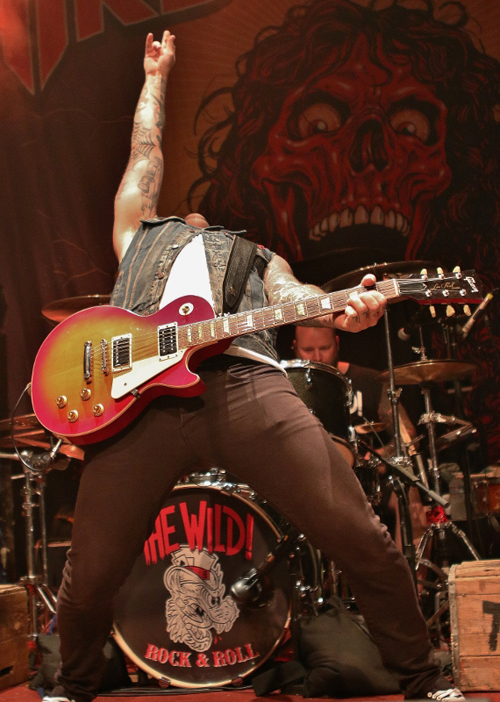 Singer guitarist Dylan Villan, cranked out chunky riff after riff on his "Sunburst" Gibson Les Paul, and used every stage move I could think of. Hand-to-ear to simulate "I can't hear you, make some noise", leg up on stage monitor, and synchronized head banging amongst the front line, that included bassist Boozus and tour guitarist Pistol Pete, were all included in the set. A nice change of pace was the bluesy tempo set by drummer Reese Lightning during "What About You" as well as his heavy hitting during "Slow Burn".
A highlight of the show was when a crew member brought out "Beer Bongs" onstage as Boozus and Pistol Pete downed them simultaneously and proceeded to rock to new levels afterwards, closing the set with a one-two punch of "Six Hundred Sixty Six" and "Party Til' You're Dead", which just may happen if this continues. This was the first show of the tour and it looks like it's going to be a fun one. A WILD one, actually. Check them out at www.thewildrocknroll.com.
Naturally, another cold one was needed and my buddy and I toasted the band for a great set. Soon, the sounds of air-raid sirens and low flying planes hit the PA system, and it was time for the first US show in a few years from Australia's AIRBOURNE. Starting off the blitzkrieg with "Ready To Rock" from the 2013 Black Dog Barking release, it was full on excitement from start to finish.
Singer/guitarist Joel O'Keeffe is like a wrecking ball onstage. Shirtless, sweaty and in constant motion. He and his bandmates, brother Ryan O'Keeffe on drums, guitarist David Rhoads and bassist Justin Street, blasted out an 11 song set that just pummeled the audience via an arsenal of Marshall stacked amps, six aside, with some good old fashioned Australian pub rock. "Too Much, Too Young, Too Fast" is a killer anthem and sonic screamer, yes, in the form of that other classic band from "down under". And no, I'm not talking about MEN AT WORK. These guys are the real deal. They really like their audience as well. During "Girls In Black", Joel O'Keefe rode around the audience on the shoulders of a crew member, all the while wailing away at his Gibson Explorer, and gave away free beer to crowd members who joined him while hoisted on a friend's back. Soaked with sweat and spilled beer, O'Keefe led his band through the bombastic thud of "Cheap Wine And Cheaper Women" whilst drinking from a bottle of said hootch. This is a band for the people. A real party!
While plugging their latest release, Breakin' Outta Hell, which comes out any day now, O'Keeffe dedicated the title track to "anyone who is sick of their bosses and just want to have a drink with their mates". And that is exactly what myself and most of the Monday night crowd seemed to be doing, as AIRBOURNE ripped into what I can only describe as yet another bullet in the old rockin'rifle. They then finished their set with 2012's anthemic "No Way But The Hard Way" before heading backstage to dry off the sweat, beer, wine, and whatever else was accumulated.
Encoring with two of their biggest "hits", "Live It Up" and ,i>"Running Wild", the band scored a ten out of ten from the audience and this writer as far as a great stage show is concerned. Great material, easy to follow for the novice listener (I even noticed an 11 year old girl and her parents, rocking out and loving it..), as well as all kinds of adrenaline and killer guitar licks from both bands. It was the perfect capper to a great 4 day weekend. As this was again, the first show of the tour, you have time to "get yer arse out there" and rock the way it was meant to be done. Check out AIRBOURNE's website for more information and the tour and new release- www.airbournerock.com
Check out a few photos from the show!
All Photos By Junkman




Please log in to view RANTS

If you don't have a username, click here to create an account!