CONQUEST Under The Influence


By Rob McNees, Vinyl Aficionado
Monday, September 26, 2016 @ 2:05 PM


| | | |
| --- | --- | --- |
| | | |
CONQUEST
Under The Influence
Dark Star Records




I love Cover tunes. More times than not I can usually tell if I'll like a band I've never heard of by a cover if they've done one. If they've done someone really obscure like MANILLA ROAD or HEAVY LOAD for example, unless they absolutely crucify the song then by and large I'll love the band. If it's just a popular song by a popular band then I judge it on the song itself: did they make the song their own like JUDAS PRIEST's cover of Joan Baez's "Diamonds And Rust" or maybe choose a cover by a band so obscure that no one knows it's a cover, like BLACK SABBATH covering the band CROW's track "Evil Woman" on their 1970 debut?

Enter St. Louis, Missouri power metal band CONQUEST. Releasing their 1st demo in 1988, they have 6 albums and a couple of EP's on their resume, yet I really know little about them. Never seen them live, no vinyl that I'm aware of and don't remember them on any big tours. So maybe for people like me, they've released an all covers CD called Under The Influence. And no, it has nothing to do with the mighty OVERKILL, who released their Under The Influence the same year of the first CONQUEST demo.

The band (Derrick Brumley - vocals, guitar; Mike Crook - guitars, vocals; Tim Fleetwood - drums, and Joey Saturn - bass) and the influences they cover are pretty standard fare for any average hard rock or metal fan. Starting out with a JUDAS PRIEST double down, "Metal Gods", followed by "The Ripper", obviously not everyone can be Rob Halford or Ripper Owens, but Derrick's slightly gruffer voice gives the tracks a little punch, and his sonic screams at the end of "Metal Gods" is surprising. Considering "The Ripper" has already been covered by such metal heavyweights as MERCYFUL FATE, ICED EARTH, ASKA and AGENT STEEL, it is almost impossible to top it but CONQUEST does an admiral job.

IRON MAIDEN's "Wrathchild" is next, and singer Derrick says he never cared for legendary early vocalist Paul Di'Anno's voice (blasphemy says I!!), but they don't do the song any disservice. At the behest of their label Dark Star Records, who 'strongly suggested' they cover it, METALLICA's "For Whom The Bell Tolls" pops up next. METALLICA's James Hetfield has a very distinct voice, and musically it's spot on but vocally it's hard to match the early aggressive tones that he used to use.

And what metal band worth their salt releases a metal cover CD without a shout-out to the legendary MOTORHEAD? Another song that's been covered countless times, "Ace Of Spades", and CONQUEST metals it up nicely but let's be honest; the original is perfection and can never be topped. RIP Philthy & Lemmy. Up next, "Antisocial" is a cover of a cover. ANTHRAX originally covered the French titans TRUST and this song back in 1989, so this is a cover of THAT cover. Got it? Mike Crook does a ripping solo but Derrick is no Joey Belladonna. A solid version but ANTHRAX wins hands down.

The amazing UFO classic "Lights Out" is next, and again how do you top something that can't be topped? This isn't CONQUEST's first attempt at a UFO cover as they did "Hot 'N' Ready" on the UFO tribute CD Spaced Out. Michael Schenker is a guitar god in my eyes, and Crook plays it smart by doing his own thing solo-wise as opposed to aping Schenker. And UFO's Phil Mogg is one of hard rock's great unsung vocal heroes to be sure. A metal gallop here replaces the standard rhythm in the original version. All in all a worthy attempt.

A very un-Metal but extremely popular track, "Wanted, Dead Or Alive", by New Jersey pretty boys BON JOVI rears its head next and it's hard not to make this crushingly more heavy than the original. CONQUEST manage that but surprisingly keep it mostly true to the original, like all the tracks on here. MOTLEY CRUE's "Red Hot" makes an appearance and actually makes for a rather pounding cover with Fleetwood's double bass drum kicks and Saturn's driving bass lines. Not nearly as brutal as the pummeling version by Sweden's death/thrash heathens GATES OF ISHTAR but I do believe Nikki Sixx would throw horns in approval of CONQUEST's take.

Next, the Missourians make a cover visit to my beloved Lone Star State to take a stab at paying homage to the late, great 'Diamond/Dimebag' Darrell Abbott and gone-but-never-forgotten icons PANTERA. "Cowboys From Hell" sees the treatment here and Brumley actually does a great Philip Anselmo, his voice with the razor sharp highs & lows and the band mustering up all the Texas-sized groove it has. Special props to Mike for nailing that Dime solo. Not much variation from the original but they did it and did it well.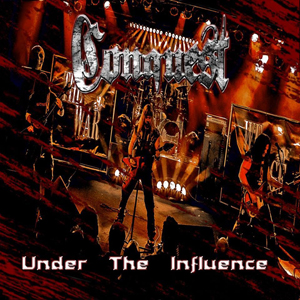 And last but not least is another oft-covered classic, BLACK SABBATH's "Children Of The Grave". Already having been covered by everyone from WHITE ZOMBIE to German headbangers GRAVE DIGGER to the heaviest, fastest and most definitive version by (at the time) Chicago-based death/thrash horde MASTER, not to mention the classic version by SABBATH themselves, kinda makes for a tall order for CONQUEST to top. And since they play it well, but a pretty standard version, it's cool but not earth shattering.
And that kinda sums up Under The Influence as a whole really. Very proficient, well played covers paying tribute to their influences, but putting no real stamp of their own on any of it. And as covers go, there's always two schools: the purists who say 'don't mess with perfection' and headbangers like myself who want to see bands take a chance, go out on a limb a bit and put a little of your soul in that take, and make it your own, so to speak.
If you're looking for a solid, well played CD of covers then I recommend CONQUEST. It's like going to a bar on a Friday night and being entertained by a band jamming out to their fave songs and paying homage to the bands that made them pick up their instruments to begin with, and having a good time. And realistically, isn't that what it's all about?
3.9 Out Of 5.0 Skulls
Grab your copy of Under The Influence in the KNAC.COM More Store right HERE.




Please log in to view RANTS

If you don't have a username, click here to create an account!