While the rest of the world were catching the five-ring circus known as the Olympics in Rio, a couple of female Brazilian thrash metal fans took off for a vacation of their own. They jammed with local thrash metal bands, downed copious amounts of the golden nectar to wash down the copious amounts of perogies they'd noshed on earlier and racked up high scores on several pinball games older than them by at least 25 years.

And that was just at Ottawa's favorite perogie restaurant/pinball arcade The House Of TARG which has lately been the venue of choice for many concertgoers and bands alike since it was founded by local musician-turned entrepreneur Paul "Yogi" Granger (DOUBLE PUMPERS/UKRAINIA/TOKYO SEX WHALE) some two years ago. When he isn't recording/playing with the other hundred-odd bands he's been a part of for the past quarter century, he's promoting the finest perogie menus and the most old-school of pinball and video games at his fine establishment.

As for reviewing the live music at Yogi's fine establishment, here's where I come in.

Kicking off the night's events were the thrash ramblings of local band EXO-VEDATE whose prime members Liam (guitar) and Brady (drums) first made a name for themselves by jamming SEPULTURA covers around Algonquin College causing severe headaches to the ears of uninitiated neighbors according to their bio. Four years later, their current line-up including Pat Czuba (vocals), Josh Brock (bass) and Shane McConnell (guitar) has since moved onwards from Algonquin College leaving many uninitiated neighbors and SEPULTURA fans alike at the mercy of terrible karaoke versions of the entire Adele catalogue. With school out for summer, EXO-VEDATE kept the class in session as they belted out their 80's thrash-inspired material including "Maximum Overdrive" and "Red River" to the jean-jacket and band patch wearing hordes. Their absolute opus was the rousing thrash-meets-technical number "Cosmic Collision" which closed their rambunctious performance. The House Of TARG may appear small in nature but for EXO-VEDATE at their second appearance at the venue in as many months, the band appear ready to get on the cusp of stardom or at least are eager to capitalize more on their live shows and eventually get more of their music out for more public consumption outside of their debut EP.

https://www.facebook.com/ExoVedate/

VENATOR are the next local band on the hunt for stardom as they take the stage. If the name's familiar to you, you were probably at the ONSLAUGHT/ARTILLERY show at Mavericks some 3 years ago when the experimental death metal quartet opened their set as well as a few other choice shows on their tour that year. Yes, that would be the same tour when Neil Turbin subbed for ONSLAUGHT's original vocalist Sy Keeler at the last minute due to a family emergency at the time. We all know how that went down so let's focus instead on the time that VENATOR's own 100 mph sleek thrash onslaught slayed the audience. Not much has changed since that night to be honest other than that since then, the band finally released their self-titled debut EP and played all three tracks from it: "Weapon Of Fear", "Slaves Of Time" and "Pull The Joker". Their hybrid of experimental speed coupled with 80's thrash street smarts kept the pit riled up and ferocious - particularly for one rather spaced-out concertgoer who looked extremely lost and out of place amongst the rest of the crowd. When he wasn't running into people he was just barely trying to keep his balance. Eventually he ended up managing to break his leg in three places after a fumbled attempt at picking up change and needed to be helped out by security. And, yes, that did happen during "Pull The Joker". VENATOR's sense of humor always was a bit on the dark side but luckily these metal stormtroopers are straight shooters when it comes to a live performance.

http://venatorottawa.bandcamp.com/
https://www.facebook.com/venator/

MORTOR are officially back after three years! I had no idea they'd even broken up! But that's what their frontman first announced before the five-piece kicked off their mad set with a selection of death-tastic thrash jams from their two-album repertoire including their recent release Shoot 'Em Up. Tracks such as "Clusterfuck", "Point Blank" and "Under The Flag" showed that this quintet were as musically fierce on the stage as their audience were in the pit. The closing number which happened to be the title track of their debut album Metal Ride was reminiscent of the band's chaotic yet impressive performance at 2010's Amnesia RockFest. For added measure, they brought up their former drummer Yolin to guest on the last number and the crowd were brought back to MORTOR's early years. For the newcomers to the grim and true affair, MORTOR sounded as sharp as a band that hasn't let a tumultuous and frequent line-up change keep them out of action for the past three years. The passion still remains sparked within MORTOR's bellies as they climaxed their show with the promise of a return to the stage once their third album Burn Up The Dead is released.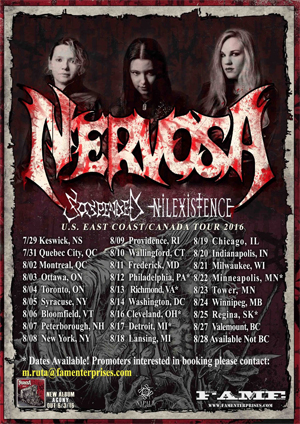 http://www.mortor.net/
https://www.facebook.com/mortormetal/
http://mortor.bandcamp.com/
Straight outta Sao Paulo and not at all that jealous that they've been passed over for the Olympics in favor of Rio, the all-female and currently two-thirds Brazilian proto-thrashers NERVOSA hit up the stage and grind through a relentless hour-plus long set which showcases their entire catalogue - two full length albums including the recently-released Agony. Frontwoman/bassist Fernanda Lira belted out the first couple of notes of the opening number "Hypocrisy", her thundering bass riffs and furious-looking stage presence setting the tone of the evening as her six-stringed sidekick, a petite blonde named Prika Amaral, delivered a flurry of riffs which sounded like they were coming from two guitarists, particularly during "Surrounded By Serpents" and "Masked Betrayer". Their current drummer, BC-born Samantha Landa, was a last-minute replacement for outgoing drummer Pitchu Ferraz, who'd quit the band midway during their previous European tour, and was every bit as precise and savage on the kit as her predecessor, killing every metronome on command. Quite the accomplishment considering that she had only 5 days to learn the band's entire catalogue before the tour began.
The songs were mostly 3-minute thrash numbers guided by the spirit of old school thrash in the vein of SLAYER, KREATOR and even a hint of early NAPALM DEATH in parts. Its titles were mostly one-word summaries but their sonic impact displayed more bluntness than any complex text could be used to convey its meaning. "Arrogance" raged with equal parts of superiority and vitriol. "Death!" played out like a kamikaze battle cry. "Into Mosh Pit" roared more in the form of a direct order, further helped when Fernanda is literally shouting for "the biggest, largest fucking moshpit" to close the set - and the crowd obliging without hesitation. Lucky for the accidental pit disturber who injured himself during VENATOR's set earlier that he left when he did; the scene would've been far messier for him during NERVOSA's encore.
Catch this Rio speedwagon live in your town or agonize over missing out. You can't get this type of Olympic-sounding heaviness from BABYMETAL.
Thanks to Paul Yogi Granger and the House Of TARG for making this show possible.
https://www.facebook.com/femalethrash/
http://nervosaofficial.com/site/eng-band/
Setlist:
"Hypocrisy"
"Arrogance"
"Death!"
"Surrounded By Serpents"
"Intolerance Means War"
"Masked Betrayer"
"Hostages"
"Theory Of Conspiracy"
"Into Mosh Pit"