PAREIDOLIA Denied Truths


By Alex Yarborough, Orlando Contributor
Wednesday, September 28, 2016 @ 1:33 PM


| | | |
| --- | --- | --- |
| | | |
PAREIDOLIA
Denied Truths
2016 Independent Release




New York's PAREIDOLIA are a rising group in the prog/power metal world. Vocalist Chandler Mogel sounded familiar to me, and I quickly realized I knew him from Greek hard rockers OUTLOUD. He can also be heard on ANGEL guitarist Punky Meadows' recent solo album, Fallen Angel. He is an amazing vocalist, and a definite draw. The band's lineup is rounded out by genuinely talented players Steve Dadaian (guitar), Jon-Michael Caldwell (bass) and Ryan Bertone (drums). The songs on Denied Truths were chiefly composed by Mogel and Dadaian, with some input from French composer Thomas Frost.

The band's name was adopted from a visual phenomenon where the mind perceives a familiar shape or pattern in something that doesn't exist. This phenomenon is reflected in the album artwork and is an underlying theme to the music.

Strong openers "Quench The Fire" and "Leave Me Alive" set the stage for the album. These up-tempo songs are two of my favorites on Denied Truths. Mogel's soaring vocals are bolstered by Dadaian's searing lead guitar work. Third track "Betrayed Within" is an essential song as well, and received the first video treatment, which can be viewed on KNAC.COM HERE. "Redeemed" features a muscular riff and is divinely melodic throughout. The defiant "Die Living" offers a chugging riff and sing-along chorus, and a cool guitar solo.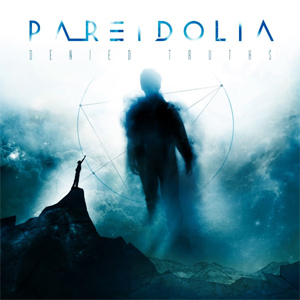 "Lie To The Angels" gets the fast pace going again. The hook of the chorus: "Ignite the spark, tear through the shadows in time to see the light" is very catchy. Check out Dadaian's solo on this song. "All As One" is a touching ballad, a nice heart-on-the-sleeve moment. I like "Wasting Water" and "Ten-Ton Halo" as well; these are two uptempo tracks that should appeal to fans. "A Part of Me" is another of my favorites on the album. The song is amazing from beginning to end. "Risen" and "Kiss The Glass" offer some inspiring points as well.
Too often, prog bands bore me with endless noodling and songs that meander. PAREIDOLIA will not waste your time. They keep the songs moving forward, while adding a sufficient amount of prog elements. There is enough shredding and solos to keep guitar fans interested, but in the end the songs focus on the melody and have a commercial slant to them. This is a sophisticated album of prog rock with some engaging symphonic moments sprinkled throughout. Fans of technical yet melodic bands like KAMELOT, FATES WARNING, SEVENTH WONDER and CIRCUS MAXIMUS should find plenty to enjoy in PAREIDOLIA and Denied Truths. There are a total of 13 songs at around an hour in length. Very impressive for a debut album!
Denied Truths is an independent release. With appealing songs like these, it won't take long for PAREIDOLIA to land on a major label, if that is what they want. Big things are ahead for this band.
4.0 Out Of 5.0

Please log in to view RANTS