SERIOUS BLACK Mirrorworld


By Alex Yarborough, Orlando Contributor
Thursday, October 13, 2016 @ 12:32 AM


| | | |
| --- | --- | --- |
| | | |
SERIOUS BLACK
Mirrorworld
2016 AFM Records




SERIOUS BLACK is an all-star power metal band initiated by ex-members of HELLOWEEN, TAD MOROSE and BLIND GUARDIAN in 2013. The band's lineup has changed slightly since the first album, As Daylight Breaks (2015). Guitarist Roland Grapow and drummer Thomen Stauch left, so the current lineup is: Urban Breed (TAD MOROSE, BLOODBOUND) on vocals, Bob Katsionis (OUTLOUD, FIREWIND) on guitar, Dominik Sebastian (EDENBRIDGE) on guitar, Mario Lochert (VISIONS OF ATLANTIS) on bass, Jan Vicik (DREAMSCAPE) on keys, and Alex Holzwarth (RHAPSODY OF FIRE) on drums. Quite an impressive lineup, no matter how you look at it.

Mirrorworld begins with a symphonic instrumental titled "Breaking The Silence" that serves as the intro to "As Long As I'm Alive". This nimble track features a masterfully played riff and solo. Urban Breed really lets it rip as well. Eve-inspired track "Castor Skies" zips along with some sweet double bass drumming and is one of the catchiest songs on the album. You can view the video for this song on KNAC.COM right HERE. "Heartbroken Soul" is a great track with a commercial touch to it, and would make another good choice for a single.

Jan Vicik contributes lead vocals to "Dying Hearts", a strong mid-tempo track with a nice hook in the chorus. "You're Not Alone" returns to speedy power metal, and is another solid track. The title track, "Mirrorworld", follows and is one of the strongest songs on the album, if not the most complex. The song has a sing-along chorus and demands to be played at full volume. "State Of My Despair" features some interesting keyboard accents from Vicik and a distinct lead vocal from Breed. I enjoy songs like the title track and the final track, "The Unborn Never Die", the most, which are a little more aggressive.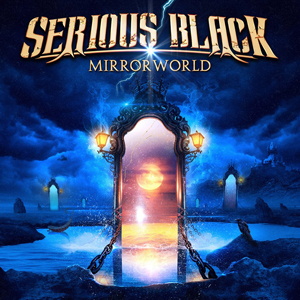 SERIOUS BLACK play excellent Euro-style power metal mixed with subtle prog elements. Overall, Mirrorworld seems to be a more finely-tuned effort than As Daylight Breaks. Katsionis and Sebastian work well together and their guitar riffs and solos are very satisfying. Vicik's keyboard playing gives Mirrorworld a nice palette and a slight prog touch. Lochert's bass work is perfect for this band, and Holzwarth's precision drumming thankfully resides high in the mix. Urban Breed never lets you down. I am a fan of many of his other bands, and he sounds just as good here. Vicik's mix and mastering of the album sounds great as well.
SERIOUS BLACK aren't reinventing the genre with this album, but there are some gratifying moments on this album. Fans of melodic power metal should give SERIOUS BLACK a listen. Mirrorworld has nine tracks and clocks in at 37 minutes. The album cover is a nice work of art as well. Mirrorworld was released in September on AFM Records. A limited-edition digipak version is available that includes seven bonus tracks.
4.0 Out Of 5.0
Grab a copy of Mirrorworld in the KNAC.COM More Store right HERE.




Please log in to view RANTS

If you don't have a username, click here to create an account!