DJ Will's BW&BK 6-Pack Weekend in Review


By DJ WILL, KNAC.COM Personality
Wednesday, July 16, 2003 @ 4:58 PM


| | | |
| --- | --- | --- |
| | | DJ Will (With DJ's Moshin' Joh |
Day 1-- Wednesday After the previous week of 4 shows in a row I wondered how the hell was I gonna top that? Well lo and behold a trip to Ohio that was planned long ago was only days away, which meant: "time to suck it up and start packing" for yet more heavy metal madness. This event dubbed: "6- Pack Weekend" was put on by Brave Words & Bloody Knuckles, originally a magazine based out of Toronto, Canada is also on-line complete with features and reviews much like our very own KNAC.COM. The staff there found the time to organize a European-styled festival and hold it not only in the US, but in Cleveland. For me this was perfect for the following reasons: A. It's in the States.
B. The line-up of performers.
C. ONE stage only.
D. No campsites to mess with!

This festival line up was much stronger than this years' Wacken and having it in the USA was also easier on the wallet, yet NO shortage of drinking or head banging! On my flight was Robbie, bassist for the Goo Goo Dolls(!?!) of all people, which was a surprise for the sole fact that like me, he was flying "coach." What? Big rich rockstar can't afford first class? Why the hell is he "slumming" back here for? (laughter) As he walked by he recognized me, said hello and we both got caught up with each other after our plane landed, but I still grilled him on the no "First Class" shock!

When I originally planned for this trip I chose to come in on the Wednesday before and figured I'd get a jump-start on things in the city. Big mistake.

"Dixies & Dictators" My departure date fell on the same day as The Dictators club show locally here in Cali and had I known that piece of information I would have moved my schedule back to catch them. However I could not and to my absolute horror my arrival in Cleveland was met by an overflow of Dixie Chick fans enroute to their concert at the Gund Arena. By the hundreds they came, just pouring out into the downtown area… Help!! Since I clearly had zero interest in that, I tried real hard to find anything Rock 'N Roll-related other than Alice Cooper's Restaurant and the Hall of Fame, which I would eventually go to days later. But oddly, nothing. No records stores to be found, not one Slayer shirt, no music blasting out of cars, nada. I even tried to get a hold of one of our local chat room regulars to maybe give me a heads up, but he ended up bailing on me. So right now a bad start, but that would all change. Day 2 -- Thursday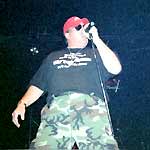 I hooked up with fellow jocks Drewcifer and Moshin' John early afternoon and things were finally full steam ahead as we all cruised down to the Odeon where everything was being held at. We met up with Bill Peters, who was already unloading items for the Fest outside. He's a long time fixture on the Cleveland music scene and had started his own label "Auburn Records" back in the day, which put out releases from: Breaker, Destructor and a rare Metal compilation that featured one of my favorite short lived bands that never broke big, Shok Paris. The singer Vic Hix who sang for that band is in one the groups playing this warm up pre-festival show called Aftershok. They had sent me their CD last year and I stayed in touch with guitarist George Mihalovich and let him know I play it on my show from time to time with pretty good responses. Walked around in-between the bands sets and checked out all the different vendors hawking CDs, shirts stickers and other miscellaneous metal items in keeping with the spirit of the event. One of the security guys for the club looked familiar for some reason but I didn't figure it out till much later on. Turns out he was one of the "rejectees" on that train wreck of a TV show "The Bachelorette"! I couldn't believe it! I was laughing my ass off, but he was cool about me bustin' his chops. The first night line up of bands were: Destructor, Soulless, Abdullah, Boulder, Somnus, Archetype and Aftershok.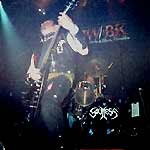 Soulless: Missed most of their show since they were first up. Running around helping set up everything with Drew, John and Clay from Century Media, but I made a point to get their CD.
Aftershok:The band was nice enough to let me introduce them on stage and their show was just straight ahead metal with excellent power chords and a solid rhythm section. Great set.
Archetype: More running around, but what I caught, sounded good.
Destructor: Another classic Heavy Metal band who have been around a long time. Complete with leather and studs, flying V's…I loved it! This was a warm-up gig of sorts for them as they were off to Europe in the weeks to follow.
Abdullah:I only remember these guys from playing "Black Helicopters" on KNAC.COM a lot. They actually had the most energy on stage this night.
Boulder:Aggressive & Loud! Even Drewcifer got into the act during one of their songs taking over on vocals.

Afterwards went to get something to eat with the guys in Candlemass down the street and then taxi it over to the hotel. Press "M" For METAL Party hangout back on the mezzanine level was the ideal place to go for all the restless types believing sleep is the "work of the devil." Good time to be had into the wee hours… beer, pool tables and mayhem. I still say German beer at room temperature rules, for some reason I have a new appreciation for Labatts… why is that?! I blame Canada. Day 3 -- Friday (and recovery) A visit to the Rock & Roll Hall of Fame in the morning for a couple of hours was the plan of action, and let me say while it was cool to do a few tourist type things here in Ohio, that place was severely lacking in items from a few some of the influential bands from the '70s like: AC/DC, Led Zeppelin, Judas Priest, Black Sabbath and KISS, which I found out later they wanted way too much money to display anything…well…no surprise there. On this visit there was a U2 exhibit underway for limited time, the Jimi Hendrix Surround Theatre and remastered footage of "Jimi Plays Berkeley" plus all the family photos, costumes, lyrics donated from his estate was a personal favorite, also lots of other memorabilia from The Who, Elvis, The Stones and even a great section of local Ohio groups ala Pretenders, Devo and The Cramps. We all walk back to the hotel and chill out before heading down to the club tonight. Once there the attendance inside the Odeon was already close to capacity. So many diehard fans coming out of the woodwork. Met writer Martin Poppoff -- a very nice unassuming guy, but boy can he write his ass off. I must have a library of all his novels on rock and metal. The Line up today: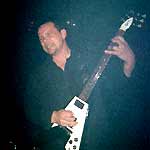 American Dog: A 3 piece no-frills rock group who were added last minute and would probably fit in quite nicely opening up for Jackyl or Ted Nugent. Solid set from AD to get the crowd going.
Cage: Made the trip from San Diego no less… these guys seem to be on every festival.
Kataklysm:From Canada. Very, very heavy set.
Entombed:Were not able to play since the drummer's wife was in a serious condition back in Sweden, however two members, Singer L-G and guitarist Alex Hell, still made the trip to the fest to meet fans who came to see them.
I was REALLY looking forward to Force of Evil, which as it turns out would be their debut show anywhere. In the line–up: Former King Diamond bassist Hal Patino and the legendary twin guitar attack of Hank Shermann and Michael Denner from Mercyful Fate fame. I was hearing the songs for the first time. My favorite tracks: "The Calling" and "Hell on Earth."
Missed most of Falconer -- running around yet again, but they were another band I saw at Wacken.
Nevermore: Closed this night with a solid set complete with a few new ones from their upcoming release. Warrel was singing in fine form and his hijinks back at the hotel later on with Jim and Jeff from the band (you guys are some funny bastards!) Had to be there.

Day 4 -- Saturday (Morning)
A special acoustic free show open to the public was held over at Cooperstown. I was pretty much in a sleep coma and in NO condition to get up. However I would have to eventually summon the strength and "rise from the crypt" because I didn't want to miss out on this special showcase. Once there I did miss most of Ripper' set (11 am start time… are you kidding me?!?) but the place was packed with Cleveland Indian fans and Metal heads all under the same roof…what a great yet bizarre atmosphere in the afternoon. Ripper Set: (I was told later) "Green Manalishi," "Breaking the Law," "Living After Midnight," "Before the Dawn," "Hell Bent for Leather" and a rare tune, "Cheater" from Rocka Rolla!
Pete Way and Ben Jackson : (Crimson Glory) "We're up next with an all UFO song selection…" "Doctor Doctor," "Only You Can Rock Me," "Too Hot To Handle," "Am I a Loser" and "Rock Bottom." "Karaokemass" or "Candlemoke"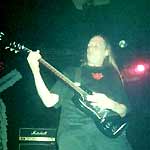 The close of this special showcase were all the members of Candlemass, sans Messiah, who was resting his voice for the mighty performance he would end up giving later on tonight. Candlemass opened up the microphone to lucky members of in the audience who were brave enough to sing a few versus of "Solitude" and the person voted the best or who could handle themselves as much as possible was given an opportunity to sing the entire song and get some signed swag as well. The guy that won (I forget his name) had a rough go at first but in the spirit of things the crowd cheered him on and was given a round of applause.
Leif closed out singing "Samarithan" with assistance from the crowd and that concluded this once in a lifetime accoustic show. An autograph session ensued in the back afterwards, but I opted to head back to the hotel and catch up on some much needed sleep and help the guys get ready for later on. Saturday Evening…..DOOM! Today's Line Up: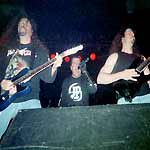 Beyond The Embrace: 5 piece. Very tight and solid. Amazing intensity.
Eidolon: 4-piece thrashy power metal outfit.
Missed most of Wolf set, but saw them at Wacken last year and knew what they were all about.
Evergrey: Had a polished, strong set complete with new keyboardist, Rikard Zander. Nice guy. Skål! Singer Tom Englund is a very commanding front man towering at 6'6 and dwarfing not only me, but the strat he was playing on stage.
Jag Panzer: Only played material from their 1st three releases, aTyrants Of Ample Command set, so to speak. "The Tyrant" –err, Harry, came decked out in traditional metal studs and hit the high notes that a pure metal vocalist knows how to. Music was tight, technical, soaring riffs, good sound and great crowd response.
Trouble: Opened up with "R.I.P." and proceeded to play old and new tracks like: "At the End of my Daze," "Fear No Evil" and the encore of "The Tempter." Heavy, Heavy, Heavy!!! Thick riffs and a damn good sound despite Rick Wartell guitar cutting in and out. Like Candlemass, who would follow and close out the night, both bands had played previously together in Europe, but it was Trouble who were practically the local faves despite being from Chicago. I think it was back in '91 with Pantera I last saw them myself.

The Wait is Over... Next up the band who adorns my denim vest and straight from Sweden... Candlemass. Well this is what we've been waiting for all along… the true DOOM kings themselves. Although touring in Europe constantly, its been 12 years since their last visit to the US.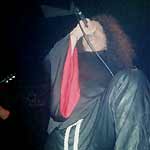 The lights dim, the big skull backdrop illuminates in the dark, then up comes an ominous intro for "Well of Souls" and out comes the band -- one by one followed by the voice of Messiah in his patented "Monk" outfit…. Well, I lost my fuckin head at this point! Between dodging crowd divers in the photo pit (which, by the way -- zero hassles and stayed down in front the whole show), this moment was all worth it. Hands down. Highlights in the set: "Mirror, Mirror," "Crystal Ball," "Bearer of Pain," "Somewhere in Nowhere," "Bewitched" and "Sorcerers Pledge." The house lights came up during the encore -- why I forget, maybe it was curfew, but the band forged ahead left us all wanting more. Day 5 Sunday (Aftermath)
Said goodbye to a lot of folks leaving in the morning. Ended going to an Indians game with Clay before heading back, which was cool… hassle free and totally lax. We had to bail in the 7th inning to go pack, grab a taxi to the airport and head back home. Upon arrival was the long ass wait through the security screeners which is always fun. (Sarcasm mode turned on.) Waiting in line with me, oddly enough, were the members of Jag Panzer, who were heading back to Colorado and I was praying they weren't going to say anything out loud to be funny and make the security pull my ass over and make me miss my flight (in other words my "vest" that was packed away could have been a huge red flag in this day and age.) We talked little bit as and they mentioned a possible tour with Helloween in the works. One last final stroke of luck on this Ohio journey, Drew and Moshin' John's flight got bumped, so we all ended on the same trip back to Los Angeles. Go figure. Immense thanks especially to Drew, John and Clay, "The Satanic Trio from the West," Jackie, Martin and Tim from BW&BK, all the bands and crews for making this festival happen and especially old school metal supporter, Bill Peters. Till next time…

DJ Will -- June 2003


| | |
| --- | --- |
| Vic Hix & George Milhalovich of Aftershok | Dave Overkill & Jamie Boulder of Destructor |
| "Drewcifer" onstage with Boulder! | "The Tyrant" of Jag Panzer |
| Mats & Lief of Candlemass | Candlemass' Messiah lays down the hymns! |
| Rick Wartell had "Trouble" with this V... | The Chicago legends, Trouble, at work |
(Photos Courtesy of DJ Will)




Please log in to view RANTS

If you don't have a username, click here to create an account!






BEAST IN BLACK Dark Connection

MASSACRE Resurgence

DREAM THEATER A View From The Top Of The World

JAY JAY FRENCH Twisted Business: Lessons from My Life in Rock 'N' Roll

BLACK LABEL SOCIETY, PRONG And OBITUARY In Portland, OR With Photos!

GEMINI SYNDROME 3rd Degree - The Raising

DORO/WARLOCK Triumph And Agony Live

BETWEEN WORLDS Between Worlds

ALCATRAZZ V

BEHEMOTH Sventevith (Storming Near the Baltic) Reissue

ALICE COOPER, ACE FREHLEY In Nashville, TN With Photos!

CARNIFEX Graveside Confessions

BLOOD RED THRONE Imperial Congregation

GUS G. Quantum Leap

BILLY IDOL The Roadside EP

AVATAR, MAGIC SWORD In Houston, TX With Photos!

APRIL WINE, MONKEYJUNK At The Ottawa Bluesfest

MINISTRY Moral Hygiene

CRYPTA Echoes Of The Soul

SKILLET In Houston, TX With Photos!

Immortal Axes: Guitars That Rock Book

IRON MAIDEN Senjutsu

GRINDER BLUES El Dos

GEORGE LYNCH Seamless Review #2

IN THIS MOMENT, BLACK VEIL BRIDES In Houston, TX With Photos!

WARLANDO Festival 2021 Photo Gallery

KISS In Ridgefield, WA With Photos!

LAURENNE/LOUHIMO The Reckoning

TREMONTI Marching In Time

ROCKLAHOMA 2021 Day 3 Photo Gallery

ROCKLAHOMA 2021 Day 2 Photo Gallery

ROCKLAHOMA 2021 Day 1 Photo Gallery

CARCASS Torn Arteries

SETH La Morsure de Christ

GEORGE LYNCH Seamless