VADER The Empire


By Peter Atkinson, Contributor
Thursday, November 3, 2016 @ 2:30 PM


| | | |
| --- | --- | --- |
| | | |
VADER
The Empire
Nuclear Blast Records




As Poland's VADER approaches its 35th year (in 2018) it shows no signs of slowing down, mellowing out or aging gracefully. Indeed, if anything, just the opposite.

The band's 13th studio album, The Empire, is one of its most immediate and urgent yet, delivering its death/thrash metal clamor with hardcore-like intensity and brusqueness. Where countrymen BEHEMOTH have long been about technical and thematical sophistication, VADER has taken a more blunt object approach. That is especially true here.

Boasting the same number of tracks as 2014's Tibi et Igni (10), but delivering them in 10 fewer minutes, The Empire feels like a half-hour-long barrage. It is unrelenting from the get-go with the blazing "Angels Of Steel" and is still raging hard until the more deliberate, riffy chug of it's finale "Send Me Back To Hell". It isn't until track four, "Iron Reign", which takes much the same approach as "Hell", that a song cracks the three-minute mark.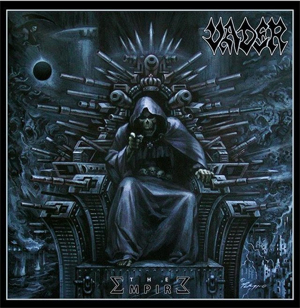 Tibi was the first album for the current incarnation of the ever-evolving VADER lineup – of which only frontman/guitarist Piotr "Peter" Wiwczarek has been a constant member – and the familiarity seems to have made it more confident, not to mention leaner and meaner, over the second go-round. English drummer James Stewart – also of DIVINE CHAOS – leads the charge with his steady double-bass/d-beat/blast-beat salvos and athletic, spray-gun fills over which Wiwczarek and Marek "Spider" Paj¹k gnash out their bracing riffs and fiery solo tradeoffs. Wiwczarek also flavors his barking vocals with frequent emphatic grunts for that extra punch in the gut and cries of "Go! and "One more!" on the frantic "Tempest" and "No Gravity", respectively, that only adds to the furious fervor here.
Of course all this wouldn't mean jack if the material doesn't stand up to the delivery. But VADER has crafted a fine, and sometimes outright excellent – as with "Angels" the surging "Feel My Pain" and crunching thrum of "The Army-Geddon" - batch of tunes here that provide a perfect platform for the band's energy and aggression. The Empire offers the kind of pummeling you won't mind taking again and again.
VADER has been on a pretty nice roll since 2011's Welcome To The Morbid Reich took what the band had been doing for all these years and just stepped it up a notch. The Empire certainly doesn't reinvent the wheel, but it does make it that much better, faster and more viciously efficient.
4.0 Out Of 5.0
Pick up your copy of The Empire in the KNAC.COM More Store right HERE.

Please log in to view RANTS