The question is: Can an "intimate" club show approach the electricity and excitement level of a big arena show? For those in attendance at the sold out 280 seat Narrows Center for the Arts in Fall River, MA LITA FORD show, the answer is an unquestionable "YES!"

It's always nice when a local band gets to open for an established "name" performer but that doesn't always translate into said opening band really striking a chord with the audience. However this was not the case on this night. After winning Limelight Magazine's (the publisher, JKB Entertainment Group was the show's promoter) Opening Act contest, the Boston-based band FLIGHT OF FIRE opened up the show with a powerfully dynamic set that showcased the all-female band to a vastly appreciative audience.

Taking the stage in support of their month old album Path Of The Phoenix, the band boldly started out with leather-lunged vocalist Maverick singing the opening intro to "Rockstar Life" acapella before the rest of the band joined in with a lively and enlivening set of straight forward hard rock dosed with, as their website states, "emotional folk rock and complex symphonic rock".

There's that old stand by phrase that talks about "these girls can rock" that definitely fits FLIGHT OF FIRE. Tanya Venom lit up the crowd with her work on the six string while Tia Mayhem spent the show providing thundering bass runs. Drummer Kat Dukeshire is a powerhouse sparkplug behind the kit. As for Maverick, her voice soared and cajoled the crowd throughout the band's 30 minute set. At one point, she was displaying so much unrestrained power, I feared for the PA system. The band, it seems, also values versatility as evidenced when they switched things up on the song "My Last Gamble". They all had some time on the mic, while both Tia and Tanya ended up playing the drums together, Maverick handled some of the guitar work and Kat found herself on the bass. For my money (so to speak), the best track on the night had to be the oustanding "Ten Thousand Voices", the lead track on their album. You can check out that performance HERE!
The band covered the LED ZEPPELIN song "The Ocean" and with the exception of one musical run where I thought there was a bit too much heaviness for the actual song, they did a fabulous job.
A few shoutouts to LITA FORD culminated with a dedication of the song "She's A Badass" to Lita and all the other women rockers who paved the way. FLIGHT OF FIRE closed out their set with "Better Off Without You" and received a rousing and well deserved standing ovation from the crowd.
After their set, I purchased their album and spent a quick minute speaking to the band and getting a photo with them which you can see on the KNAC.COM Twitter Page.
I am far from being plugged into the local rock scene so my unfamiliarity with the band prior to witnessing their winning set is a bit shameful to me. But FLIGHT OF FIRE spent their time on stage providing hard edged and high quality rock and roll and it was an immense pleasure for me "discover" them at long last.
SETLIST
"Rockstar Life
"Ten Thousand Voices"
"The Ocean" (LED ZEPPELIN cover)
"My Last Gamble"
"She's A Badass"
"Better Off Without You"
http://www.flightoffire.com
http://www.limelightmagazine.com
As for LITA FORD's show, all I can say is WOW! She had what I thought was a perfect song to lead into her hitting the stage with ACCEPT's "Balls To The Wall", but instead she let the "Intro" performance piece from her latest CD, Time Capsule, be the last thing you hear before she and her band kicked off the set. This is my only comment of negativity because I rather unfortunately hated that piece when I heard it on the album. But other than that, Lita's show was simply superb.
Hitting the stage decked out in studded denim and leather with her trademark B.C. Rich Warlock guitar, Ford opened with a smoking rendition of "Gotta Let Go" and proceeded to touch upon almost every aspect of her career (surprisingly, the actual songs from the Time Capsule album didn't make the set list) with both THE RUNAWAYS and her solo albums.
Fueled by her band, Lita was magic all night long. She worked not only every musical option in her repertoire but was effortlessly engaging in her words from the stage. She mentioned how "kick ass" she found FLIGHT OF FIRE to be. Meanwhile, in a chuckling but complementary fashion, she commented that the intimate space of the Narrows made her feel like she was in someone's living room.
I was kind of blown away with how great the band sounded live. The acoustics in the venue were excellent and Ford's band took full advantage of that fact. Guitarist Patrick Kennison played like an 80's guitar hero and provided stellar backing vocals. With Lita just on vocals for "What Do You Know About Love", he handled all the guitar work and fiery is just one term that could be applied.
How good is her band? Besides Kennison, bassist Marty O'Brien is rock solid in his performance. As for drummer Bobby Rock, he did something that I didn't think was possible anymore. He had a drum solo (in the middle of "Can't Catch Me") that I found quite entertaining. That's something big for me because I normally loathe drum solos.
But unsurprisingly, everything comes back to LITA FORD. This was the first time I had gotten to see her live in concert and I was not disappointed in the least. Her stand out vocal performance was evidenced by the fact she sounded as good as anything I've heard on her records. The guitar playing was slick and immense. The trading of solos with Kennison on "Back To The Cave" was a particularly noteworthy example.
Given how much I loved her Living Like A Runaway CD, I was glad to see that album represented by three songs in the set list including her cover of Elton John's "The Bitch Is Back". It is a song that continues to sound as if it was tailor-made for her to perform.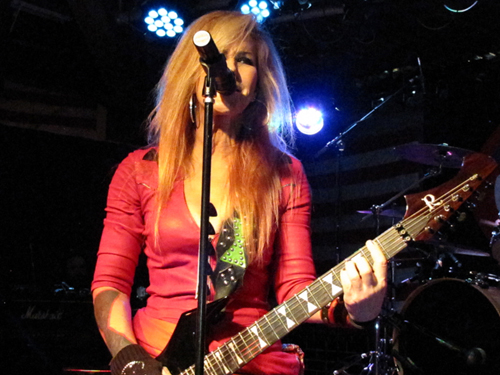 And in case you have found yourself forgetting just how many great songs Ford has had in her career, other stand out performances were "Falling In And Out Love" and an amazingly perfect "Playin' With Fire", which you can check out HERE!
After playing two RUNAWAYS tracks ("Cherry Bomb" and "Black Leather"), Ford brought the show to an end with her two biggest hits. There was a edgy rawness to the performance of "Close My Eyes Forever" that gave a new life to the song and an even greater appreciation of the song from me. Patrick Kennison had the task of filling in for Ozzy Osbourne's vocals on the song and call me crazy, but I liked the energy and rough edge he brought to the performance. As for "Kiss Me Deadly", it pretty much brought the house down as Lita and company bid the audience good night. SEE IT HERE!
I don't know what I might've been expecting when finally getting the chance to see LITA FORD live, but whatever expectations I had, she not only met them but exceeded them. She captured my attention in the 80's because let's face it, I was a teenager enthralled with her. But as an ever more appreciative adult music fan, on this night at the Narrows Center, she captured my attention by remaining a gifted performer who connects with her audience by providing great molten hot songs and a effervescent live stage performance that leaves you "Hungry" for more!
SETLIST
"Intro"
"Gotta Let Go"
"Larger Than Life"
"The Bitch Is Back" (Elton John cover)
"Relentless"
"Living Like A Runaway"
"Hungry"
"Playin' With Fire"
"What Do You Know About Love"
"Back To The Cave"
"Can't Catch Me"
"Falling In And Out Of Love"
"Out For Blood"
"Cherry Bomb" (The Runaways)
"Black Leather" (The Runaways)
"Close My Eyes Forever"
"Kiss Me Deadly"
http://www.litafordonline.com
http://www.narrowscenter.org