DEVILMENT II The Mephisto Waltzes


By Peter Atkinson, Contributor
Sunday, November 27, 2016 @ 5:14 PM


| | | |
| --- | --- | --- |
| | | |
DEVILMENT
II - The Mephisto Waltzes
Nuclear Blast Records




When you get right down to it, DEVILMENT is essentially a more listener-friendly – or at least less extreme – variant of frontman Dani Filth's main band CRADLE OF FILTH, simply from his mere presence and signature voice/delivery. But it's also got the same relative makeup – all the way down to a female keyboardist/backing vocalist, in this case Lauren Francis – and a similar goth-tinged, bombastic approach, but with way less black metal bluster and far more meaty grooves and anthemic swells.

Still, DEVILMENT's second album, II - The Mephisto Waltzes, which comes two years after its debut, The Great And Secret Show, finds the band not only more confident, but growing comfortable in its own skin now that it seems to have found a somewhat stable lineup - despite the departure after Show came out of founding guitarist Daniel Finch, who had recruited Filth. With the debut and some touring under its belt, DEVILMENT has coalesced around the core of Filth, Francis, guitarist Colin Parks and bassist Nick Johnson - with drummer Matt Alston coming onboard this year – and developed a more distinctive personality.

Though still a bit long-winded, the Mephisto tracks are comparatively compact and quite punchy by CRADLE's grandiose standards, and more focused than they were on Secret Show. The tempos and arrangements are brisk but fairly straight-forward, aimed more at getting heads bobbing than scrambling skulls. "Judas Stein" sets the tone from the get-go with its ample hooks and synth flourishes countering the occasional death metal sprints, while "Hitchcock Blonde" follows suit by adding super-catchy shout-along choruses for good measure.

"Under The Thunder" and "Dea Della Morte" take more sinister turns – especially "Morte" with its thunderous breakdowns - only to be softened by Francis' silky clean vocal accompaniment that nicely contrasts Filth's screech by playing it straight and not straying into operatic warbling. For the gothier pomp of "Full Dark, No Stars" and "Entangled In Our Pride", the two engage in more of a genuine duet that works quite well as the songs build and build.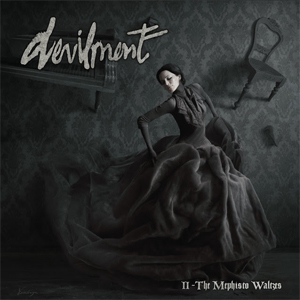 Less effective, though, is the cooing Francis offers during the dramatic break of the otherwise bracing "Shine On Sophie Moone" - which, along with "Hell At My Back", are perhaps the most CRADLE-like tracks here given their break-neck pace and Filth's manic cadence - or the intrusive trade-offs on "Life Is What You Keep From The Reaper" that don't really seem necessary. Both take a bit of the steam out of otherwise pretty decent tunes.
The missteps here, however, are relatively few and the overall strength of the material makes them easier to overlook. Indeed, where DEVILMENT makes its greatest strides on Mephisto is simply by taking things more seriously. Where Secret Show reveled in CRADLE meets ROB ZOMBIE-like schlock/camp – with "Even Your Blood Group Rejects Me", "Living With The Fungus", "Girl From Mystery Island" and "Staring At The Werewolf Corps" - that at times came across as either half-assed or contrived, the new material bristles with purpose and feels much more genuine, or at least mature, throughout.
Here, again, familiarity and experience have allowed the band to learn from its mistakes. II - The Mephisto Waltzes is a consistent, cohesive effort that gives DEVILMENT firmer ground to build on for the future. It also better establishes its identity and while the band likely will never escape the shadow of CRADLE as long as Filth is manning the mic, the more distance it can put between them the better.
3.5 Out Of 5.0
Pick up your copy of II - The Mephisto Waltzes in the KNAC.COM More Store right HERE.




Please log in to view RANTS

If you don't have a username, click here to create an account!