ULI JON ROTH Tokyo Tapes Revisited


By Michael Fischer, Writer, Cartoonist
Monday, December 12, 2016 @ 4:26 PM


| | | |
| --- | --- | --- |
| | | |
ULI JON ROTH
Tokyo Tapes Revisited – Live In Tokyo, Japan
UDR Music




Are you longing for fire? Well it's just arrived in time for the Christmas Holidays! Once in a blue moon a live performance video comes along that just blows you straight out of your chair. Let me tell you, this is the one! I just finished watching the new ULI JON ROTH Tokyo Tapes Revisited – Live In Tokyo, Japan Blue Ray/DVD, for two hours I was literally blown away. What an awesome musical journey back in time into now! Also, Roth has just added new 2017 North American Tour Dates!

Uli Jon Roth and UDR Music have assembled this beautiful musical package for fans as Roth revists the glory years of the SCORPIONS with this very special live performance from the Nakano Sun Plaza Hall in Tokyo, Japan. The official release date is December 16, 2016 and it's entitled Tokyo Tapes Revisited - Live In Japan. This performance is a celebration of Roth's classic work with the SCORPIONS recorded on February 20, 2015 at the same venue as the band's classic 1978 live album Tokyo Tapes. Roth was a founding member of the SCORPIONS in 1973 before leaving to pursue a solo career in 1978 with his own ELECTRIC SUN. Some of the best live performances in rock history were filmed or recorded in Japan. Some material here was never performed live by the SCORPIONS.

I remember the first time I brought home SCORPIONS Double Live Tokyo Tapes Record. (I'm sure my Mother does to!) That was the Christmas I got my first set of headphones. Those were incredible times of discovery. Cranking songs like "We'll Burn The Sky" and "Fly To The Rainbow" still haunt me in a special way to this day. This material is burned into my DNA! Who can forget the first time you set the needle on the turn table to the opening track on Tokyo Tapes, "All Night Long"? Your life is changed forever. Especially when you're 15 years old. Those are things you never forget which is the real soul luster of the music that Uli Roth creates. When I was in junior high school back in the mid 1970's, the holy trinity of guitarists were Uli Roth, Ritchie Blackmore (DEEP PURPLE, RAINBOW) and Frank Marino (MAHOGANY RUSH). They all took Jimi Hendrix to another place and made his influence and sound their own. The SCORPIONS were from another planet in those days with Uli on lead guitar and Klaus Meine's signature vocals. Truly magic! Roth/Meine were the Dio/Blackmore of their time.

The SCORPIONS are an incredible band. They moved in mysterious ways throughout the years, the fact they kept changing was really appealing. Once Blackout was released, we were in full flight providing the sound tracks of our lives to the party. One day back in 1978 I was a little kid with a guitar in my room camped over a turn table with Tokyo Tapes. Next year I discovered Lovedrive (Cover with the girl in the backseat with the bubble gum stuck on her boob) and thought "Who the hell is Michael Schenker and what happened to Uli?" We had no internet back then to get the latest news, if it wasn't in Circus Magazine or Hit Parader, we had no clue until a new record was released. That was the great thing about rock in those days, there was a lot of mystery surrounding bands because you never really saw them unless KISS was on Paul Lynde's Halloween Special. As much as I loved the Schenker era of SCORPIONS, I always felt led back to my Tokyo Tapes Double Live Record. Theres no replacing the way "We'll Burn The Sky" makes you feel. It's a blessing that Roth is touring and keeping the spirit of this music alive. There is no one on earth that could reduplicate his power and masterful guitar playing.

From the first minute you watch this performance your are hooked! The magic of the Ancient Orient makes this performance the best live video ever filmed of Uli Jon Roth. Japanese people are so dedicated and their love of this music is the holy cross and spirit guide for Roth's incredible performance. Just like Tokyo Tapes he begins the show with "All Night Long" and it drew me into a journey back in time. Behind every great performance is a killer lead singer. Like a singer with a mic stand and an SM 58 that can rip the siding off your house. This tour features the new addition of frontman Nathan James (TRANS-SIBERIAN ORCHESTRA, INGLORIOUS), who rivals the pipes of Jeff Scott Soto (YNGWIE MALMSTEEN). Nathan's performance is powerful! He hits high notes, high mids and it's obvious was born with a heavy Blues influence growing up in San Diego California. His talent guides and balances this entire show and in my opinion, he helps makes this Uli Jon Roth's greatest performance ever filmed live. Nathan's just rips classic's like "Virgin Killers", his dynamics and vocal range on "In Trance" and "Sails Of Charon" are unmatched. Uli just really rips on new hole in the sky soloing on "Sails Of Charon". Amazing Roth can take you way out there and bring you back on a tune like "Sails Of Charon" which made me rise out of my chair a few times watching this.

My guitar teacher used to say "Every guitar player has his own psychic make up." Safe to say Roth doesn't have a palette of psychic make up, he has an entire giant tool box full of colors and riffs. Much like Jimi Hendrix, when it sounds like a guitar, you're not playing it right. Roth's entire guitar set up is from another planet. His 2nd car must be a UFO. His axe is a "Custom Dean USA SKY7 7-String Solid-Body Electric Guitar. Only available to 25 guitar players in the world! Retail $17,918.14. Much better investment than a Honda Civic! Roth uses a 100-watt Blackstar Artisan Guitar Heads, the red hand-wired one. On the recording, he used that in conjunction with his old 100-watt Marshall Super Lead Tremolo, which he used for all the SCORPIONS and ELECTRIC SUN albums. The Blackstar is kind of modeled on that, although it sounds a little bit more modern, and it's much more durable. The old Marshalls used to break a lot, whereas the Blackstars hardly ever give him any trouble. They do sound slightly different—the Marshall maybe sounds a little sweeter, but the Blackstar has much clearer low end. He's using them together, and it's a great combination." For pedals he uses a Electro-Harmonix Electric Mistress, a Blackstar HT-Modulation valve chorus device, Dunlop Carbon Copy analog delay, a DigiTech Whammy DT pedal, Boss CH-1 SUPER Chorus, Ibanez TS9DX Turbo Tube Screamer and a Red Muck Jam Pedal. Roth also uses 2 BluGuitar Amp1's. Roth masterfully dances all over octaves and creates an entire new universe of tones and sounds combined with his smooth soloing.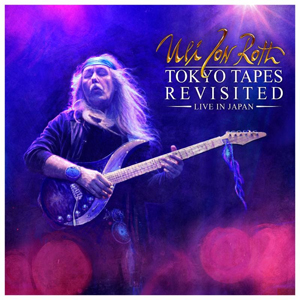 Lead singer Nathan James just smokes here on vocals! Along with guitarist-vocalist Niklas Turmann (CRYSTAL BREED) and young German Guitarist left-handed David Klosinski, this show is packed with more three part guitar harmonies than IRON MAIDEN with Roth ultimately finishing the fire on such tunes as "Fly To The Rainbow" as Roth drops his tremelo bar with his guitar screaming like a child as his broken D string hangs straight to the floor illuminating in the stage lights. Folks, there is nothing more killer than that! Along with original ELECTRIC SUN Bassist Ule W. Ritgen, UK session Drummer Jamie Little (STEVE VAI) and Keyboardist Corvin Bahn, the entire seven piece band delivers an incredible solid performance and a wall of sound making this one of those concerts you can't get enough of. I can't wait to see them live in Nashville in a few months! Just the first 8 songs will have you wanting to watch this over and over just feeding off the power one track at a time like a nineteen course last meal. For me, there's no greater trip back in time than slapping on an old SCORPIONS record! In the famous words of Klaus Meine, "A chance to make you feel alright, all night long!"
In honor of the late Jimi Hendrix. Score Roth's new Blue Ray/DVD package and ring in 2017 "Band of Gypsy Style" and crank this one in the headphones while the rest of the kids and family gulp egg nog and watch some cheesy bro country band on "Dick Clarks Rockin New Years Eve." This release is Official validation from the Gods that Uli Jon Roth is an Artistic Musical Treasure, there will never be another guitar player like him in this lifetime. Roth just kills it here and leaves nothing on the table on this night.
5.0 Out Of 5.0
Tokyo Tapes Revisited - Live In Japan Tracklist
"All Night Long"
"Longing For Fire"
"Polar Nights"
"Sails Of Charon"
"The Sun In My Hands"
"Virgin Killer"
"Kojo No Tsuki"
"We'll Burn The Sky"
"In Trance"
"Rainbow Dream Prelude"
"Fly To The Rainbow"
"Top Of The Bill"
"I've Got to Be Free"
"Crying Days"
"Dark Lady"
"Pictured Life"
"Catch Your Train"
"All Along The Watchtower"
"Little Wing"
Uli Jon Roth - Guitar
Nathan James - Vocals
Jamie Little - Drums
Ule W. Ritgen - Bass
Niklaus Turmann - Guitar/Vocals
Corvin Bahn - Keyboards/Vocals
David Klosinski - Guitar

Check out new 2017 tour dates at http://www.ulijonroth.com/.

Order your copy of Tokyo Tapes Revisited - Live In Japan in the KNAC.COM More Store right HERE.

  The super deluxe box set is available exclusively via UDR Music's web store @ http://www.udr-music.com/en/




Please log in to view RANTS

If you don't have a username, click here to create an account!