DROWNING POOL, GEMINI SYNDROME & 9ELECTRIC In Mansfield, OH With Photos!


By Geoff Ketler, Cleveland Contributor
Tuesday, December 13, 2016 @ 4:14 PM


| | | |
| --- | --- | --- |
| | | The "Not-So-Silent Night Tour" Rolls Into The Whiskey Warehouse |
All Photos By Geoff Ketler/Aces High Photography
Camera gear in tow, I headed west to the recently-opened Whiskey Warehouse in Mansfield, Ohio for a Thursday night beat down. The stacked lineup featured three bands with brand new 2016 releases and a fourth, RED TIDE RISING, which I wasn't fortunate enough to catch by the time I arrived at the venue. The parking lot was full, the venue was dense and although it was freezing outside, the inside was heating up.
9ELECTRIC hit the stage armed with their debut full-length album The Damaged Ones and immediately got everyone moving with "New God". Somewhere between metal, industrial rock and EDM Ron Underwood and company tap into an eclectic, high energy arsenal that sends the audience into a dancing fury. It is okay to like something new and different, right? I am sold by a live show. That's the standard that I hold artists to. Albums can be fine-tuned and auto-tuned and tweaked, but the translation at the live platform is where groups can make it or break it. 9ELECTRIC makes it, every time. The band's short set included the first single and title track off of the new record, "The Damaged Ones". At one point during "Destroy As You Go", vocalist Ron Underwood hung from the rafters of the venue about the crowd. It is that kind of raw energy and craftiness that 9ELECTRIC brings to the table. What a way to kick off the night.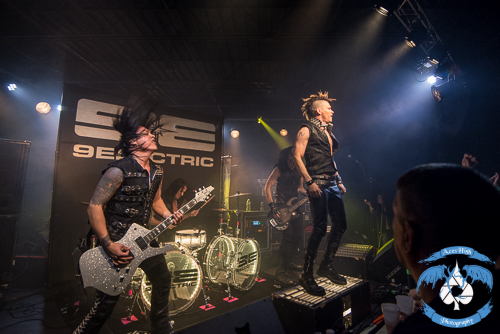 Setlist:
"New God"
"Time Bomb"
"Lies"
"Beautiful"
"Take It Away"
"Goodbye"
"The Damaged Ones"
"Destroy As You Go"
Touring in support of their sophomore release titled Momento Mori, Los Angeles-based rockers GEMINI SYNDROME took the stage as the floor of the venue began to swell. Sporting two new guitarists, Daniel Sahagun and Charles Lee Salvaggio replacing the departed Rich Juzwick; who has since joined SEPTEMBER MOURNING, and Mike Salerno. Drummer Brian Steele Medina's kit spread across the majority of the center of the stage as vocalist Aaron Nordstrom had to flank it stage-right. There was no lack of intensity as the group made their way through the complex and lyrically-deep material. Shortly before performing "Remember We Die", Aaron very calmly explained to the audience that the meaning of the album's title Momento Mori is "remember we die" and that it was meant to serve as a reminder that we have one crack at life and to take care of ourselves, take care of each other and love one another. Like I said…deep. Aaron, along with backing vocals from Daniel and Charles were able to pull off the haunting vocal harmonies that are apparent throughout both GEMINI SYNDROME albums. Highlights of the set included fan favorites off of the album Lux, "Pleasure And Pain" and "Stardust" – which included a lot help from the crowd with singing the chorus.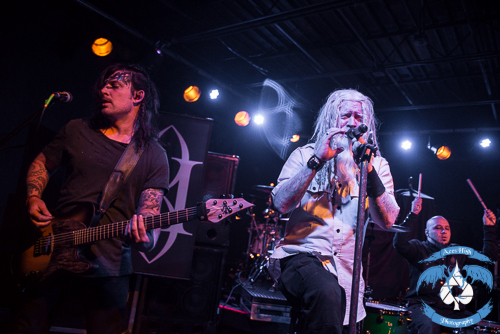 Setlist:
"On Point"
"Resurrection"
"Basement"
"Eternity"
"Pleasure And Pain"
"Zealot"
"Anonymous"
"Remember We Die"
"Stardust"
Headlining the "Not-So-Silent Night" Tour in support of their sixth studio album, DROWNING POOL kicked off their set with the title track off of their first album, "Sinner", but it didn't take long to dive into new material with "By The Blood", "Drop" and "We Are The Devil" all making appearances. Hellelujah is considered by some to be a "return to form" for the Texas nu-metal icons DROWNING POOL. It is straight-up abrasive and harkens back to that original DROWNING POOL sound. The three surviving original members are joined by vocalist Jasen Moreno, who has really started to come into his own after taking over frontman duties a few years ago. Although the place was packed, the crowd was not very rowdy, much to Jasen's disdain. Like any good frontman, he worked us all night, as did drummer Mike Luce who was mic'd up for backing vocals.

The hits kept dropping; "Step Up", "Feel Like I Do" and "Tear Away", to name a few. The roadies kept bringing Jasen tea to remedy is voice, which sounded fine, but he complained it was starting to get away from him on account of the weather. "We're from Texas", he explained. What can I say, December in Ohio could be subzero or 60 degrees, it's a total crapshoot. Jasen had plenty of help for the last song of the night though, which was obviously the mega-hit that propelled the band into fame, "Bodies". DROWNING POOL was joined by the vocalists from all of the openers as the night came to a glorious end.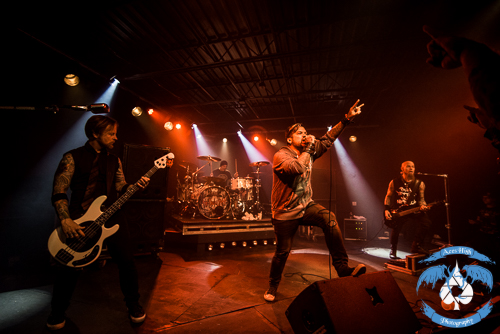 Be sure to see this tour as it goes on deep into December and do yourselves a favor and pick up the great new releases from all of these artists.
Setlist:
"Sinner"
"Think"
"Step Up"
"We Are The Devil"
"By The Blood"
"Feel Like I Do"
"Hate"
"Drop"
"Sermon"
"Reminded"
"Tear Away"
"Pity"
"Told You So"
"Bodies"
Check out some more photos from the show!
All Photos By Geoff Ketler/Aces High Photography




Please log in to view RANTS

If you don't have a username, click here to create an account!






ARCH ENEMY, BEHEMOTH, NAPALM DEATH, UNTO OTHERS In Portland, OR With Photos!

HALESTORM Back From The Dead

STABBING WESTWARD Chasing Ghosts

BLACK LABEL SOCIETY, NITA STRAUSS, JARED JAMES NICHOLS In San Diego, CA With Photos!

JEFF SCOTT SOTO Complicated

MEMPHIS MAY FIRE Remade In Misery

EVERGREY A Heartless Portrait (The Orphean Testament)

ANVIL Impact Is Imminent

DAN REED NETWORK Let's Hear It For The King

WATAIN The Agony & Ecstasy of Watain

SCREAMKING Thee Indomitable Spirit

FOZZY, JOHN 5, GFM, KRASHKARMA, THE NOCTURNAL AFFAIR In Houston, TX With Photos!

BLACK STONE CHERRY, THE GEORGIA THUNDERBOLTS In Nashville, TN With Photos!

AND JUSTICE FOR ART ... Live! Stories About Hard Rock & Heavy Metal Live Album Covers Book

FOZZY Boombox

ALICE COOPER, BUCKCHERRY In Portland, OR With Photos!

JOHN 5, THE HAXANS In Garden Grove, CA With Photos!

SKULL FIST Paid In Full

RADIANT Written By Life

BLACK SWAN Generation Mind

SEVEN KINGDOMS, STRIKER In Tampa With Photos!

MONUMENTS In Stasis

DESTRUCTION Diabolical

MICHAEL ROMEO War of the Worlds: Part II

SATAN Earth Infernal

TONY MARTIN Thorns