Vince Neil
Live at The Whisky


By Jeff Kerby, Contributor
Tuesday, July 29, 2003 @ 5:04 PM


| | | |
| --- | --- | --- |
| | | (Image Entertainment) |
Who exactly does Vince Neil owe money to?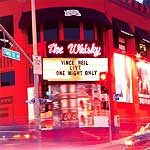 I first started to get concerned about him last fall when I learned that he was going to be on that WB reality show and sharing a house with… MC Hammer (we all KNOW that fucker owes people money), Webster (America has room for only one black ex-child actor and his name is Gary), Corey Feldman (undoubtedly the biggest dick to ever grace a television or consider himself a celebrity—period), a chick from Beverly Hills 90210 (you know, the UGLY one), and a couple others (a Playboy bunny and some mean broad who unfortunately made it through Survivor). The only appeal that show had for me last fall was seeing just what in the hell Vince Neil was gonna do surrounded by all this pop culture detritus. After viewing the entire season, a couple of things became obvious. The most prominent one being the realization that Vince is living kinda large these days—that's cool, it worked for the Notorious B.I.G. I know he could probably still pull more women than Mick Mars even if he gained another fifty pounds, so we won't worry too much about that. The other is that The Surreal Life program also showed Vince as being a pretty cool cat—after all, he managed to be on that show for over a half a dozen episodes, got along with everyone including that bawling bitch-boy Corey, and Sir Vince didn't even fight over a single Twinkie or a Ding Dong the entire time he was there. Once the show was over, I didn't think too much of it… that is until I obtained a copy of Live at the Whisky. I'm not much of a liner note guy, but this packaging is about as skimpy as it gets. The cover is pretty decent, but aside from that, there isn't much going on here. To make matters even worse, the picture of Vince on the back of this had to have been taken at least 15-20 years ago. I don't care if he's getting old, but don't try to make me think the lead singer of Motley Crue actually looked like this the night Live at the Whisky was recorded. One bit of information that can actually be garnered by looking at the liner notes comes in the form of the track listing, which shows that out of the twelve songs on this release, only one originates from a Vince Neil solo album. The rest all come courtesy of the Motley catalogue—songs that he has every right in this world to sing whenever he wants regardless of Nikki Sixx's opinion. Liner notes and track listings aside, in the end, the only aspect of this release that should really matter lies the execution of the songs and the passion with which they are played. It's been said that you can't judge a book by its cover, but in this case, I'm afraid to say that the old maxim holds true. The show starts with a rendition of "Kick Start My Heart" that is in many ways indicative of the rest of the songs contained herein. Vince yells out "I gotta fuckin' hear you tonight!" to the audience, and then the drums can be heard in the intro. It isn't the sound of drums that have been textured and retextured in a studio either—instead, the percussion sounds raw… and loud. So voluminous in fact, that it is difficult to distinguish bass or guitar much of the time. On some of the tunes, it almost seems like Vince is rapping due to the lack of strings in the background. If that isn't bad enough, when the audience is supposed to be participating and singing some of the lyrics such as when Neil croons, "When we started this band…" blah, blah, blah, and he expects the fans to sing the last part back to him about say "we've kicked some ass" it sounds like my cousin Larry and his paint-sniffing cousin Lew at a backyard barbeque. Either twelve people were in attendance at the Whiskey on this night, or… shit, I don't know, but there have to be IRS audits that are noisier than this. Vince's voice has never been something that people have looked at as a major selling point of a Motley Crue show---Neil is primarily a showman, and on a good night, he does it very well. Here though, neither his voice or enthusiasm could possibly save such sinking ships as "Knock 'Em Dead Kid" or the only solo offering, "Look In Her Eyes." It's a mystery why he chose this song over "You're Invited, But Your Friend Can't Come," but nevertheless it's here standing out like a chafing boil on the ass of this record. "Red Hot" follows, and anyone who has listened to Crue should know that this is one of the more vocally challenging tunes that Vince could have picked, and in truth, he does as well as he can, and consequently, it turns into one of the better tracks. "S.O.S" and "Home Sweet Home" are also expectedly delivered here, as is the set closer "Live Wire" which mercifully puts this night to rest. Live At the Whisky should be filed along with Vince's appearance on The Surreal Life as an interesting career decision motivated by… who knows? Nevertheless, it has to be respected that Vince Neil still slogs it out all across this country singing songs and putting on shows that I would bet are mostly better than this one. It isn't like Motley Crue put out any seminal live discs when they were together either--Live-Entertainment or Death, anyone? The fact is, I'd rather hear Vince singing these songs backed by the La Joya High School Marching Cheetahs than the rest of Motley playing them with another vocalist ala John Corabi. Vince is the voice of the Crue and as such, he should be credited as being the vocalist of a band that for a time was as big as any another on Earth. That doesn't change the fact that this isn't his best work, though. Besides, think of it this way--as bad as this disc may be, Vince's career lowlight will always be those three and half minutes he spent singing backup to that therapist's wet dream, Corey Feldman, during the in-house talent show. After something like that happens, the truth really is that things can only get better from there. * * ½

Please log in to view RANTS




YNGWIE J. MALMSTEEN, GLENN HUGHES In Worcester, MA With Photos!

ALICE COOPER Road

RAT ROD Four On The Floor

GIRLSCHOOL WTFortyFive?

DANKO JONES Electric Sounds

AVATAR, ORBIT CULTURE, THE NATIVE HOWL In Houston, TX With Photos!

THE DEAD DAISIES In Hollywood, CA With Photos!

KILL DEVIL HILL Seas Of Oblivion

THE DEAD DAISIES In Ottawa, Canada

MAMMOTH WVH In Santa Ana, CA

UADA Crepuscule Natura

BARONESS Stone

KAMELOT, BATTLE BEAST, XANDRIA In Houston, TX With Photos!

CRYPTOPSY As Gomorrah Burns

RAY ALDER II

GHOST, AMON AMARTH In Houston, TX With Photos!

U.D.O. Touchdown

DETHKLOK Dethalbum IV