Two of Canada's up-and-coming hard rock bands recently rocked O-town's Friday night at everybody's favorite pinball-and-perogies hangout known as the House Of TARG for the best $20 you'll ever spend - unless you've spent twice as much trying to improve your score on Mortal Kombat or Tetris. Then you've got yourself some good soundtrack music to go along with it especially if you're like me and you show up at the show two hours before the bands do.

After much anticipation spent mostly trying to get my name up in the rankings playing the METALLICA and KISS pinball machines to no avail, I get the chance to catch Vancouver-based rockers PIGEON PARK. They were described as a mix between LED ZEPPELIN and progressive rock, which hopefully detracts away from the silly name. Then again, THE WHO's Keith Moon opined a similar sentiment about the NEW YARDBIRDS' name back in the day and we all know how they overcame that brief bit of adversity early in their career. A couple of songs into their set including their hit song "Sunlight Fading Away" and a neat cover of "The Spirit Of Radio", PIGEON PARK are getting a warm reception from the Ottawa crowd. Their colorful frontman Nick Weber frequently gives shoutouts to the bar staff and security and pretty much their visiting fanbase which has grown to include fans in this town as well.

I should also mention that the stories behind their songs are just as neat as the songs themselves. Case in point: "High To Get By" ("Guy from Vancouver writes song about getting stoned. Alert the media!" - Nick Weber. As you wish....) and "Stripes", which is the story of several sexual conquests up in cottage country. Toss in an extended and energetic version of "Immigrant Song" and PIGEON PARK are set to flee the coop for greater things after three EP's into their young career. Providing they don't title their next EP Rats Of The Sky.....

https://www.facebook.com/pigeonpark/
http://www.pigeonparkmusic.com/

Fresh from their recent tour supporting STEEL PANTHER thanks to the enduring popularity of last year's Never Wanna Die, headliners DIEMONDS are back in town for their first performance at the House Of TARG. Frontlady supreme Priya Panda cuts an impressive figure in her fine-looking stage outfit consisting of a dark tank top and jean shorts, but it's her powerful voice that gets the crowd's attention as her and the band consisting of guitarists C.C. Diemond and Daniel Dekay and recent members Tyrone Buccione (bass) and Aiden Tranquada (drums) effortlessly tear through a 75-minute set - all thrills and no frills just as the band would have it.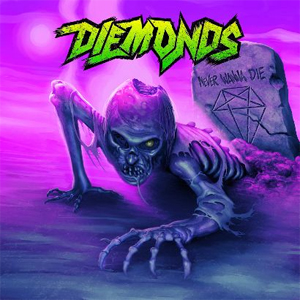 DIEMONDS' set was largely comprised of songs from their recent disc Never Wanna Die, as was evidenced with the first four songs - "Better Off Dead", "Hell Is Full", "Ain't That Kinda Girl" and "Over It" - dominating the first 25 minutes of the show. They did play some of the material from their breakout album The Bad Pack including "Get The Fuck Outta Here" and "Livin' Tonight" with as much energy and fury a whole year later as they had when the album first came out. Priya Panda made sure that the audience was on the same ethereal plain as she was, toasting and thanking the crowd for turning out for their mostly low-key Canadian tour which would've been a daunting task for other bands of their similar calibre at this point in this career. Climaxing with a rambunctious cover of Neil Young's "Rockin' In The Free World" also would've sounded laborious for most other bands of a similar calibre but DIEMONDS still pulled off their version with as much fury as the original (not to mention that Priya's more of a sight for sore eyes than Neil Young is these days).
At the time of this writing, DIEMONDS' almost-neverending Canadian tour is still going strong out west, making one wonder how the band members have any energy at all to put forward to some of their side projects let alone the follow-up to Never Wanna Die. On the other hand, their current album title seems to be more of a battle cry for DIEMONDS and their resilient work ethic these days. Keep calm and shine on.
http://diemonds.net/
https://www.facebook.com/Diemonds/
Setlist:
"Better Off Dead"
"Hell Is Full"
"Ain't That Kinda Girl"
"Over It"
"Get The Fuck Outta Here"
"Forever Untamed"
"Secret"
"Livin' Tonight"
"Meet Your Maker"
"Our Song"
"Wild At Heart"
"Never Wanna Die"
"Rockin' In The Free World" (Neil Young cover)