NIGHT RANGER
35 Years And A Night In Chicago
2016 Frontiers Records




The great thing about live albums is that they capture a band in time as they were that night. There are a lot of bands like NIGHT RANGER that have recorded several live albums over the span of their careers where you can go back ten, twenty or even thirty years or more and compare live albums that they recorded within that time frame and say "Man, that sounds nothing like the same band".

Soon to be celebrating thirty-five years as a band, NIGHT RANGER live today sounds as razor sharp as they ever have and the evidence of that is captured on their new live release, 35 Years And A Night In Chicago, recorded May 7, 2016 at the House of Blues Chicago and released December 2, 2016 on Frontiers Records. The album is available as a 2CD/DVD Set and also available on Blu Ray.

This was a special night to be sure as the band had previously only recorded live acoustically in the States with 2012's 24 Strings And A Drummer. Their two previously recorded plugged-in albums, 1990's Live In Japan and 1997's Rock In Japan Greatest Hits Live were as their titles suggest…recorded in Japan. I was fortunate enough to be able to attend this show and for a review of the actual show you can see it HERE.

As for the album, it's an excellent recording capturing the band's current lineup comprised of founding members Jack Blades-Bass Guitar, Lead Vocals, Kelly Keagy-Drums, Lead Vocals and Brad Gillis-Lead and Rhythm Guitars, Backing Vocals, along with Eric Levy-Keyboards and Backing Vocals and newest member Keri Kelli-Lead and Rhythm Guitars, Backing Vocals (making his debut on a NIGHT RANGER album) all delivering a high impact set filled with their hits, some rarely played songs and a yet to be released track that will appear on their 2017 release that will be titled Don't Let Up.

A true sign of a great live album aside from the actual recording is capturing the energy of the audience and being able to put the listener right in the middle of the crowd because live albums to fans are essentially a souvenir of a show or a particular tour that take you back to the night when you heard the band live and 35 Years And A Night In Chicago certainly gives you everything but the T-Shirt. A great live recording gives you a concert, not just an album and I was thrilled that much of the dialogue from the show wasn't edited out. This album captures a lot of the back and forth between the members on stage and stories on some of the inspirations for songs like "Growing Up California" and "Eddie's Comin Out Tonight". It's a full NIGHT RANGER experience which is the guys still having a great time and that's why the songs still come across as fresh as they did the first time you heard them.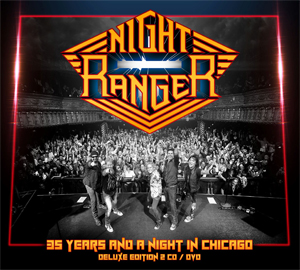 The set selection for this live recording was perfectly put together although like most live recordings some of the sequencing from the live show is off. "Seven Wishes" appears as a bonus video on the DVD but is omitted from the CD. The one yet to be released track that made it on to the CD, Day & Night, gives you a little taste of what's to come. It was actually the first time the band had played it live and it's sure to be a fan favorite. "Penny", from the debut Dawn Patrol was for me the biggest and best surprise as it's rarely played live and was actually an encore song but was included on the CD. Another rarely played track, Night Ranger from Dawn Patrol, will also be something for the diehards to soak up, it was actually a second encore track that is included here. You of course get all of the hits from the traditional opener "Touch Of Madness", the mega hit "Sister Christian", the MTV staple "Don't Tell Me You Love Me", the rock anthem "You Can Still Rock In America" and everything in between, it's all here recorded live.
You're going to be taken back to the 80s with this album, there's no aging in the NIGHT RANGER camp. Jack Blades and Kelly Keagy's vocals are as sharp as if they were still on the Midnight Madness tour in 1984 and Brad Gillis never lets up. This album captures all of guitar mastery and whammy bar insanity that he's always been the king of. Eric Levy and Keri Kelli keep true to the tunes and help make 35 Years And A Night In Chicago a great live recording that captures a band going on thirty-five years and still on top of their game and having a great time. This album arrives just in time to give you a fix until the new album arrives in the Spring of 2017.
5.0 Out Of 5.0
Grab your copy of 35 Years And A Night In Chicago in the KNAC.COM More Store right HERE.