MERIDIAN Breaking The Surface


By Alex Yarborough, Orlando Contributor
Friday, December 30, 2016 @ 11:39 AM


| | | |
| --- | --- | --- |
| | | |
MERIDIAN
Breaking The Surface
2016 Mighty Music




Breaking The Surface is Danish band MERIDIAN's sophomore effort, the follow up to 2013's debut album Metallurgy. The band consists of Lars Märker (vocals), Peter Bruun (bass), Marco Angioni (guitar), Martin Andersen (guitar) and Klaus Agerbo (drums).

Like Metallurgy, the album begins with an instrumental. "Rumours Of War" acts as the intro for "Hero Forever". The song features a sing-along chorus, and some nice melodic guitar leads. The next track, "Bricks To The Wall", is one of the strongest songs on the album, and features a monster riff and catchy chorus, with flashy guitar leads popping up throughout. "City Of Holy War" explores the history of Jerusalem, yet could be the most commercial track on the album. The band filmed a video for the song, which can be viewed on KNAC.COM right HERE. "Pure Celebration" is a killer, grooving song and features some of Märker's most melodic vocals. There is a video for this song as well, which can also be viewed on KNAC.COM right HERE.

"The Bravest Face" is my favorite track on the album. The song finds Agerbo breaking out more double bass drums and the jam near the end of the song is massive! Solos are shredded all over place and the chorus is one of the biggest on the album. "Enigma Coding" features a faster pace, and some sweet backing vocals. The album closes with the epic ballad "The Meaningless Wrong".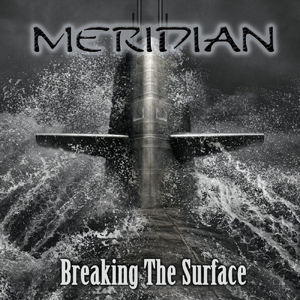 Breaking The Surface features eight tracks, clocking in around 38 minutes. If I had one complaint here, it's that the album is a little short, and could use another track. Overall, I am impressed though, and I think it is a worthy follow up to Metallurgy. Märker's vocals remain a breath of fresh air in this genre, and his ability to turn from aggressive to melodic on a dime is extraordinary. The riffs on Breaking The Surface are thick throughout, and the album has a rich, full sound, courtesy of producer Jacob Hansen (PRETTY MAIDS, PRIMAL FEAR, VOLBEAT, etc.).
MERIDIAN describe their music as classic heavy metal with power and melody. I find this to be an accurate characterization, with melody as the key for both vocals and guitar. To these ears, this album is a little different from the debut, in that it slows things down a little and explores groove, emotion and melody more than the debut. The cover artwork by Dmitry Laudin makes a definite statement, like this band is a massive power lurking beneath the surface, about to become huge. Check this band out.
4.2 Out Of 5.0
Grab your copy of Breaking The Surface in the KNAC.COM More Store right HERE.




Please log in to view RANTS

If you don't have a username, click here to create an account!