ARMORED SAINT Carpe Noctum


By CrpnDeth, Staff Photographer/Writer
Wednesday, January 11, 2017 @ 11:05 PM


| | | |
| --- | --- | --- |
| | | |
ARMORED SAINT
Carpe Noctum
MetalBlade




Southern California during the mid-eighties was glorious to say the least. Some of the fondest memories I have is my buddy Max and I hitting all the ARMORED SAINT shows we could (we even popped his little brother's cherry by bringing him to his first metal show with the Saints). Venues such as the Water's Club in San Pedro, Perkins Palace, the Santa Monica Civic Center, Chuck Landis' Country Club, the Celebrity Theatre in Anaheim and pretty much any club in Hollywood that was brave enough to host the band. We were lucky enough to catch Dave Prichard numerous times before his passing. I even got to shoot them in Cabo San Lucas at a place on the beach called Zipper's during KNAC's week long trip in 1991.

What made these shows so great was not only the down to earth musicians that enjoyed hanging with fans as much as they enjoyed playing for them, but also the sheer energy from the band coming off the stage. More times than not, the entire crowd was just as sweaty as the band when the show was over. They are one of the unique bands where the studio albums just didn't do them justice (and trust me, caught enough bands during this time frame where you wondered if it was the same band that released the CD you had been listening to). Having toured with METALLICA, WHITESNAKE, ALICE COOPER, SCORPIONS, and many other artists and festivals since their inception, ARMORED SAINT has always been a highly regarded live act. The only official release to capture this, however, is 1989's live album, Saints Will Conquer. Until now.

On Feb. 24th, 2017, the Saints will release Carpe Noctum (Seize the Night). This release is the product of their PledgeMusic project. This show was recorded during their 2015 Wacken set as well as their headlining show in Aschaffenburg, Germany. The recording shows the band as tight as ever, and a statement of just how underrated John Bush is in the vocal duties. The best example of this is Aftermath. Clear, concise and just plain powerful, John has always been a bluesy force to be reckoned with when on the stage.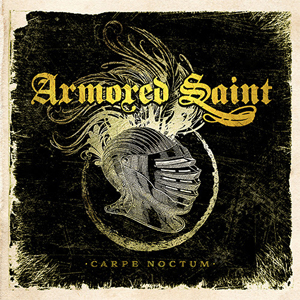 Unfortunately, the only complaint I have with this release is the same as I had with Saints Will Conquer – it's just plain too short. While Saints Will Conquer was an excellent timepiece of what the band had done up until that time, Carpe Noctum just hits me as not sufficiently representing the band from 1989 through 2016's Win Hands Down. While I'm sure the band wasn't looking to release a double live album, eight songs to me is just not enough (odd that Saints Will Conquer had the same number of songs, although one was a studio track). Granted this is solely my opinion, but hell c'mon, it's ARMORED SAINT!
Tracklisting:
"Win Hands Down"
"March of the Saint"
"Stricken by Fate"
"Last Train Home"
"Mess"
"Aftermath"
"Left Hook from Right Field"
"Reign of Fire"
4.0 Out Of 5.0

Pre-Order your copy of Carpe Noctum in the KNAC.COM More Store right HERE.




Please log in to view RANTS

If you don't have a username, click here to create an account!