XANDRIA
Theater Of Dimensions
Napalm Records




For the well-traveled members of progressive/symphonic metallers XANDRIA, no theater was too big or too small when they embarked on their most extensive world tour in support of 2014's Sacrificium. They were already eager to start anew after having split with former singer Manuela Kraller and recruited former Ex-LIBRIS frontwoman Dianne Van Giersbergen to pick up the mic. 150 shows and a rather kickass album in the form of Sacrificium later, XANDRIA are full of inspiration and new musical ideas as their seventh album Theater Of Dimensions attests to a band primed to surge forward out from the confines of the symphonic metal rulebook that has kept too many of their peers down for too long.

A wide range of influences ranging from folklore to Celtic music to Arabian chimes to Gothenberg-inspired modern thrash make appearances on the stage of this Theater and bring new dynamics to the songs. That, and also the guest appearances of several established singers ranging from Ross Thompson (VAN CANTO) and Henning Basse (FIREWIND) to Bjorn Strid (SOILWORK) definitely help give the songs a louder voice. Not that Dianne's singing needs any competition as she's already in a league of her own throughout this album; in fact, her adaptability towards different styles makes her even more powerful as a singer. True, she can effortlessly ace it on songs such as "Call Of Destiny", but on other numbers such as "We Are Murderers (We All)" with Bjorn Strid on backing vocals, Dianne works her powerful operatic voice to suit the song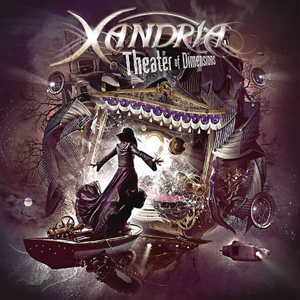 but without compromising her vocal range. A further example would be "Burn Me" with its Middle Eastern-flavored sounds featuring a vocal duet/duel with Ross Thompson. But it's the 14-minute long title track which closes out this fine disc in which Dianne is joined by Ross Thompson and Henning Basse, creating both a powerful song and an entertaining short narrative (the album does have "theater" in the title so how couldn't XANDRIA include such a track?) - and it even has a battle scene in case romantic love stories aren't entirely your thing.
And without a proper soundtrack, what's a good storyline if it hasn't got the right sonic background to suit the mood? Hence the credit here goes to guitarists Marco Heubaum and Philip Restemeier and the solid rhythm section comprised of bassist Steven Wussow and drummer Gerit Lamm - all of whom particularly shine on the Celtic-inspired instrumental "Ceili".
In summary, all the world's a stage for XANDRIA as they demonstrate that they're more than just mere players on Theater Of Dimensions. Catch the front row show when they play at this year's 70000 Tons Of Metal!
https://www.facebook.com/xandriaofficial
http://xandria.de/
4.5 Out Of 5.0
Grab your copy of Theater Of Dimensions in the KNAC.COM More Store right HERE.