IRON REAGAN Crossover Ministry'


By Peter Atkinson, Contributor
Tuesday, February 21, 2017 @ 12:37 AM


| | | |
| --- | --- | --- |
| | | |
IRON REAGAN
Crossover Ministry
Relapse Records




As we careen into this new era of fucked-upedness where the old rules are trampled willy-nilly, new rules are made up on the fly with little regard to consequence and words like "fact" and "news" have taken on bizarre "alternate" meanings, it's good to have someone like Virginia's IRON REAGAN to channel the absurdity of it all.

A throwback to the early crossover thrash days of the mid/late-'80s during the height of the Reagan years – hence the name, obviously! - IRON REAGAN's righteous angst, sharp-tongued political mindedness and wise-ass humor resonates as much now on its third album as did SUICIDAL TENDENCIES, NUCLEAR ASSAULT, CRUMBSUCKERS or D.R.I. back in the day. Different century, same old bullshit.

Crossover Ministry offers a pretty even mix of "what the fuck?" consternation, "fuck you" indignation and "we're all fucked" fatalism. On the one side, the band laments that there's "No way to save a dying world," decries "More War" and "Blatant Violence" and equates the "Megachurch" to "A holy pyramid scheme." On the other, it's calling out passive-aggressive suburbanites - "Fuck the neighbors, fuck your yard, the more that you complain, the more we'll go hard" - and trust fund kids - "Tonight I'd blast that privileged fucking face, right off your head, and watch it burn on."

The supergroup – which features MUNICIPAL WASTE frontman Tony Foresta and bassist Land Phil (also of CANNABIS CORPSE) and ex-DARKEST HOUR drummer Ryan Parrish among its ranks – definitely has pedigree and hardcore/metal bona fides going for it, a la STORMTROOPERS OF DEATH. And IRON REAGAN doesn't miss a trick here, mixing its lyrical venom, spite and smarm with tenacious, efficient riffs and tempos, meaty hooks and shout-along vocals that are sure to get you going – or at least have you humming "Fuck the neighbors" long after the song is over.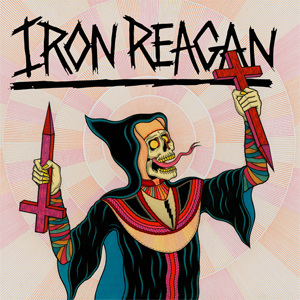 At 18 songs in 28 minutes, including the NAPALM DEATH-like blur of "Parents Of Tomorrow", all 7 seconds and one line – "Mom's, mom's, mom's on the Internet" - of it, Crossover Ministry is a quick hitter to be sure. But its brash production from CONVERGE's Kurt Ballou, taut, catchy tunes and freewheeling energy fueled by Parrish's whip-crack drumming, certainly leave a bruise. To go along with the aforementioned standouts "A Dying World" and "Fuck The Neighbors", the anthemic title track, "Condition Evolution" and the bitter chug of "Grim Business" and "Bleed The Fifth" pack a particular wallop.
The breathy, Mike Muir-like vocals on "Megachurch" make it sound a bit too close to SUICIDAL's similarly minded "Send Me Your Money", and the buzz-sawing "Dogsnotgods" seems right out of the BLACK FLAG songbook, but for the most part Crossover Ministry sounds fresh and invigorated, capturing the spirit of the old days – in the lunacy of today – without resorting to mere mimicry. And with its raucous rabble and spot-on pointed barbs, Crossover makes for essential listening in these "interesting times."
4.0 Out Of 5.0
Grab your copy of Crossover Ministry in the KNAC.COM More Store right HERE.




Please log in to view RANTS

If you don't have a username, click here to create an account!