KREATOR
Gods Of Violence
Nuclear Blast




When a band has been around as long as German Thrash titans KREATOR have (their debut album Endless Pain was released in 1985, they were known as TORMENTOR before that - 1982-1984) you wonder if they still have the aggression & anger to go for the jugular so to speak. After all, none of us are getting any younger. Yet much like those Jersey Boys OVERKILL, age doesn't factor into the equation when the latest slab of Teutonic Steel begins its aural assault upon your senses. And with the world a ripe fucked-up ball of twisted evil, there's no shortage of lyrical material to chose from either.

Case in point, Gods Of Violence is the brand spanking new album, and musically & lyrically it pulls no punches. The short instrumental "Apocalypticon", kicks things off like an epic military march to our doom before the speed riffing of "World War Now" begins the slaughter of your senses.

Alternating between Thrash and mid-tempo aggression, Mille (Petrozza- guitarist, band leader and vocalist) sees what we all see, a world on the brink of destruction. "Satan Is Real" was the first video released and is a punishing dirge of heaviness with some tasty soloing to boot. "Totalitarian Terror" begins with Mille screaming before KREATOR hits that next gear with Ventor (drummer and the only other original member who took a hiatus from the band in the 90's) blistering the drums with precision pounding. The use of bits of melody here and there is noticed and welcomed, without the songs losing their punch.

The title track "Gods Of Violence" has harps & acoustic guitars in its intro and may lull you into a false sense of security but fear not, as this almost 6 minute stormer will leave no neck unmoved. "We Shall Kill as the Gods of Violence come alive". I suspect a moshpit of violence on this one! Twin harmony leads with the other six-string burner (Sami Yli-Sirniö) to boot!! "Army Of Storms" has more harmony leads, and plenty of ass-kicking Thrash pummeling. My personal fave as it takes no prisoners! "Ride...Army of Storms"!!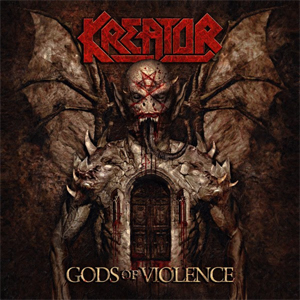 "Hail To The Hordes" is a mid-tempo stomper with a chorus that will have crowds singing at Wacken I have no doubt. "Lion With Eagle Wings" is classic KREATOR Thrash with some brilliant speed picking. Musically they've come along way from their early beginnings as one of the forefathers of Death Metal (Pleasure To Kill most assuredly is one of the early entries IMO) which may or may not please certain fans, depending on your personal taste.
"Fallen Brother" is an ode to ones no longer with us with some German lyrics to boot. Heavyweight music for a heavy subject. "Side By Side" takes things back to the Thrash realm and lyrically a song against homophobia, a call to stand as one with those different than ourselves. A far cry from those who think this music and the people who listen to it are fascists or have little to no clue as to the ugliness of this world we inhabit. On the contrary, Metal, Punk & Hardcore have been miles ahead of any other genres of music in seeing and speaking against all forms of injustice.
The final track, "Death Becomes My Light" is easily the longest at 7 and a half minutes with a subdued intro leading us on a journey to the other side. Is it a dream? Or reality? "Let Us free you from this Earth". Is there anyone who hasn't wondered what happens at our end??? And lest I not forget to mention Speesy Giesler holding down the bottom end on bass. The epic scope of this finale a fitting end to this KREATOR adventure. A more mature KREATOR in 2017 does not necessarily mean weaker or slower. In fact, I'd say there's plenty left for Mille and Co. to say and share with subtle (and not so subtle) aplomb. Miss Gods Of Violence at your own peril.
And Vinyl fam, multiple colors and even cover variations depending on the continent! Seek and ye shall find!
4.6 Skulls Out Of 5.0
Grab your copy of Gods Of Violence in the KNAC.COM More Store right HERE.