OVERKILL, NILE, LORDI In Cleveland, OH With Photos!


By Geoff Ketler, Cleveland Contributor
Friday, February 24, 2017 @ 10:36 AM


| | | |
| --- | --- | --- |
| | | Hello (from the gutter) Cleveland. |
All Photos By Geoff Ketler/Aces High Photography
It seems like an annual get-together anymore; once a year, OVERKILL comes to Cleveland, wrecks the joint and everyone goes home. The Cleveland Agora always packs out well for the legendary East-Coast thrashers. With a fresh release and two solid support acts, Bobby and DD & Co descended upon the near-capacity venue with might.
After a barrage of local talent on two stages, everyone's sights focused on the larger theater, where Finnish shock-rockers LORDI were about to take the stage. After some mic troubles, vocalist Mr. Lordi, in full grotesque costume, made his way to center stage to shrieks from the audience. I am sincerely having trouble trying to describe the band musically. They are almost rock-opera in a MEATLOAF kind of way – but heavier and much darker.
The one thing I am sure of, is that LORDI brought the theatrics. It was quite a sight to see; with over-the-top costumes and stage actors and props – very much in the vein of ALICE COOPER. At one point, Mr. Lordi walked out on stage with large bat wings, which spread out wide using what looked like compressed air. Highlight of the set was the award-winning "Hard Rock Hallelujah".
Setlist:
"Let's Go Slaughter He-Man (I Wanna Be The Beast-Man In The Masters Of The Universe)"
"Babez For Breakfast"
"Nailed By The Hammer Of Frankenstein"
"The Riff"
"Hug You Hardcore"
"Down With The Devil"
"Hard Rock Hallelujah"
"Would You Love A Monsterman?"
It was a brief set change before the mighty NILE swept the crowd into a frenzied circle pit. The technical death metal masters brought Egyptology to the masses this Wednesday night. Anyone that follows NILE likely knows about the very recent departure of long-time vocalist and guitarist Dallas Toler-Wade. Mid-set, bassist/vocalist Brad Parris introduced their newest member, Brian Kingsland on guitar and vocals and let me tell you, it was amazing how well he fit in, especially on such short notice.

Founding member Karl Sanders couldn't keep the smile off of his face as NILE systematically ripped through a precision set, void of the slightest melody. I hope George Kollias gets an ice bath after the show. Sweet crap is that man ridiculous on the skins. I have seen many phenomenal drummers; Dirk Verbeuren, Kevin Talley, Paul Bostaph - to name a few, but George takes the cake.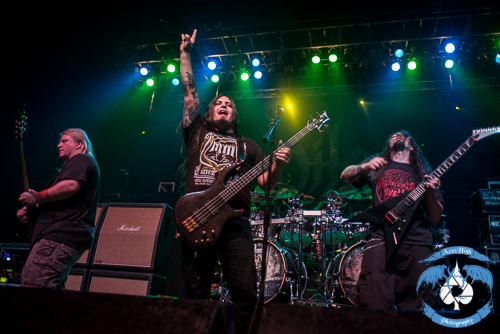 Setlist:
"Sacrifice Unto Sebek"
"Defiling The Gates Of Ishtar"
"Kafir!"
"The Gods Who Light Up The Sky At The Gate Of Sethu"
"In The Name Of Amun"
"Hittite Dung Incantation"
"Sarcophagus"
"Black Seeds Of Vengeance"
With yet another thrash masterpiece under their belt, the New Jersey wrecking crew AKA OVERKILL took the stage with "Mean, Green, Killing Machine" off of the fresh album The Grinding Wheel. Vocalist Bobby "Blitz" Ellsworth spent much of the set perched up on the monitors; extremely animated, as usual. Newest member Eddy Garcia held down the drums nicely after long-time drummer Ron Lipnicki departed last year. The set was very much geared towards the more recent material, but of course the classics like "Rotten To The Core", "Hello From The Gutter" and "Elimination" were sprinkled in there for good measure.

OVERKILL brought excellent stage production to the rather dark and hollow Agora Theater, including tons of additional lighting, strobes, fog and a large drum riser. Bobby called out to the "Cleveland Mosh Team" in the crowd. Cleveland truly is OVERKILL's home away from home as the band has been coming here for 35 years, Bobby explained. Although the set seemed short, there was no shortage of intensity and energy from the band as a whole. After a cover of THIN LIZZY's "Emerald", it was time for an encore which included, among others, the bands defining anthem of sorts, "Fuck You".
The Grinding Wheel is available worldwide now and be sure to check out this killer lineup as the tour continues grinding through North America.
Setlist:
"Mean, Green, Killing Machine"
"Rotten To The Core"
"Electric Rattlesnake"
"Hello From The Gutter"
"Goddamn Trouble"
"Feel The Fire"
"Nice Day…For A Funeral"
"Infectious"
"Our Finest Hour"
"Armorist"
"Emerald" (THIN LIZZY Cover)
Encore:
"Ironbound"
"Elimination"
"Fuck You" (THE SUBHUMANS Cover)
Check out some more photos from the show!
All Photos By Geoff Ketler/Aces High Photography

Please log in to view RANTS



IMMORTAL War Against All

JOE PERRY Sweetzerland Manifesto MKII

BUCKCHERRY Vol. 10

DAVE LOMBARDO Rites Of Percussion

HELLOWEEN, HAMMERFALL In Worcester, MA With Photos!

DARK FUNERAL, CATTLE DECAPITATION, 200 STAB WOUNDS, BLACKBRAID In Houston, TX With Photos!

MR. BUNGLE, MELVINS, SPOTLIGHTS In Portland, OR With Photos!

PANTERA At Welcome To Rockville With Photos!

THE BLACK DAHLIA MURDER, TERROR, FROZEN SOUL, FUMING MOUTH, PHOBOPHILIC In Anaheim, CA With Photos!

ENFORCER Nostalgia

BUZZFEST Featuring GODSMACK, I PREVAIL, HIGHLY SUSPECT, THE STRUTS And Others In Houston, TX With Photos!

SLEEP TOKEN Take Me Back to Eden

UGLY KID JOE, FOZZY, PISTOLS AT DAWN In Houston, TX With Photos!

TESLA, FASTEST LAND ANIMAL, KURT DIEMER In Orlando, FL With Photos!

CATTLE DECAPITATION Terrasite

TYGERS OF PAN TANG Bloodlines

MYSTIC PROPHECY Hellriot

WHITECHAPEL, ARCHSPIRE, SIGNS OF THE SWARM, ENTHEOS In Santa Ana With Photos!

ALCATRAZZ Take No Prisoners

BURNING WITCHES The Dark Tower

ELVENKING Reader Of The Runes - Rapture

CHAOS AND CHARNAGE Tour Featuring SUICIDE SILENCE, DYING FETUS, BORN OF OSIRIS, ABORTED, CROWN MAGNETAR, SANGUISUGABOGG And SLAY SQUAD In Anaheim With Photos!

ENFORCED War Remains

SAVAGE EXISTENCE Savage Existence

BLACK ROZE Penny For Your Sins

WINGER Seven

JASON BIELER AND THE BARON VON BIELSKI ORCHESTRA Postcards From The Asylum

TITAN'S WRATH Will Of The Beast