Opeth & Porcupine Tree Live in Seattle


By Chris Slack, Contributor
Friday, August 15, 2003 @ 1:39 PM


| | | |
| --- | --- | --- |
| | | Opeth and Porcupine Tree Live |
After a late night on the 2nd at the Queensryche/Dream Theater/Fates Warning concert, some time to get almost 1 gigabyte of digital images off my many memory cards, and 3 hours of sleep before a long day of work I wasn't in the best shape (or mood) to be attending another concert. However, since this would probably be my only chance to see Opeth play an all-mellow set, I had no choice but to attend. As I stood in the long line at the venue, my stomach started churning and bubbling away, probably due to my lunch, and I knew this was going to be a long night, hopefully the music would make it worth the time. The crowd was much more diverse than I thought, being comprised of a broad sampling of people ranging from teens dressed in black sporting Dimmu Borgir shirts to conservative looking older folks. I'm not sure of the actual attendance numbers but I'd place a guess that there were probably 6-700 people at the Showbox.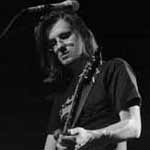 As someone who is relatively new to the music of Porcupine Tree (I just got In Absentia two weeks before the show) I was curious as to what their live show would be like, if they'd focus primarily on material from the In Absentia album, and last but not least would they be able to keep all the metalheads who came to see Opeth entertained during their co-headlining set. My questions were quickly answered as Porcupine Tree put on a killer show that was comprised of material from a number of their albums. They opened with "Blackest Eyes," the opener from their latest album, which has actually been getting some radio airplay recently, and quickly got the crowd going with their unique flavor of progressive rock. A large video screen was set up behind the band, and for the majority of the set a variety of images (that may or may not have been relevant to the songs) were projected upon it, giving the show a neo-psychedelic feel and adding tremendously to the music. The music itself was fantastic, ranging from more somber numbers to some serious rockers that almost got me banging my head. As a group, Porcupine Tree were very professional, a very tight live band indeed. Steve Wilson and the rest of the band were highly mobile and connected well with the crowd, unlike a lot of artists who basically just camp in one place and seem to just be working rather than doing something that they really enjoyed. The highlight of the set for me was the song "Smart Kid," where Porcupine Tree was joined by Mikael Åkerfeldt on vocals. While he looked like he felt a little uncomfortable not having a guitar in his hands he did a great job and looked as though he really enjoyed himself. While Porcupine Tree's music certainly can't be considered metal it was heavy and loud enough to keep the majority of Opeth fans entertained for the duration of their 90-minute set. If you get the chance to see this band play live don't hesitate for a minute, they are a very impressive live act! Photos of Porcupine Tree from this show can be found at Shadows.com and Blizzardbeast.com.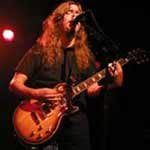 I saw Opeth for the first time several months back when they played here in support of the Deliverance album and was very impressed by the seemingly effortless way they tore through a number of complicated songs with extreme passion and energy, so much in fact that they made me nearly forget about the performances of the openers! When this show was announced for Seattle I was quite excited, as seeing a band that is known for playing death metal do a mellow show is a once in a lifetime experience. The fact that Damnation is an incredible album only made my excitement greater. Opeth was scheduled to go onstage at 11 PM but for reasons unknown to your reviewer they didn't start until approximately 11:15. Surprisingly, the rows of people up front looked quite a bit different than when Porcupine Tree played, perhaps the people who came mainly for them moved back to allow the hardcore Opeth fans to get a little closer to their heroes. Once Opeth took the stage they almost immediately began playing, and much to my surprise they played the ENTIRE Damnation album in the order the songs appeared on the CD. They did take some breaks so Mikael could speak to the fans, many of whom kept shouting out for them to play their heavier songs even though this show was promoted as a non-death metal set. Mikael joked with the crowd about them being a "scary death metal band from Sweden" and got my hopes up for some end of tour tomfoolery by saying ""I am expecting the guys from Porcupine Tree to play a mischievous prank on us, so if you see them give us a loud Death Metal growl, ok?" Unfortunately the suggestion of Porcupine Tree pranksterism never came to fruition, but no matter, we were there to see music and that would have only been an entertaining bonus. After the songs from the Damnation album were finished they played several of the calmer songs from their previous albums to finish up their set. Once the band left the stage the crowd chanted for them to come back for an encore but due to the last start of the set and a venue imposed curfew that was not to be. Too bad, as someone who interviewed Mikael before the show informed me that they would be doing an acoustic version of "Demons of the Fall" as an encore. As they did with the Deliverance show, Opeth played an utterly flawless set that captivated the audience and kept the attention of your very jaded reviewer. It also proved that the band can actually take their heaviness and convert it to a more mellow live experience that can still excite the most hardcore death metal fans. Those of you who missed out on this tour missed out on a rare and truly unique experience. Photos of Opeth from this show can be found at Shadows.com and Blizzardbeast.com. Porcupine Tree set list: Blackest Eyes
She's Moved On
Gravity Eyelids
Futile
Even Less
Slave
Fade Away
Hate Song
Russia on Ice
Smart Kid (w/Mikael from Opeth on vox)
Strip the Soul

Porcupine Tree encore:

Wedding Nails
Trains

Opeth set list:

Windowpane
In My Time of Need
Death Whispered a Lullaby
Closure
Hope Leaves
To Rid the Disease
Ending Credits
Weakness
Benighted
To Bid You Farewell
Face of Melinda

(Photos by Chris Slack)




Please log in to view RANTS

If you don't have a username, click here to create an account!






CRADLE OF FILTH Existence Is Futile

BEAST IN BLACK Dark Connection

MASSACRE Resurgence

DREAM THEATER A View From The Top Of The World

JAY JAY FRENCH Twisted Business: Lessons from My Life in Rock 'N' Roll

BLACK LABEL SOCIETY, PRONG And OBITUARY In Portland, OR With Photos!

GEMINI SYNDROME 3rd Degree - The Raising

DORO/WARLOCK Triumph And Agony Live

BETWEEN WORLDS Between Worlds

ALCATRAZZ V

BEHEMOTH Sventevith (Storming Near the Baltic) Reissue

ALICE COOPER, ACE FREHLEY In Nashville, TN With Photos!

CARNIFEX Graveside Confessions

BLOOD RED THRONE Imperial Congregation

GUS G. Quantum Leap

BILLY IDOL The Roadside EP

AVATAR, MAGIC SWORD In Houston, TX With Photos!

APRIL WINE, MONKEYJUNK At The Ottawa Bluesfest

MINISTRY Moral Hygiene

CRYPTA Echoes Of The Soul

SKILLET In Houston, TX With Photos!

Immortal Axes: Guitars That Rock Book

IRON MAIDEN Senjutsu

GRINDER BLUES El Dos

GEORGE LYNCH Seamless Review #2

IN THIS MOMENT, BLACK VEIL BRIDES In Houston, TX With Photos!

WARLANDO Festival 2021 Photo Gallery

KISS In Ridgefield, WA With Photos!

LAURENNE/LOUHIMO The Reckoning

TREMONTI Marching In Time

ROCKLAHOMA 2021 Day 3 Photo Gallery

ROCKLAHOMA 2021 Day 2 Photo Gallery

ROCKLAHOMA 2021 Day 1 Photo Gallery

CARCASS Torn Arteries

SETH La Morsure de Christ