JOHN 5 In Cleveland, OH With Photos!


By Geoff Ketler, Cleveland Contributor
Tuesday, April 18, 2017 @ 6:22 PM


| | | |
| --- | --- | --- |
| | | "How's that for a show, motherfucker?" - John 5 |
All Photos By Geoff Ketler/Aces high Photography
Once again, guitar virtuoso John 5 brought his eclectic and often unfathomable works to the north shore for a raucous evening of monsters, ghouls and unbridled talent. The long-time sessions player and seasoned Marilyn Manson and Rob Zombie guitarist stopped by the Cleveland Agora as part of his Spring tour supporting his eighth solo album Season Of The Witch, released earlier this year.
Done all up in his signature face paint, John 5 took to the stage, flanked by bassist Ian Ross and backed by drummer Logan Nix to "Guitars, Tits And Monsters". Like a precision-guided missile, the set was full of non-stop action and perfection – not what you would expect from a typical instrumental concert. John took very little time to approach the microphone – he let his telecaster do all of the talking. I was lucky enough to catch the first John 5 solo tour a couple of years back. It was one of my favorites, but let me tell you, it is amazing to see how this trio has grown since – sans Rodger Carter. Ian Ross looks more and more comfortable on stage and a growing chemistry with John 5 is apparent. Logan Nix was spot-on behind the kit. Like a well-oiled machine, JOHN 5 AND THE CREATURES dazzled all night in front of a packed and sweaty crowd.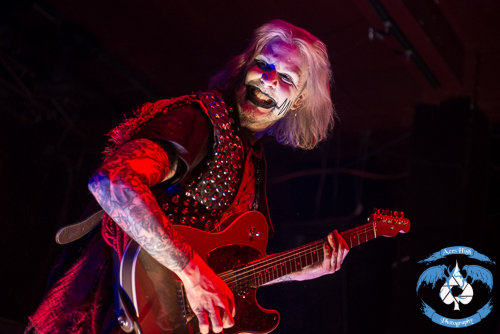 It was not just a telecaster that John feasted upon, but at one point, a banjo. The seemingly endless talent that John 5 possesses was on full display during "The Black Grass Plague" as he moved from telecaster to mini guitar to banjo with ease. The majority of the set came straight out of his most recent release, Season Of The Witch. The masterful cover of Michael Jackson's "Beat It" proceeded "Now Fear This" before John, Ian and Logan launched into what seemed like a never-ending medley of covers including material from WHITE ZOMBIE to THE POLICE to VAN HALEN and everything in between.
John 5 makes it nearly impossible to categorize his solo material. From metal to blue grass and country western, John makes all of his licks palatable and interesting to all music lovers alike. There was something for everyone in this 1 hour and 15 minute set. It is truly astonishing to see, once it is all out there and yet John remains one of the most brutally underrated guitarists on the planet. For now, the tour has wrapped, but hopefully this perennial powerhouse will make clubs swoon again in the not-too-distant future. I know I will be there.
Setlist:
"Guitars, Tits, And Monsters"
"Flighy Of The Vulcan Kelly"
"Six Hundred And Sixty Six Pickers In Hell"
"Here's To The Crazy Ones"
"This Is My Rifle"
"Jiffy Jam"
"Hell Haw I.G.R."
"Dr Evil's Spookshow"
"Season Of The Witch"
"Portrait Of Sidney Sloan"
"First Victim"
"DDD"
"The Black Grass Plague"
"Behind The Nut Love"
"Making Monsters"
"Beat It" (Michael Jackson Cover)
"Now Fear This"
Covers Medley
Check out a few more pictures from the show!
All Photos By Geoff Ketler/Aces high Photography

Please log in to view RANTS



STRYPER The Final Battle

TALAS 1985

QUEENSRYCHE Digital Noise Alliance

MOTÖRHEAD Iron Fist 40th Anniversary Edition

TESLA, KURT DEIMER In Houston, TX With Photos!

CLUTCH Sunrise On Slaughter Beach

SCORPIONS, THUNDERMOTHER In Houston, TX With Photos!

BEHEMOTH Opvs Contra Natvram

IRON MAIDEN, TRIVIUM In Austin, TX With Photos!

AEROSMITH, EXTREME In Boston, MA With Photos!

SAMMY HAGAR, GEORGE THOROGOOD, QUEENSRYCHE In Ridgefield, WA With Photos!

KINGS OF MERCIA Kings of Mercia

OZZY OSBOURNE Patient Number 9 In-Store Record Signing In Long Beach

ALICE IN CHAINS, BREAKING BENJAMIN, BUSH, THUNDERPUSSY In Ridgefield, WA With Photos!

GOATWHORE, INCANTATION, BEWITCHER In Los Angeles With Photos!

SKID ROW The Gang's All Here

FALLUJAH Empyrean

FIVE FINGER DEATH PUNCH, MEGADETH, THE HU, FIRE FROM THE GODS In Houston, TX With Photos!

DEICIDE, KATAKLYSM, INHUMAN CONDITION In Los Angeles With Photos!

KING'S X Three Sides Of One

BLIND GUARDIAN The God Machine

BUTCHER BABIES, UNCURED In Los Angeles

STYX, REO SPEEDWAGON, LOVERBOY In Mansfield, MA With Photos!

AT THE GATES, MUNICIPAL WASTE In Los Angeles With Photos!

OCEANS OF SLUMBER Starlight and Ash

A-Z A-Z

MACHINE HEAD ØF KINGDØM AND CRØWN

MY CHEMICAL ROMANCE In Nashville, TN With Photos!

BELPHEGOR The Devils

THE DEAD DAISIES Radiance

SANTA CRUZ The Return Of The Kings

THE STADIUM TOUR In Houston Photo Gallery