JOHN 5 In Cleveland, OH With Photos!


By Geoff Ketler, Cleveland Contributor
Tuesday, April 18, 2017 @ 6:22 PM


| | | |
| --- | --- | --- |
| | | "How's that for a show, motherfucker?" - John 5 |
All Photos By Geoff Ketler/Aces high Photography
Once again, guitar virtuoso John 5 brought his eclectic and often unfathomable works to the north shore for a raucous evening of monsters, ghouls and unbridled talent. The long-time sessions player and seasoned Marilyn Manson and Rob Zombie guitarist stopped by the Cleveland Agora as part of his Spring tour supporting his eighth solo album Season Of The Witch, released earlier this year.
Done all up in his signature face paint, John 5 took to the stage, flanked by bassist Ian Ross and backed by drummer Logan Nix to "Guitars, Tits And Monsters". Like a precision-guided missile, the set was full of non-stop action and perfection – not what you would expect from a typical instrumental concert. John took very little time to approach the microphone – he let his telecaster do all of the talking. I was lucky enough to catch the first John 5 solo tour a couple of years back. It was one of my favorites, but let me tell you, it is amazing to see how this trio has grown since – sans Rodger Carter. Ian Ross looks more and more comfortable on stage and a growing chemistry with John 5 is apparent. Logan Nix was spot-on behind the kit. Like a well-oiled machine, JOHN 5 AND THE CREATURES dazzled all night in front of a packed and sweaty crowd.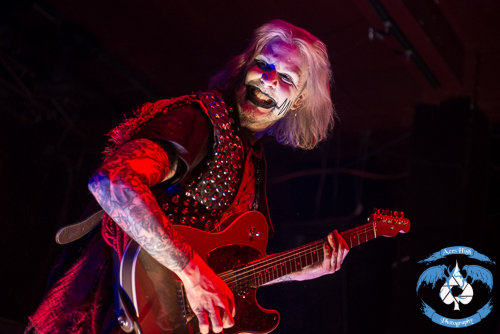 It was not just a telecaster that John feasted upon, but at one point, a banjo. The seemingly endless talent that John 5 possesses was on full display during "The Black Grass Plague" as he moved from telecaster to mini guitar to banjo with ease. The majority of the set came straight out of his most recent release, Season Of The Witch. The masterful cover of Michael Jackson's "Beat It" proceeded "Now Fear This" before John, Ian and Logan launched into what seemed like a never-ending medley of covers including material from WHITE ZOMBIE to THE POLICE to VAN HALEN and everything in between.
John 5 makes it nearly impossible to categorize his solo material. From metal to blue grass and country western, John makes all of his licks palatable and interesting to all music lovers alike. There was something for everyone in this 1 hour and 15 minute set. It is truly astonishing to see, once it is all out there and yet John remains one of the most brutally underrated guitarists on the planet. For now, the tour has wrapped, but hopefully this perennial powerhouse will make clubs swoon again in the not-too-distant future. I know I will be there.
Setlist:
"Guitars, Tits, And Monsters"
"Flighy Of The Vulcan Kelly"
"Six Hundred And Sixty Six Pickers In Hell"
"Here's To The Crazy Ones"
"This Is My Rifle"
"Jiffy Jam"
"Hell Haw I.G.R."
"Dr Evil's Spookshow"
"Season Of The Witch"
"Portrait Of Sidney Sloan"
"First Victim"
"DDD"
"The Black Grass Plague"
"Behind The Nut Love"
"Making Monsters"
"Beat It" (Michael Jackson Cover)
"Now Fear This"
Covers Medley
Check out a few more pictures from the show!
All Photos By Geoff Ketler/Aces high Photography




Please log in to view RANTS

If you don't have a username, click here to create an account!






ARCH ENEMY, BEHEMOTH, NAPALM DEATH, UNTO OTHERS In Portland, OR With Photos!

HALESTORM Back From The Dead

STABBING WESTWARD Chasing Ghosts

BLACK LABEL SOCIETY, NITA STRAUSS, JARED JAMES NICHOLS In San Diego, CA With Photos!

JEFF SCOTT SOTO Complicated

MEMPHIS MAY FIRE Remade In Misery

EVERGREY A Heartless Portrait (The Orphean Testament)

ANVIL Impact Is Imminent

DAN REED NETWORK Let's Hear It For The King

WATAIN The Agony & Ecstasy of Watain

SCREAMKING Thee Indomitable Spirit

FOZZY, JOHN 5, GFM, KRASHKARMA, THE NOCTURNAL AFFAIR In Houston, TX With Photos!

BLACK STONE CHERRY, THE GEORGIA THUNDERBOLTS In Nashville, TN With Photos!

AND JUSTICE FOR ART ... Live! Stories About Hard Rock & Heavy Metal Live Album Covers Book

FOZZY Boombox

ALICE COOPER, BUCKCHERRY In Portland, OR With Photos!

JOHN 5, THE HAXANS In Garden Grove, CA With Photos!

SKULL FIST Paid In Full

RADIANT Written By Life

BLACK SWAN Generation Mind

SEVEN KINGDOMS, STRIKER In Tampa With Photos!

MONUMENTS In Stasis

DESTRUCTION Diabolical

MICHAEL ROMEO War of the Worlds: Part II

SATAN Earth Infernal

TONY MARTIN Thorns