THE NIGHT FLIGHT ORCHESTRA Amber Galactic


By Daniel Höhr, European Correspondent
Monday, May 8, 2017 @ 1:05 PM


| | | |
| --- | --- | --- |
| | | |
THE NIGHT FLIGHT ORCHESTRA
Amber Galactic
Nuclear Blast, 2017




The Swedish band THE NIGHT FLIGHT ORCHESTRA was founded in 2007 by SOILWORK's singer Björn Strid and guitarist David Anderson. The line-up was soon completed by bassist Sharlee D'Angelo (ARCH ENEMY, SPIRITUAL BEGGARS and formerly KING DIAMOND), drummer Jonas Källsbäck from MEAN STREAK and, since 2014, percussionist and guitarist Sebastian Forslund (KADWATHA). After two albums released through the Italian label Coroner Records in 2012 (Internal Affairs) and 2015 (Skyline Whispers), THE NIGHT FLIGHT ORCHESTRA's third album will soon be out through the major German Label Nuclear Blast. If you don't know THE NIGHT FLIGHT ORCHESTRA and if you're expecting something along of the lines of the SOILWORK/ARCH ENEMY kind of metal, you're in for a good suprise.

So fasten your seatbelt and board the plane, or rather the spacecraft, since Amber Galactic has been described as a "relationship drama set in space" by singer Björn Strid. One of the first things we hear is a female voice sayig something I don't understand (it might be Swedish). However, there's not much time to think about it because when the opener "Midnight Flyer" kicks in, we're already on an entertaining sonic journey through classic rock/AOR spheres not devoid of occasional disco and pop elements but generously infused with good doses of prog. Right in the first verse of the opening track, which is quite seventies/early eighties, I find myself thinking "hey, that's a bit like RAINBOW in the Graham Bonnet days". This number is up-tempo, melodic, catchy and definitely defines the general direction for the rest of the trip. Don't get me wrong – Amber Galactic is far from being yet another assembly of old rock formulas. Much to the contrary: this is a credible and extremely fun translation of various classic rock, pop, whatever elements into a modern and convincingly fresh sound.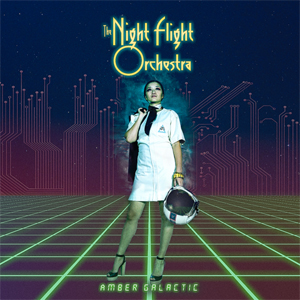 "Jennie", the fifth track on this "first classic rock space opera" (Björn Strid), is built on a mid-tempo piano groove and is somehow reminiscent of both THE BEATLES and SUPERTRAMP in the verses but then goes into a completely different direction in the chorus. The disco-style track "Domino", arguably my favourite song on this record, even though some of my die-hard metalhead friends will possibly send me to Coventry now, starts with a refreshingly cool keyboard part based on a solid bass guitar groove. The verses (does he really sing "smoking German cigarettes"?) lead to a chorus you think you last heard ages ago and you feel you want to blare along to straight away.
Another track I find myself playing over and over again is the anthemic "Josephine", followed by the up-tempo rock 'n' roller, "Space Whisperer" with its ultra-melodic and catchy chorus. "Something Mysterious", another highlight on Amber Galactic, goes into a sort of similar direction as SURVIVOR's "Eye Of The Tiger" groovewise but this is definitely where the comparison ends. It's a great song whose vocal line and compelling arragement make it another candidate for the auto-repeat function of whatever device you choose to play this album. THE NIGHT FLIGHT ORCHESTRA's journey concludes with "Saturn In Velvet", a slightly more complex track, which rounds off an inspired, colourful and extremely fun album you won't get tired of listening to.
5.0 Out Of 5.0
Pick up a copy of Amber Galactic in the KNAC.COM More Store right HERE.

Please log in to view RANTS