IRON MAIDEN, GHOST In Bristow, VA With Photos!


By Geoff Ketler, Cleveland Contributor
Monday, June 5, 2017 @ 9:18 AM


| | | |
| --- | --- | --- |
| | | KNAC.COM Once Again Covers Opening Night U.S. 'The Book Of Souls' Tour |
All Photos By Geoff Ketler/Aces High Photography
Jiffy Lube Live, near the U.S. Capital of Washington DC, played host to IRON MAIDEN's U.S. Tour kickoff. The outdoor pavilion summoned some 17,000 crazed fans, most of which were emblazoned with the band's mascot Eddie and decked out any way possible in all things MAIDEN. We were here to bear witness to one of metal's greatest spectacles and quite possibly one of music's greatest spectacles, depending on who you ask. The party started early for most as tailgating was in full force. Upon entering the parking lot, one is immediately engulfed in the sweet smell of grilled food, sweat and beer. Everywhere you look, flags flew; old glory was raised right beside "The Trooper" or "Piece Of Mind" and canopies and charcoal smoke dotted the landscape.
Eddie and the boys had decided to give it 'a go' one more time in support of 2015's critically acclaimed double album The Book Of Souls and supporting the entire run of U.S. dates is Sweden's GHOST. The imagery-drenched and sinister sextet stalked the stage. The ominous backdrop was all you really needed to see to know what GHOST was all about. Vocalist Papa Emeritus III, the eloquent and soft-spoken leader of the band of "nameless ghouls", powered his clean, crisp voice through the microphone. Call it gimmicky, call it whatever you want, but GHOST has got caché and it just works for some people. By this time, the seats inside of the pavilion started to pack in as folks left the lengthy lines at the beer vendors and the sun began to set.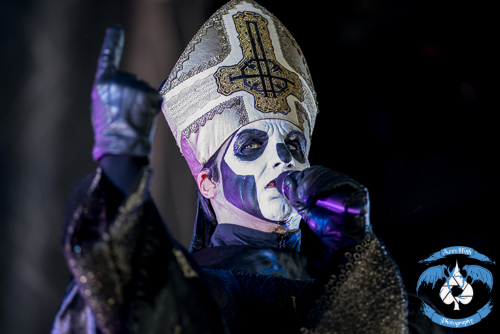 Setlist:
"Square Hammer"
"From The Pinnacle To The Pit"
"Ritual"
"Devil Church"
"Cirice"
"Year Zero"
"Absolution"
"Mummy Dust"
"Monstrance Clock"
There is something about 17,000 people singing the line "Doctor, Doctor, Pleeeeaassee..." that just warms my heart. The UFO anthem provides the sign, just like the bat signal, as butterflies stir in your stomach and the hair stands on your neck, that we were all just moments away from the legendary IRON MAIDEN taking the stage. Like a six-year-old on Christmas morning, I made my way into the photo pit.

Instead of a quick 'shock and awe' IRON MAIDEN eased into the set with two mid-tempo selections off of 2015's The Book Of Souls before blowing the roof off with the classic "Wrathchild". As MAIDEN fans have come to expect, production was over-the-top. Drummer Nicko McBrain's kit was surrounded in the ruins of the Mayan empire complete with moss, hieroglyphics and plenty of fire. The Book Of Souls Eddie made his highly anticipated appearance during the album's title track and the larger Eddie made his timely appearance, rising up behind Nicko's drum set during the song "Iron Maiden". Dry ice, pyro, explosions and a blinding lighting rig made for an unforgettable evening.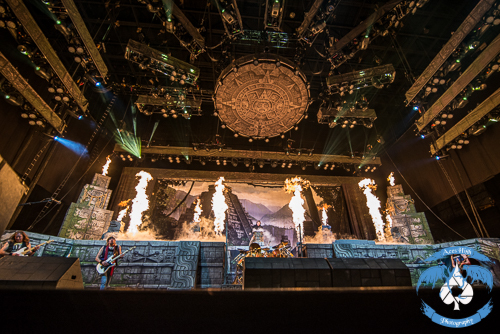 Vocalist Bruce Dickinson showed zero lasting effects of his recent successful battle with cancer. "The Air Raid Siren" was in full force throughout the night. When Bruce wasn't skipping across the horse shoe-shaped riser or leaping over his monitors, he was making small talk with the audience. Topics ranged from politics to moms and dads having sex and included dwelling on the possibility of a dispute over 3 or 4 minute boiled eggs causing the fall of the Mayan empire. Guitarists Dave Murray and Adrian Smith traded solos all evening and the limber Janick Gers dazzled with his guitar flips. Bassist Steve Harris left nothing in the tank. The moment came near the end of "Speed Of Light" that Steve perched up on his monitor and took aim with his headstock and went 'full-on Rambo' with his signature 'machine gun' move.
With a catalogue of hits deeper than the Mariana Trench, there is no real point in bickering over songs. It is IRON MAIDEN, it has to be good. It would be impossible to appease everyone. Besides, IRON MAIDEN has been consistently producing new material for over thirty five years now, so it should be no surprise that The Book Of Souls was well represented in the set, after all it is an album cycle tour. There were plenty of "oldies but goodies" sprinkled in for good measure and I don't think they could ever leave off "Fear Of The Dark" strictly for the crowd-participation factor. Since the band's formation in 1975, IRON MAIDEN has done things on its own terms. Without much help from radio or otherwise, the group continues to grow in popularity and with a live show that I would put up against any other musical act on earth, the sky is the limit. Do yourself a favor and get to a date on this tour.
Setlist:
"If Eternity Should Fail"
"Speed Of Light"
"Wrathchild"
"Children Of The Damned"
"Death Or Glory"
"The Red And The Black"
"The Trooper"
"Powerslave"
"The Great Unknown"
"The Book Of Souls"
"Fear Of The Dark"
"Iron Maiden"
Encore:
"Number Of The Beast"
"Blood Brothers"
"Wasted Years"
Check out some more great photos from the show!
All Photos By Geoff Ketler/Aces High Photography

Please log in to view RANTS



IMMORTAL War Against All

JOE PERRY Sweetzerland Manifesto MKII

BUCKCHERRY Vol. 10

DAVE LOMBARDO Rites Of Percussion

HELLOWEEN, HAMMERFALL In Worcester, MA With Photos!

DARK FUNERAL, CATTLE DECAPITATION, 200 STAB WOUNDS, BLACKBRAID In Houston, TX With Photos!

MR. BUNGLE, MELVINS, SPOTLIGHTS In Portland, OR With Photos!

PANTERA At Welcome To Rockville With Photos!

THE BLACK DAHLIA MURDER, TERROR, FROZEN SOUL, FUMING MOUTH, PHOBOPHILIC In Anaheim, CA With Photos!

ENFORCER Nostalgia

BUZZFEST Featuring GODSMACK, I PREVAIL, HIGHLY SUSPECT, THE STRUTS And Others In Houston, TX With Photos!

SLEEP TOKEN Take Me Back to Eden

UGLY KID JOE, FOZZY, PISTOLS AT DAWN In Houston, TX With Photos!

TESLA, FASTEST LAND ANIMAL, KURT DIEMER In Orlando, FL With Photos!

CATTLE DECAPITATION Terrasite

TYGERS OF PAN TANG Bloodlines

MYSTIC PROPHECY Hellriot

WHITECHAPEL, ARCHSPIRE, SIGNS OF THE SWARM, ENTHEOS In Santa Ana With Photos!

ALCATRAZZ Take No Prisoners

BURNING WITCHES The Dark Tower

ELVENKING Reader Of The Runes - Rapture

CHAOS AND CHARNAGE Tour Featuring SUICIDE SILENCE, DYING FETUS, BORN OF OSIRIS, ABORTED, CROWN MAGNETAR, SANGUISUGABOGG And SLAY SQUAD In Anaheim With Photos!

ENFORCED War Remains

SAVAGE EXISTENCE Savage Existence

BLACK ROZE Penny For Your Sins

WINGER Seven

JASON BIELER AND THE BARON VON BIELSKI ORCHESTRA Postcards From The Asylum

TITAN'S WRATH Will Of The Beast