VALLENFYRE
Fear Those Who Fear Him
Century Media Records




What began as a means for PARADISE LOST guitarist Gregor Mackintosh to work through the grief over the death of his father has become something of a full-fledged side band, even if its lineup remains somewhat tenuous. Still, the "supergroup," which included current and former members of MY DYING BRIDE, DOOM and AT THE GATES, has managed to tour somewhat sporadically and with Fear Those Who Fear Him is now issuing its third album.

Though bassist Scoot and Mackintosh's former PARADISE LOST bandmate drummer Adrian (AT THE GATES/THE HAUNTED/THE LURKING FEAR) Erlandsson left after 2014's Splinters because of their other commitments, VALLENFYRE is still very much Mackintosh's baby. Thus, the band has retained its abrasive doom/death/crust sound as members have come and gone.

For Fear Those Who Fear Him, Mackintosh is joined by mainstay ex-MY DYING BRIDE guitarist Hamish Glencross, who also handles bass here, and recent PARADISE LOST recruit Waltteri Väyrynen on drums. With fewer cooks in the kitchen, the album is a bit simpler and more direct than its predecessors – which weren't exactly brimming with technicality to begin with, not that there's anything wrong with that.

Here, crushing, d-beat-powered tracks like "Messiah", "Nihilist" and "Kill Your Masters" doled out in vicious bursts are countered by the quaking, funereal doom of "Cursed From The Womb", "An Apathetic Grave" and "The Merciless Tide". In between, "Amongst The Filth", "Degeneration" and "Soldier Of Christ" trod the middle-ground, riding chugging, punchy grooves that recall classic CELTIC FROST.

Mackintosh and Glencross's riffs shudder, lurch and grind with little mercy here, as the production from CONVERGE guitarist Kurt Ballou again provides a buzz-sawing tone that recalls the old school "Swe-death" of vintage ENTOMBED or DISMEMBER. The tighter compositions only make things that much thicker and heavier, especially when factoring in the guitar grit.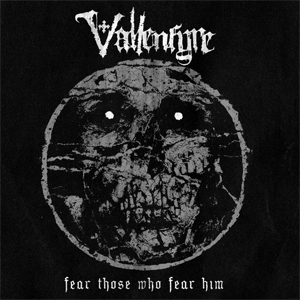 Like Splinters, Fear Those Who Fear Him isn't as achingly personal as VALLENFYRE's 2011 debut The Fragile King, which essentially served as a coping mechanism for Mackintosh who had lost his father John to cancer in 2009. But it is no less grim, sinister and scornful.
"Nihilist" pretty much sums up the album's mindset as Mackintosh paints of portrait of society where corruption, manipulation, avarice and apathy are the order of the day. And despite the exhortations of "Kill Your Masters", things do not seem likely to end well when the wolves are circling the sheep – and the sheep seem too numb to care.
While it may have lost a bit of its "novelty" status when PARADISE LOST returned to its death/doom roots on 2015's The Plague Within and shrank some of the sonic distance between the bands, VALLENFYRE still accentuates the harsh at the expense of the dramatic – especially given Mackintosh's consistently feral growl – and is certainly its own beast. The Fragile King obviously ignited an aggressive spark in Mackintosh – which has carried over to PARADISE LOST to a certain extent as well – that burns even hotter now that he has turned his focus outward on Fear Those Who Fear Him and doesn't particularly like what he sees.
3.5 Out Of 5.0
Pick up your copy of Fear Those Who Fear Him in the KNAC.COM More Store right HERE.