GUNS N' ROSES In Ireland


By Justin Ryan - Dublin, Ireland, Contributor
Tuesday, June 6, 2017 @ 11:11 AM


| | | |
| --- | --- | --- |
| | | Live At Slane Castle |
A completely sold out venue of eighty-three thousand people were in attendance for last weekend's GUNS N' ROSES concert at Slane Castle, County Meath, Ireland. Sixty-four shows have already been completed in North, South and Central America, Australasia and the Far East on their present "Not In This Lifetime" World Tour which started on April 1st, 2016 with a pre-tour warm up show at The Troubadour, West Hollywood. Last Saturday night's show (27th May, 2017) not only represented the band's first gig on their eighteen date, fifteen countries European leg of the tour but also the first time in twenty-five years and twelve days that William "Axl" Rose, Michael "Duff" McKagan and Saul "Slash" Hudson stood together on a stage in Ireland. Coincidentally, the previous occasion was also at this venue as part of their Use Your Illusion World Tour in support of the misfiring twin studio albums of the same name. Those records contained five impressive ("Don't Cry", "November Rain", "Civil War", "Estranged" and "You Could Be Mine") and six above average ("Right Next Door To Hell", "Back Off Bitch", "Double Talkin' Jive", "Coma", "Yesterdays" and "Pretty Tied Up") tracks out of a total of thirty published.

In addition to the aforementioned three Appetite For Destruction-era band members, the current GUNS N' ROSES line up consists of Frank Ferrer(drums), Richard Fortus(rhythm and lead guitar), Dizzy Reed(keyboards) and Melissa Reese(synthesizers). Fortus joined the band in 2002 to replace the band's irreplaceable co-founder, rhythm guitarist and important creative force Jeffrey "Izzy Stradlin" Isbell, who performed with the band for the last time in May 1993. Fortus, Rose and Reed are the only three members of the existing line up who had any involvement in the bands last studio record, Chinese Democracy, an album which contained three half decent tunes ("Better", "Sorry" and "This I Love") and eleven duds. However, judging by ticket sales on the current tour, it would seem that missing two important Appetite For Destruction-era members (Stralin and Adler) and a most recent dire studio record release fifteen years in the making has done nothing to diminish the bands drawing power who are playing to massive crowds in ginormous venues wherever they go.

Slane is a small countryside village with access provided by secondary, narrow country roads. Sixty kilometers north west of Dublin City and forty-five kilometers north of Dublin airport, the M1 motorway can be used for most of the journey. However, the last five kilometers are a bumper to bumper crawl to one of the venues make shift car parks, usually a waterlogged, mucky slip slope farmer's field. No matter how much preparation is put in place by the police and the event's promoters, inevitably a traffic nightmare occurs every year that the event takes place. As always, the owner of Slane Castle, Lord Henry Mountcharles and the promoter urged concert attendees to arrive as early as possible, stating that gates would open at 2 pm, three support acts would be appearing and that GUNS N' ROSES would take stage at 7 pm. The stated GUNS N' ROSES stage time was particularly humorous to anyone who is familiar with Axl's erratic time keeping records, including two infamous incidents in Ireland in 1992 and 2010. His delayed appearance at tonight's venue twenty-five years ago resulted in the promoter asking support act FAITH NO MORE to go back out on stage following their support set in an attempt to appease an ever restless crowd. In 2010, expensive tickets and choosing to take stage at 10:25 pm at the 02 Arena in Dublin city when the city's public transport service stops at 11:30 pm resulted in Rose facing another hostile crowd. Rose later described his decision to walk off stage after twenty minutes, informing the crowd that he was "going home" was a direct result of "unidentified substances" being thrown over him by several members of the audience not amused by his unexplained lateness. Rose was subsequently convinced by the promoter not to leave the venue and he returned to the stage a half an hour later to complete the show to a venue that had significantly emptied out.

Apart from stating that GUNS N' ROSES would take stage at 7 p.m., the only other stage time announced in advance was that of local act OTHERKIN, who were advertised as being on at 3:30 pm. It would have been assumed by most knowledgeable music fans that Mark Lanegan, having a more voluminous and impressive back catalog would have been placed on the bill above English two piece ROYAL BLOOD. However, on this occasion ROYAL BLOOD were listed as main support. Whether the headliners had anything to do with that or whether the promoter insisted on it as he is currently selling tickets for their standalone show in Dublin in November is anyone's guess. Unfortunately, many people's guess that OTHERKIN would play for an hour and then Mark Lanegan would follow them at 5pm proved inaccurate. As thousands of people marched the two kilometer walk from the car parks/fields to the venue site, Lanegan's impressive sounds could be heard loud and clear quite a distance from the Castle's perimeter walls. He had started his set at approximately 4:30 pm. Finally the venue site was reached after a much longer than expected thirty-five minute walk in the driving rain which also included tedious time consuming delays as three vigorous security searches by both police and venue security were carried out. As a result of having been forewarned via full page newspaper adverts of the promoters confiscatory zero tolerance policy on a huge range of items including any device with a reasonable sized lens capable of recording images or sound, there are no photographs with this report. The only three Mark Lanegan songs those arriving at 4:55 pm got to see and hear, rather than just hear were "Harborview Hospital", "Black Rose Way" and "Methamphetamine Blues". The crowd's lukewarm response to Lanegan's songs may have been attributable to having being rain soaked for an hour during his set or a lack of knowledge of his material. Let's hope his appearance results in new interest from those unfamiliar with his quality back catalog.

At 6pm, main support ROYAL BLOOD, who described the event as "the biggest show we've ever played", took stage. By this point the rain had stopped and they delivered a solid fifty-five minute set of decent riffs and grooves which received an appreciative response from the crowd at the end of each song. In particular, "Little Monster" generated a large cheer and quite a few raised fists from many of the ten thousand fans hemmed into the gold circles sections at the front of the venue. However, only time will tell where this band can go musically given the limitations of their set up. ROYAL BLOOD sound like they have been influenced by the QUEENS OF THE STONE AGE but will they ever rival QOTSA's ferocious wall of sound or dynamics as long as they remain as a two piece?

Given Axl's historic time keeping antics, it's doubtful many in the venue expected the headliners to appear until at least 8:30 pm. Given that ROYAL BLOOD had finished their set just before the 7pm stage time that the promoter had assigned for GUNS N' ROSES, a long delay to see a group once described, with some justification, as "the world's most dangerous band", seemed inevitable. To audible gasps of amazement from the crowd, the middle and largest video screen of three on the stage, which was not in use during the support bands sets, lit up with the classic GUNS N' ROSES logo. At exactly 7:50 pm, the logo discharged several rounds of animated bullets, followed by The Looney Tunes theme music and then the Harry Gregson-Williams song "The Equalizer", both via tape.

As the noise of expectation from the massive crowd grew ever louder,Vthe band were introduced onto stage via the PA system by an unidentified male voice who bellowed,V"Ireland! A band who need no introduction.VWell,I'm going to give them one anyway. From Hollywood, Los Angeles, GUNS N' ROSES! The roar from the eighty-three thousand fans in the venue must have induced the car park attendants two miles away to look towards the Castle and without as much as a "good evening", the group tore into "It's So Easy"". Another classic from Appetite For Destruction, "Mr. Brownstone" followed and amazingly, its opening notes raised the crowds volume even higher. It was one of many songs on the night that were sung by the crowd from start to finish. The inclusion by Axl, consciously or otherwise, of his snake dance during "Mr. Brownstone" received a cheer all of its own which brought a smile to the singer's face. The gig had started with a bang and although containing a guitar riff that Slash would presumably never put his name to, the track "Chinese Democracy" certainly didn't dampen the crowd's initial enthusiasm. However, nothing could have prepared anyone in the crowd for what followed. What seemed like the entire venue exploded into pogo dancing when Slash hit the opening notes to "Welcome To The Jungle". Rose responded to the crowd's celebratory roar by grinning mischievously from ear to ear and then rasped into his microphone, "do u know where you are?" Before he answered his own question, the crowd's responsive cheer drowned out the famous, "you're in the jungle baby!" The scene of eighty-three thousand people exploding into life in unison to this tune was absolutely stunning and must have left an indelible mark on both those who participated and those who witnessed it. One of eight songs performed tonight which were written or co-written by the absent Izzy Stradlin, "Double Talkin' Jive" brought the show towards the half hour mark; its snappy, incessant up tempo beat and killer guitar solo keep things smoking.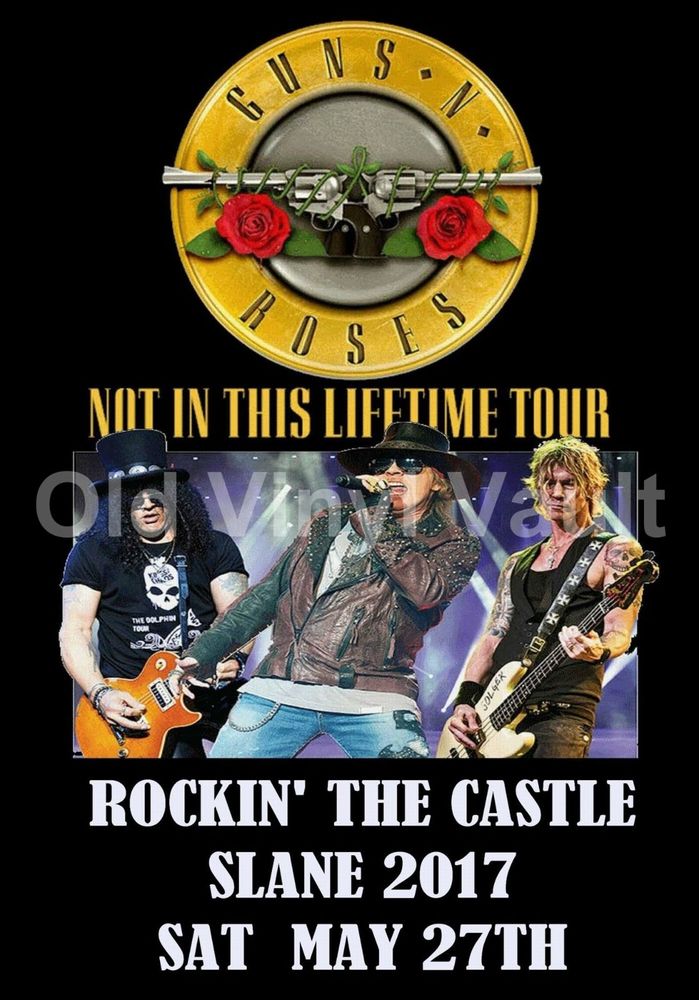 As impressive as the show started, there were two points of real annoyance. Slamming the band's brakes on while the venue was being rocked to the ground made two of the night's three ballads, "Estranged" and "This I Love" memorable for the wrong reasons. Their position on the set list succeeded in disrupting the turbocharged momentum that had been created from the start of the show. The other wince-inducing moment was during "Rocket Queen" when a non-album drawn out guitar part was played about halfway through the song. Frankly, this ruined the tune and by the time the band got the tune back on track, the crowd had lost interest in one of the group's all time best songs. When will bands learn to stop tinkering with their best material? Every successful group'S pre-tour practice space should have a sign that reads, "if it ain't broke, don't fix it!" on the wall in six foot capital lettering. Having said all of that, the absolutely unbridled venom with which the band delivered the more up tempo numbers in the gig's first fifteen tunes was unforgettable. It would appear that having not played together for decades has done nothing to dampen the incendiary on stage collective performance of Rose, Hudson and McKagan.
Apart from "Welcome To The Jungle"'s opening riff, Axl engaged in little onstage chat with the fans. All things considered, this was not a negative, as to spend time talking between songs would have had a counter productive effect on the driving momentum of the concert. However, one of the few occasions that Rose spoke directly to the crowd was before "New Rose" was performed. Referring to the bass player's Irish blood, Rose said "I will now hand you over to your fellow countryman, Mr. Duff McKagan", who then performed lead vocals on THE DAMNED cover which is found on their 1993 Punk covers album, The Spaghetti Incident?
Although it was unclear as to what the vocalist's introduction to "Black Hole Sun" by SOUNDGARDEN was, the opening part of the song was greeted by a respectful silence from the crowd, followed by the vast majority of it singing the song beautifully. It was a very poignant moment and one which the late, great Chris Cornell would have undoubtedly appreciated. Given Lord Mountcharles' well known interest in music, it's incomprehensible that SOUNDGARDEN weren't invited to play this venue around the time of Superunknown or Down On The Upside. Maybe their tour scheduling didn't allow it. Whatever the reasons, it's a real shame that this venue never got to hear Chris Cornell's magical voice and music firsthand. Although not going to win any awards, the GUNS N' ROSES cover was solid. Given the sustained round of applause that followed it, it appeared the crowd seemed genuinely impressed and appreciative that the band would pay their own tribute to the Seattle giant in this way.
One of only a handful of songs that Axl and Slash have co-written without at least some input from at least one member of the rest of the Appetite For Destruction-era band, "Coma" brought the concert towards the hour an a half mark. However, it was after "Coma", in a thirty-five minute section just past the middle of the show that the concert's shape and momentum went awry. Although Slash's solo, which clearly contained a Chuck Berry vibe to it, raised a smile and "Out Ta Get Me" is a gem,a pointless cover of music from The Godfather,the eye rolling Sweet Child O' Mine(a song the band hates), a vocal-less cover of "Wish You Were Here", an extended version of "November Rain" (as the standard album version is obviously not long enough! Axl, see suggestion regarding pre tour band practice above!), and an absolutely painful, woeful version of Bob Dylan's "Knockin' On Heaven's Door" culminated in the show's earlier adrenaline-filled atmosphere evaporating. A further opportunity to finish the show on all guns blazing was also missed. The show's last five songs again fell into accelerate, jam the brakes on, accelerate again territory with "Nightrain" breathing life back into the concert only to be followed by the chilled out vibe of "Patience". Although containing a half decent guitar solo, "There Was A Time" sounds like music that would be played over an uninspiring movie's closing credits. Cover number six on the night, the rocking "The Seeker" by THE WHO and the excellent "Paradise City" closed the twenty-seven song, three hour show. What isn't in question on tonight's performance is that with a few adjustments to the set list (including less cover songs) and an adherence to the old show biz adage to, "finish as strongly as you start", three-fifths of the real GUNS N' ROSES, after all these years, are still capable of delivering a memorable live show. What is in question is would you pay similar ticket prices to tonight's (general admission €96/$110 or gold circle €161/$180) to see it? Only you can decide that one.
GUNS N' ROSES Set List:
"Looney Tunes" (On Tape, Not Played Live)
"The Equalizer" (Harry Gregson-Williams Cover. On Tape, Not Performed Live).
"It's So Easy"
"Mr. Brownstone"
"Chinese Democracy"
"Welcome To The Jungle"
"Double Talkin' Jive"
"Better"
"Estranged"
"Live And Let Die" (WINGS Cover)
"Rocket Queen"
"You Could Be Mine"
"New Rose" (THE DAMNED Cover)
"This I Love"
"Civil War" (with "Voodoo Child" outro)
"Black Hole Sun" (SOUNDGARDEN Cover)
"Coma"
Slash Guitar Solo
"Speak Softly Love" (Love Theme From The Godfather. Nino Rota Cover)
"Sweet Child O' Mine"
"Out Ta Get Me"
"Wish You Were Here" (PINK FLOYD Cover)
"November Rain" (with "Layla" outro)
"Knockin' On Heaven's Door" (BOB DYLAN Cover. With "Only Women Bleed" Intro)
"Nightrain"
"Patience" (Acoustic Guitars Only. "Waiting For A Friend" Intro)
"There Was A Time"
"The Seeker" (THE WHO Cover)
"Paradise City"
"You Know My Name" (CHRIS CORNELL Cover. On Tape, Not Played Live)




Please log in to view RANTS

If you don't have a username, click here to create an account!