DEEP PURPLE In Cologne, Germany With Photos!


By Daniel Höhr, European Correspondent
Wednesday, June 7, 2017 @ 11:30 AM


| | | |
| --- | --- | --- |
| | | At Lanxess Arena, June 6, 2017 |
Photos by Monika Schwarz. Thanks To Ian Gillan's Official Facebook page
https://www.facebook.com/iangillanofficial/
Not without a trace of melancholy did I enter Cologne's Lanxess area tonight to see what might well be the last ever DEEP PURPLE show in the area. The title of their twentieth studio album, inFinite, as well as the name of the tour the British/American five-piece have just embarked on ("The Long Goodbye Tour") strongly suggest that one of the final chapters of this band's almost fifty-year history is being written. Personally speaking, DEEP PURPLE have always had a very special place in my rock pantheon and having seen them live numerous times in recent years, I think I was perfectly entitled to such emotions.
All melancholy, however, was literally blown away when at 20:00 hrs MONSTER TRUCK hit the stage of Cologne's vast Lanxess Arena, which, sadly, was not sold-out. The Canadian band from Hamilton, Ontario play riff-based hard rock pretty much in the tradition of BLACK SABBATH and early DEEP PURPLE with a generous dose of blues and southern rock and delivered an energetic performance with sweat, heartblood and a lot of balls. Except for the drums, where a microphone wasn't doing what it was supposed to do and hence the ride cymbal on Steve Kiely's kit was almost inaudible, which was a bit annoying in one particular song, the sound was great and if it had been up to the approximately 6,000 people, they could have played one or two encores.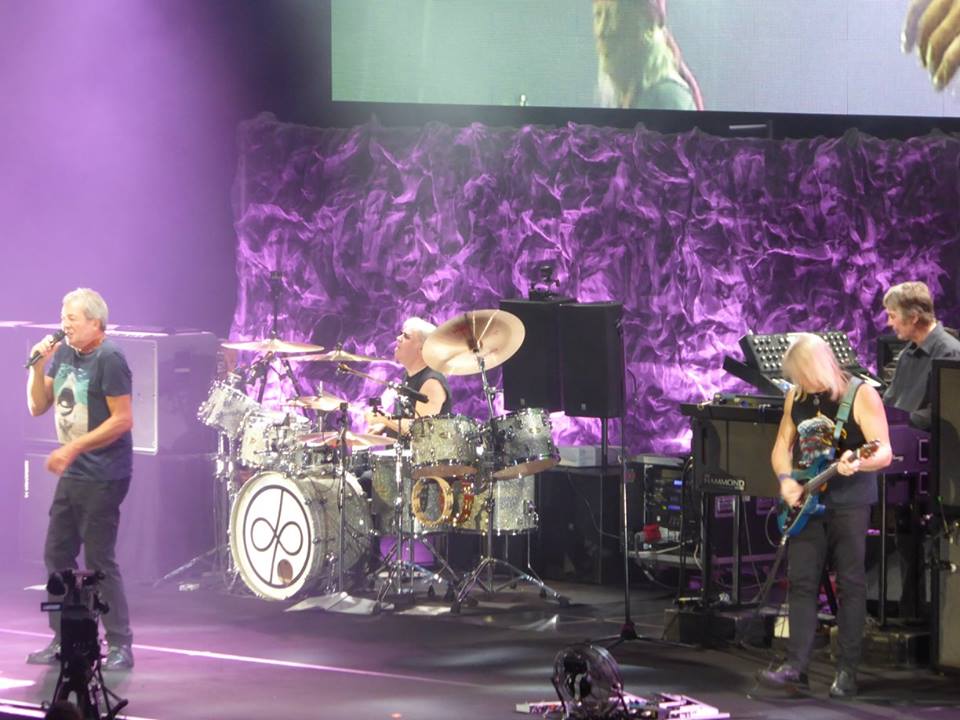 At about 21.15 hrs the picture of the present DEEP PURPLE line-up carved in an iceberg ("Deep Purple in Ice") – an obvious allusion to the legendary Deep Purple In Rock cover artwork depicting Mount Rushmore with the heads of the members of DEEP PURPLE Mk II – was shown on the giant video screen above the stage. Then a really deep sound blasted through the PA, that sort of low frequency that you feel before you hear it, and when DEEP PURPLE Mk VIII came on, Ian Gillan sang the opening lines to "Time For Bedlam". This song is a tailor-made opener and worked live extremely well, just like the other three numbers from inFinite which Ian Gillan, Steve Morse, Don Airey, Roger Glover and Ian Paice performed that night. From "Time For Bedlam", PURPLE went straight into a mighty version of "Fireball" which made you believe that indeed a giant fireball was rolling through the arena, followed by a heavy "Bloodsucker" and then directly into "Strange Kind Of Woman". After those four songs played in one go, Ian Gillan finally greeted the audience in his unique and humourous way. He might be over seventy now, he may not be moving across the stage as much as he used to but he has lost nothing of his stage presence. There is no doubt that Gillan is still one of the best rock singers around. His voice has matured but his vocal range and stamina are simply astonishing. He mastered all the high notes with ease without losing any power. Gillan's "duel" with guitarist Steve Morse at the end of "Strange Kind Of Woman" left the audience simply stunned. Throughout the concert, and especially on "Uncommon Man", DEEP PURPLE's tribute to the late Jon Lord on Now What?!, Steve Morse himself proved once more that he is definitely one of the leading rock guitar players in the world with his distinct signature tone and unique virtuosity.
Of all the many incarnations of DEEP PURPLE, the present line-up is the longest-standing. Gillan, Morse, Airey, Glover and Paice have been playing together since Jon Lord left the band and was replaced by Don Airey in 2002. Steve Morse came in for Ritchie Blackmore, who had left the band in the middle of the tour promoting The Battle Rages On and whose guitar duties were temporarily taken over by Joe Satriani. The fresh blood that came into the band with Steve Morse was exactly what the band needed at that time and now, more than twenty years later, the invigoration is still felt. Ian Gillan has referred to Mark VIII as "the living breathing DEEP PURPLE" and that's exactly what the Cologne crowd saw and heard. Steve Morse and Don Airey kept trading the most amazing solos during the sometimes long instrumental parts of more recent songs as well as the inevitable classics, while Roger Glover and Ian Paice provided elaborate but solid rhythmical fundaments. The five obviously enjoyed themselves and came across as five friends playing incredible rock music at the highest possible level.
Don Airey's keyboard solo deserves a special mention. It was quite similar to the ones he has played on previous tours but, having heard many of them, it never gets boring. Starting with a reference to Ozzy's "Mr Crowley" (Airey played on Ozzy's solo debut), Don Airey worked himself through a wide range of bits and pieces of piano music – there was something that sounded like Chopin, then something in the style of Rachmaninoff, some blues piano, a passage from Liszt's Hungarian Rhapsosy No. 2 before he embarked on the anthem of 1. FC Köln, the local soccer team, and finally rendered some variations on the German national anthem. The sound effects that then emanated from his Hammond and synthesizers, mainly a helicopter noise and loud explosions, led to the intro to "Perfect Strangers", always one of the highlights of any DEEP PURPLE show.
Throughout the show, pictures, videos sequences, close-ups from the band as well as various visual effects were seen on the screen above the stage. When DEEP PURPLE finally played "Smoke On The Water", which concluded the regular set, the audience were shown newspaper articles and original footage of the incident that inspired the song, namely the fire that destroyed the Montreux Casino during a show played by THE MOTHERS OF INVENTION on December 4, 1971. Impressive, to say the least.
Surprisingly, the encores began with an instrumental version of THE BEATLES' "Sgt. Pepper's Lonely Hearts Club Band" before PURPLE played the Joe South cover "Hush", the first hit single from their 1968 debut album Shades Of Deep Purple. After Roger Glover's amazing bass solo, DEEP PURPLE finished their show at about 23:00 hrs with an extended version of "Black Night".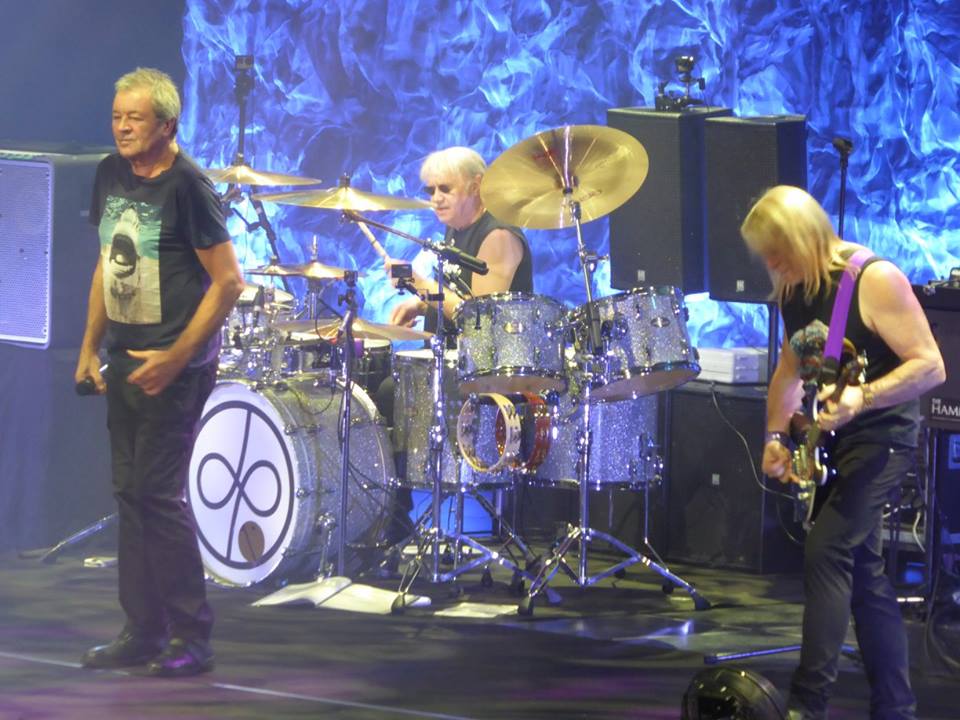 Seeing DEEP PURPLE live on their current "The Long Goodbye Tour" is a must for any rock fan. Far from being one of the many classic rock outfits that are left over from the 1970s, PURPLE are still very much happening now, exciting and incredibly good fun that makes you forget that even rock giants such as DEEP PURPLE can't go on indefinitely.
Setlist:
"Time For Bedlam"
"Fireball"
"Bloodsucker"
"Strange Kind Of Woman"
"Johnny's Band"
"Uncommon Man"
"The Surprising"
"Lazy"
"Birds Of Prey"
"Hell To Pay"
Keyboard solo
"Perfect Strangers"
"Space Truckin'"
"Smoke On The Water"
Encores:
"Sgt. Pepper's Lonely Hearts Club Band"/"Hush"
Bass solo
"Black Night"
Check out a few more photos from the show!
Photos by Monika Schwarz

Please log in to view RANTS