SCHAMMASCH The Maldoror Chants: Hermaphrodite


By Peter Atkinson, Contributor
Monday, June 26, 2017 @ 1:16 PM


| | | |
| --- | --- | --- |
| | | |
SCHAMMASCH
The Maldoror Chants: Hermaphrodite
Prosthetic Records




There's probably no band in black metal as unique, audacious and utterly ambitious as Switzerland's mysterious SCHAMMASCH. The cloak-wearing avant-gardists followed up 2014's double album Contradiction by going one better with last year's triple-disc set Triangle, which boasted 100 minutes of music. Each was a mammoth conceptual undertaking that eschewed the usual symphonics for a more broad, sprawling soundscape that nevertheless felt as equally grand and opulent – even if Triangle's third disc was mostly ambient drone.

And the quartet is right back at it, albeit on a more modest scale, with The Maldoror Chants: Hermaphrodite, the first of what is apparently a series of shorter releases based on Les Chants de Maldoror, a 19th-century poetic novel by Comte de Lautréamont that influenced the surrealist movement. At seven songs and 31 minutes, it is refreshingly brief given the scale of its predecessors, yet still features the same sort of thematic thread and dramatic, if more measured in this case, sound.

The album - or mini-album or EP, not exactly sure how it's being marketed - picks up to a certain extent where Triangle's third disc left off, only here the ambient tone is given a much more metallic presentation, while remaining deliberate and meditative. It plays out as essentially one song split into seven movements, beginning with the gloomy sheen of guitar and sparse, thunderous drum beats of the instrumental "Prologue".

It builds from there, ever so slowly, as the rhythm throbs and the riffs grow to industrial strength on "The Weighty Burden Of An Eternal Secret". When the vocals finally arrive, they are delivered more as recitations and, fittingly, chants, which lends a ceremonial air to the narrative as it proceeds into the oppressive thrum of "Along The Road That Leads To Bedlam".

The short piano and vocal interlude "These Tresses Are Sacred" splits the album and lifts the weightiness, if temporarily, before "May His Illusion Last Until Dawn's Awakening" begins its doomy march. Here, however, the band moves beyond the cyclical, repetitive arrangements of the first half for more traditional song structure. "Illusion" offers a guitar solo, recognizable hooks, chanted choruses and dark, melancholic melody.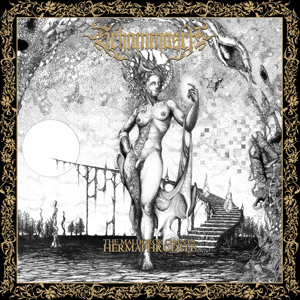 Frontman/guitarist Chris S.R. sings – well shouts - rather than speaks most of the lyrics on "Chimerical Hope", delivering them with blast-beat fueled fury on what is easily the most "black metal" track here. The heaving drone of "Do Not Open Your Eyes" is contrasted by a galloping drum pattern and shrill wash of guitar tremolo and ends part one of SCHAMMASCH's Maldoror series with an atmospheric flourish.
It's a bit easier to take the band's heady fare in the smaller dose it offers here. Contradiction and Triangle could be downright exhausting, especially given the band's idiosyncrasies. Where someone like BEHEMOTH can get away with that by retaining an element of accessibility – brutal as it may be – SCHAMMASCH don't offer much in the way of meaty riffs, resonant choruses or "moshability" to grab a hold of, which can pose a problem over, say, 100 minutes. Over a half-hour, however, it's not as much of an issue.
3.0 Out Of 5.0
Pick up your copy of The Maldoror Chants: Hermaphrodite in the KNAC.COM More Store HERE.

Please log in to view RANTS