MARZI MONTAZERI The Uprising


By Rob McNees, Vinyl Aficionado
Monday, July 3, 2017 @ 10:38 AM


| | | |
| --- | --- | --- |
| | | |
MARZI MONTAZERI
The Uprising
Crunchy Western Records




When I got the chance to review the EP from guitarist Marzi Montazeri, I jumped at the chance. Not only for the fact that Tim 'Ripper' Owens is singing on it, but to get a chance to check out Marzi himself. I have to say I was very surprised when I heard he was from Houston, as I was rather unfamiliar with him. I did hear a couple of tracks he did with PHILLIP ANSELMO AND THE ILLEGALS, but it's a bit too noisy for my taste these days. I know he did a stint with SUPERJOINT RITUAL, but since they never released any Vinyl, I don't have any music by them. And I can't recall seeing him play here or even meeting him at a show. So Mr. Montazeri is quite the unknown commodity to me. So I figured it was high time to rectify that situation, and this was the perfect opportunity.

The Uprising kicks off with a haunting instrumental intro called "11" which could come straight out of any horror flick, and rolls right into "Monster Withi", a primetime piece of Power Metal greatness. A heavy rifferama with a subtle touch of mellow thrown in to color the palate, along with a dash of thrash to intensify the rush! The title track follows with a crushing riff that gets downright CANDLEMASS heavy. This is pure meat & potatoes Metal. Lean, mean and without an ounce of fat.

Marzi himself is a badass shredder, and can damn sure hold his own with anyone out there. I don't know if it's the Texas influence but he definitely reminds me of the late, great Darrell Abbott not only in tone, but playing ability. "Without Warning" trudges out with a solid bass line before venturing off into a little Planet Caravan territory complete with bongos. Ripper is his usual fantastic self, always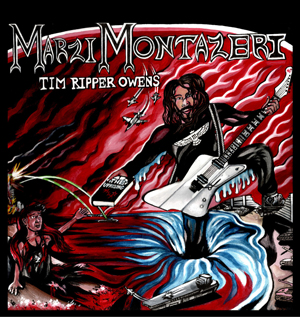 bringing exactly what the song needs but never detracting from it. And lest you think this song is just a semi-ballad of sorts, fear not bangers, as a vicious SABBATH worthy riff comes in to pummel your already fragile mind, topped off with a smoking solo from Marzi that should have air guitarist playing and Metal horns high!
"Who Is Alive?" is a mid-tempo stomper with a real ICED EARTH vibe about it, except for the ending. I only wish I.E. could be that devastating these days. The final track, "Viento Del Espíritu" (Wind of the Spirit) ends the EP as it begins, with a creepy instrumental that's more horror show than music.
A stout debut from 'The High Priest of Distortion' and a release sure to put his name out to those like myself who up till now hadn't had the pleasure of hearing Marzi really play. I suspect (and hope) this isn't the last we hear from this duo. And for my Vinyl loving fam out there, this is coming out on Vinyl!! Rejoice and buy or die! Hell, I need a copy myself!!!
4.3 Out Of 5.O Skulls

Please log in to view RANTS